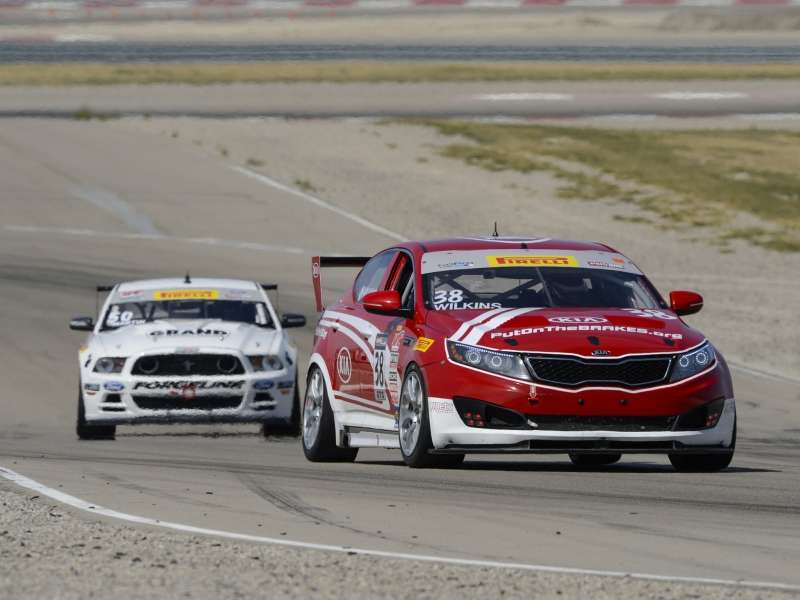 kia racing pirelli world championship
Despite a rather difficult weekend for the 2015 Kia Optima Turbo racecars, Kia managed to hold on to its points lead in the "Grand Touring Sport" class of the Pirelli World Challenge, taking home its first manufacturer's championship in the prestigious road-racing series. Also, even though the brand's top driver, Marc Wilkins, was unable to complete either of the final two rounds of racing this past weekend, he finished third in the driver's point standings in his No. 38 B.R.A.K.E.S. 2015 Kia Optima Turbo. 
Together, Wilkins and Nic Jonsson, pilot of the No. 36 DonorsChoose.org 2015 Kia Optima Turbo, combined for five victories during the 2014 season, while also achieving 13 podium finishes and five pole positions in 16 GTS events.
Said Michael Sprague, executive vice president of sales and marketing for Kia Motors America: "We congratulate the Kia Racing team and our partner Kinetic Motorsports on a fantastic season in which their hard work and dedication, along with the power, performance and reliability of our turbocharged Optimas, proved a winning combination amongst some truly world-class competition.
"Everyone affiliated with the Kia brand, including our customers, our dealers, our team members at Kia Motors America and at KMMG, the U.S. plant where the Optima is built, should feel proud of this achievement."
Further, it didn't take long for Kia to ring up its second Pirelli World Challenge championship: Along with the factory-backed success of the 2015 Kia Optima Turbo performance cars, Jason Wolfe raced his privately-supported Kia Forte Koup to the driver's and manufacturer's championships in the Pirelli "Touring Car-A" category, also locking down Rookie of the Year honors and seeing his team named "Crew of the Year" by their Pirelli rivals.