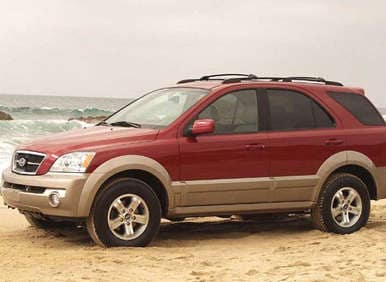 When the Kia brand arrived in the U.S. in 1994, the company followed closely in the footsteps of its Korean cousin Hyundai by providing an enormous amount of content at a miniscule price. In any given category, the Kia offering would be good-looking, nicely equipped, and in most cases, thousands of dollars cheaper than the competing models in its given segment.
When the Sorento debuted in 2003, market tastes in mid-size crossovers had begun to shift. Manufacturers were just starting to figure out what SUV buyers really wanted was a vehicle offering a high seating position; a tall, SUV-esque profile; a rear hatch, and folding rear seats in order to increase the cargo capability of their autos. However, they also wanted said auto to ride, handle and park like a car.
Unfortunately Kia got that memo a bit late. Or fortunately, depending upon what it is you're looking for in a pre-owned SUV. For those who want the look but not the feel of an SUV, as we mentioned before, the biggest thing the Kia had going for it was its lengthy equipment list and short price. However, the first generation Sorento also came to market with off-road cred up the wazoo—making it a fine choice for anyone looking for a trail-capable SUV at a modest price.
On the other hand, if you're looking for something with the look of an SUV but the manners of a street car, the second generation Sorento is where you should more likely focus your attention. Kia had its finger more firmly on the pulse of the majority of the buying public by the time that iteration of Kia's mid-size entry was being sketched out. To date, there have been but two generations of the Sorento offered — with the first one coming to market in 2002, as a 2003 model.
Used Kia Sorento: 2003 – 2009
A traditional truck-based body-on-a-ladder-frame design, the original Sorento was extremely rugged for its size. Equipped with an automatic four-wheel drive system, the first-gen Sorento offered low-range gearing as well. A shift on the fly system, its default mode was two-wheel drive; it also offered a four low feature as well as four high.
2003
Offered in two trim levels, LX and EX; a 192-horsepower, 3.5-liter V6 engine capable of producing 217 ft.-lbs. of torque was the sole engine offering. A four-speed automatic unit conducted transmission duties. The suspension system was an all-independent affair featuring double wishbones up front and a multilink system at the rear. Towing capacity was rated at 3,500 pounds.
LX trimmed Sorento models featured sixteen-inch steel wheels, a full size matching spare tire, variable intermittent wipers, privacy glass, a rear defogger, an intermittent rear wiper, a flip-up rear liftgate window, and trailer wiring.
One of two bucket seats, its manually operated height adjustable driver's seat featured a manual lumbar adjustment and, as were the rest of the Sorento's seats, upholstered in cloth. The rear seat used a split-folding back as well as a folding center armrest.
Door locks, mirrors and windows were power-operated, with one-touch operation for the windows. Cruise control and a first aid kit were also included. The power steering system used a tilt steering wheel with switches for the cruise control system. Air conditioning, reading lights, illuminated vanity mirrors, and an eight-speaker CD-based audio system rounded out the standard feature set of Sorento LX.
Moving up to the EX model added sixteen-inch alloy wheels, a roof rack, a power glass sunroof, an eight-way power adjustable driver's seat, velour upholstery, remote keyless entry and heated exterior rear-view mirrors. The speed proportional power steering system used a leather-wrapped steering wheel with both audio and cruise controls.
The center console got wood trim, the inside rearview mirror dimmed electrochromatically (automatically) and floor mats for the front and rear seats were also included. A ten-speaker CD-based audio system rounded out Sorento's EX comfort and convenience kit.
Safety gear included head air bags for the front and rear passenger compartments, child seat anchors, an alarm system, vented disc brakes all around, fog lights, a three-point center seatbelt for the back seat, seatbelt pretensioners, and electronic brakeforce distribution.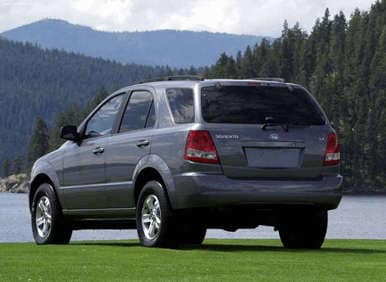 Used Kia Sorento: 2004
The 2004 Kia Sorento got a sport package for the base LX model, which outfitted the small SUV with a five-speed manual transmission, fog lamps, alloy wheels, step bars, a leather-wrapped steering wheel, a roof rack and remote keyless entry.
The optional luxury package for the EX model added leather for the seats, an automatic climate control system, automatic headlights, heated front seats, and a six-disc CD changer for the audio system.
Used Kia Sorento: 2005
The four-speed automatic transmission was supplanted by a five-speed and the Sport package got a different headlamp treatment, in an effort to visually differentiate it from the standard LX model.
Used Kia Sorento: 2006
Steel wheels were kicked to the curb in favor of alloys for all Sorento models.
Used Kia Sorento: 2007
A new 3.8-liter V6 engine was installed, increasing the Sorento's power output to 262 horsepower and 260 ft.-lbs. of torque. This bumped the Sorento's towing capacity to 5,000 pounds. The five-speed manual transmission was discontinued.
A mild exterior redesign fitted Sorento with a new set of front headlamps, a revised grille treatment, reshaped bumpers, and reworked taillamps. Inside, the instrument panel got a new design, as did much of the rest of the interior. Additionally, the quality of the interior materials was improved.
A three-trim strategy was introduced for 2007, with the offering of a Base model positioned beneath the LX. To increase the spread between the two, the LX-grade offerings were expanded upon a bit more. While the LX still came standard with sixteen-inch wheels, its audio system was upgraded to a ten-speaker affair. The 2007 Sorento LX Sport Package was granted a black leather interior option and seventeen-inch alloy wheels.
The Base model was essentially the LX model without cruise control, keyless entry and roof rails.
The 2007 Sorento EX offerings were the same as before; steering-wheel audio controls, a power-adjustable driver's seat, adjustable headrests, an auto-dimming rearview mirror, a leather-wrapped steering wheel and shift knob, and wood grain interior accents. The EX Luxury Package returned with its dual-zone automatic climate control, heated front seats, sunroof, and six-disc CD changer.
Used Kia Sorento: 2008
Kia offered a smaller 3.3-liter V6 in the Base Sorento and Sorento LX for model year '08, capable of 242 horsepower and 228 ft-lbs of torque. The five-speed automatic was mated to the new engine as well. Configured thusly, Sorento would tow 3,500 pounds. The 3.8-liter V6 became an-exclusive-to-the-EX proposition.
With these changes, the 2008 Kia Sorento lineup was delineated as follows; base, LX and EX. The Base and LX trim-sets were configured pretty much the same as one another; minus cruise control, keyless entry and roof rails on the Base model. Standard LX kit included sixteen-inch alloy wheels, a ten-speaker sound system fed by a CD/MP3 player, full power accessories, cloth seats and an eight-way-adjustable driver seat. The EX added the larger engine, steering-wheel audio controls, a power driver's seat, an auto-dimming rearview mirror, leather wraps for the steering wheel and shift knob, in addition to wood-grain interior accents.
LX and EX also featured option packages; the LX Sport package used seventeen-inch alloy wheels, foglights, side step bars, leather for the steering wheel and shift knob, in addition to specific-to-the-LX-Sport black cloth trim. Black leather seats could also be added to the Sorento's LX Sport package. Its EX Luxury package featured a unique set of wheels, a sunroof, a dual-zone automatic climate control system, leather seating, heated front seats, and a six-disc CD changer.
For standard safety equipment considerations, Kia equipped the Sorento with antilock disc brakes, full-length side curtain airbags, stability control, traction control and a driver's knee airbag across all three trim levels.
Used Kia Sorento: 2009
With all of that activity in 2007 and 2008, plus an all-new Sorento model on the horizon, 2009 was a static year, save a grille revision late in the model year.
Used Kia Sorento: 2010
Anybody tries to sell you a 2010 Kia Sorento, call the Better Business Bureau. The SUV was put on hiatus that year. It returned as a completely redesigned product for the 2011 model year.
Used Kia Sorento: 2011 – current (2012)
For the 2011 model year, the Sorento was brought up to date with a unibody construction scheme, making it ride and handle more like a car—but sacrificing its offroad ability in the process. Two new engines were prescribed for the Sorento, and for the first time, one of them was a four-cylinder. Speaking of which, that four-cylinder was the standard offering across the entire trim range. A new six-speed manual transmission was offered, as well as a six-speed automatic. And, as if to completely close the door on the previous iteration of the Sorento, the new version's powertrain defaulted to front-drive rather than rear-drive if the all-wheel drive systems were not ordered.
Four trim levels were offered; Base, LX, EX and SX.
The Base model came standard with a six-speed manual transmission and seventeen-inch alloy wheels. It contained a full complement of power accessories, air-conditioning, a tilt-and-telescoping multifunction steering wheel, a trip computer, Bluetooth connectivity, and a CD/MP3 audio system with satellite radio and a USB audio input port.
The next rung up the Sorento ladder, the LX, involved a six-speed automatic transmission, body-color heated outside mirrors with integrated LED turn signals, and the option of adding the Sorento LX Convenience package to the mix. Going that route added foglamps, roof rails, rear parking sensors, heated front seats and a back-up camera with a rearview-mirror-mounted video monitor.
For EX spec, Kia product planners added eighteen-inch alloy wheels, keyless ignition and entry, a dual-zone automatic climate control scheme featuring rear air-conditioning on the V6 models (more about that in just a bit), in addition to leather coverings for the steering wheel and shift knob.
To mitigate the mendacity of the other offerings, Sorento SX picked up where the LX Sport package on the previous generation of the Sorento left off. The 2011 Kia Sorento SX used unique exterior styling elements, a sport-tuned suspension system, leather upholstery with heated front seats, an electrochromic auto-dimming rearview mirror, a rearview camera, and a ten-speaker Infinity sound system.
Happily, (for the bottom line at least) Sorento SX's additional features (other than the sporty exterior bits) were also elements of the EX Premium and EX Limited option packages. In keeping with their more upscale aspirations, those packages also offered such niceties as an optional panoramic sunroof, voice-activated navigation with real-time traffic, and mood lighting.
However, just to make sure there was no opportunity leave any money on the table, Kia's planners also decreed those bits of gear could be applied to SX trimmed Sorentos as well (which right about now is probably starting to get as confusing as he!! for you; and yes, we know, because it's confusing to us too…).
Rounding it all out though, a rear-seat DVD entertainment system was available on EX V6 models, but only those configured without the sunroof.
On the engine front, Kia's planning team made a strategic decision to offer the new four-cylinder engine with every trim level, enabling the pairing of superior fuel economy and a robust feature set in each Sorento. While the only engine offering for the Base Sorento (with a six-speed manual transmission, also as the only choice); buyers of all the other trim levels could chose between the 175-horsepower/169 ft.-lb. 2.4-liter inline four, or a 276-horsepower/248 ft-lb. 3.5-liter V6. Regardless of the engine choice, on the upper trim levels the six-speed automatic transmission was the sole offering.
Safety gear was comprised of antilock disc brakes, stability control, hill-start assist, hill descent control, front-seat side airbags, full-length side curtain airbags and front active head restraints.
Kia Sorento: 2012
For 2012, an optional direct fuel injection system was fitted to the four-cylinder engine, increasing its output to 191 horsepower, but was made available only to buyers of LX and EX models. Kia's voice activated telematics system, called "Uvo", was added to the Sorento's equipment list as well.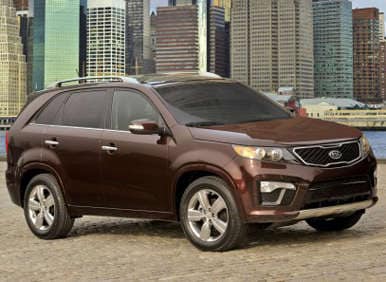 Used Kia Sorento: Used Kia Sorento: Summary
As modestly priced SUVs go, beating Kia's Sorento is a difficult proposition. Similar models from Ford, Honda, Toyota and Nissan cost considerably more when comparably equipped. Also, in many cases, the Kia offered V6 power where the competition made do with four-cylinder engines at a similar price point.
In other words, if you're looking for the value proposition in a pre-owned mid-sized SUV, you can stop looking—you've found it.
As for reliability, both generations of the Sorento have proven to be rather robust in that regard, and in fact, given Kia's 10-year 100,000-mile powertrain warranty, many pre-owned Sorento models are still under manufacturers warranty to boot.
There have been some recalls of the Sorento, so you'll want to run an Internet search for "Kia Sorento recall"—incorporating your model year of interest—to see which may affect the Sorento you're looking at. Naturally, while you're at it, you should also run a vehicle history report against the VIN. And finally, before conducting any monetary transaction, get the vehicle inspected by a trusted professional mechanic, one well versed in Kia's products.