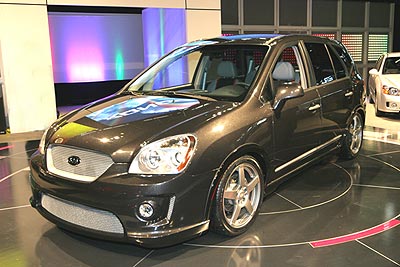 Kia Rondo SX Concept Preview – 2007 Chicago Auto Show: A sporty Kia Rondo? A few weeks after launching the new Rondo, Kia is already unveiling the performance-oriented Rondo SX Concept. It may sound like a blitz of a product offensive, but in actuality the idea of a production Rondo SX is pretty much a given. Consider that the SX designation has been assigned to "sporty" versions of the Rio and Spectra models, and it becomes less of a stretch to envision a Rondo SX on your local Kia lot. Now, whether or not the expected production version offers the concept's 192 horses, retuned suspension and leather/Alcantara interior is another issue entirely.
What's Under the Hood
In production form, the 2007 Kia Rondo is available with a four-cylinder engine or a 182-horsepower V6. That's decent output, but the Rondo SX Concept adds a little more punch, to the tune of 192 horsepower from the same 2.7-liter V6. The 10-horsepower gain comes from a cold-air intake system and a cat-back exhaust, items that should be available through Kia's recently-introduced performance parts division. The SX Concept also sports a retuned suspension that lets the little crossover sit three inches lower than production. Cross-drilled and vented disc brakes work to slow custom five-spoke 18-inch alloy wheels rolling on 235/40R18 Michelin Pilot Sport rubber.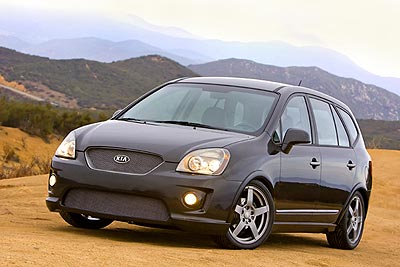 What it Looks Like
Visual enhancements are easy to recognize on the Kia Rondo SX Concept. They include a revised front fascia with a more aggressive lower intake, inlets for brake cooling, a lower spoiler, smoked headlights, and a mesh grille. Other changes include a tweaked rear fascia accented by a diffuser and dual exhaust tips, and a lower body kit. As seems to be the current trend, the roof rails have been removed to give the Rondo SX a sportier appearance.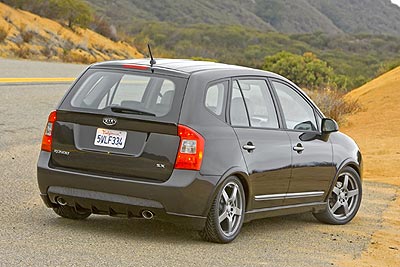 What's Inside
Changes inside the Rondo's roomy interior are cosmetic. Inside, the SX Concept gets leather seats with Alcantara inserts and red contrast piping, faux platinum trim, and stainless steel pedals.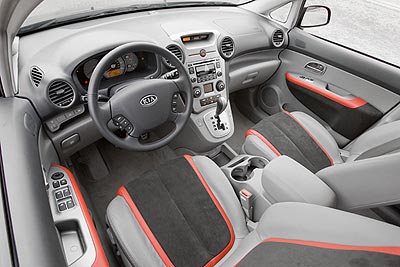 What We Think
Kia is a company on the move, and with the American branch of the Korean car brand now under the control of former VW chief Len Hunt, there's a definite focus on building enthusiasm around Kia. To that end, the performance parts division has been launched, and it stands to reason this sportier version of the Rondo will see the light of day. If there's still discussion going on in the back offices of Kia, we suggest building the Rondo SX…and while you're at it, toss in an optional all-wheel-drive system.
Photos courtesy of Kia and Thom Blackett