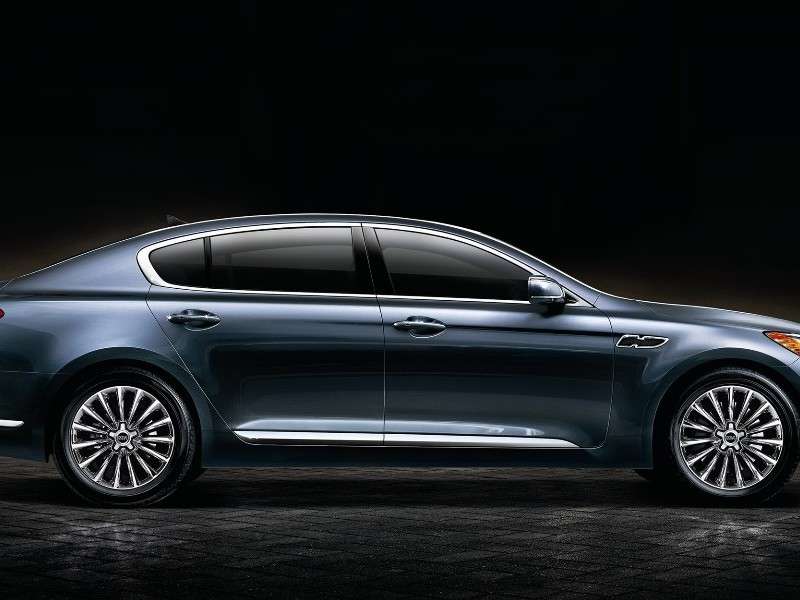 It was just a small blip on the ol' radar screen, but it could herald big changes for the Kia brand: Per a recent release, "Kia Motors America will take value to new levels of sophistication next month with the unveiling of a rear-wheel-drive flagship sedan at the Los Angeles auto show. The all-new K900 is scheduled to go on sale next year and be available with either a V6 or V8 engine."
Now, that is, literally, the entire text of the company's announcement, but since a version of the car already has launched in Kia's home market of South Korea and other global markets—as the K9 and Quoris—we can get a basic idea of what's to come. For starters, the exterior of the K9/Quoris shows a more sophisticated evolution of Kia's successful large-car design language, with slightly more restrained styling, a more settled stance and a sharper focus on details. That's particularly true up front, where the car aims for luxury lighting leadership with precision-look adaptive LED headlights.
Also offered on the K9/Quoris, and thus almost certain to show up on the Kia K900, is a four-camera sensor system that does double duty for drivers. Not only does the setup enable a full suite of driver-assistance features, but it also delivers a true 360-degree around-view display. Again looking to the global model for inspiration, some of the other distinguishing highlights likely to be seen in the Kia K900 include:
An eight-speed automatic transmission complemented by four selectable driving modes
Rear-seat entertainment resources like dual 9.2-inch video monitors
Premium audio with 17 Lexicon speakers
Head Up Display
As for pricing, expect the MSRP of the Kia K900 to be somewhere in the same neighborhood as that of its Hyundai Equus rival/cousin, with an address just north of $60,000.