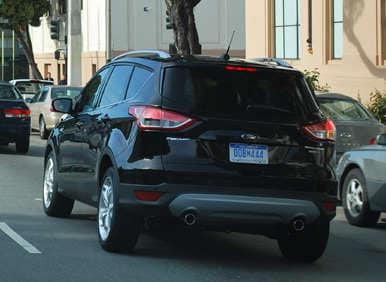 The 2013 Ford Escape is undoubtedly an important new product for Ford Motor Company, but the launch of this compact crossover was put in jeopardy by a hailstorm in Kentucky last month. According to reports, about 3,500 new Ford Escapes were damaged while parked at Ford's Louisville Assembly Plant - where the crossover is produced - during a storm on April 28. In an interview with the Detroit Free Press, Ford spokesperson Todd Nissen indicated that damage will not affect the delivery of new Ford Escape models to dealerships.
Nissen said that the vehicles were damaged during final inspection, and while a specific number of units could not be verified, he did state that any damaged Escapes will not be sold as new vehicles. Production of the new 2013 Escape started last month, and Ford began shipping it to dealerships earlier this month. Ford has already said that it will be increasing vehicle production this year to keep up with demand, but it isn't clear how it will account for these damaged models in Louisville.
Despite the fact that the second-generation Escape was in its final year of production, sales have been at record-setting paces with best-ever annual sales of 254,293 in 2011 and a record first quarter in 2012 with 58,604 units sold through March. As if these sales figures weren't important enough, Ford says that 47 percent of all Escape sales came from conquest buyers coming from non-Ford vehicles.
The new Ford Escape rides on a similar platform as the Ford Focus and the Ford C-Max, but these compact vehicles are built at the Michigan Assembly Plant in Wayne, Mich. Previous generations of the Ford Escape were built at Ford's Kansas City Assembly Plant in Claycomo, Mo.
We had a chance to drive Ford's redesigned crossover last month, so check out our 2013 Ford Escape first drive review