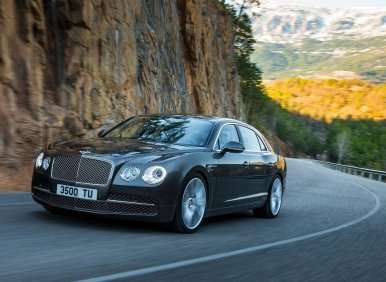 The newest, most luxurious member of the 200-mph Club will make its first public appearance at the Geneva Motor Show in Switzerland in March, when the 2014 Bentley Flying Spur takes the stage as the fastest sedan ever sold by the erstwhile British luxury marque (now part of the Volkswagen empire). The vehicle is due in this country later this year, and some details, particularly in regards to pricing and fuel efficiency, will have to wait until closer to that time; on the other hand, we do have plenty of other info to pass on and besides, in this segment of the market, that missing data isn't likely to have much of an influence on buyers.
2014 Bentley Flying Spur: Spurred on by W12 Power
Achieving (almost) the same top speed as the 2013 Ford Mustang Shelby GT 500 requires same turbocharged W12 engine that motivates the high-performance variants of the Bentley Continental GT lineup. The powerplant develops 616 hp and 590 lb.-ft. of torque in the 2014 Bentley Flying Spur and, mated to an eight-speed automatic transmission from ZF, can shove the 5,451-lb. car from 0-60 in just 4.3 seconds—and from 0-100 in 9.5. And note that's with a Bentley's full-time all-wheel-drive system on board.
Now, it's unlikely that the 2014 Bentley Flying Spur will win too many autocross events, but engineers do complement that straight-line performance with a sophisticated suspension to help manage its more than 2.5 tons of mass. The focus, of course, is to "maximise impact absorption and isolation," which is accomplished by features like electronic dampers, a driver-selectable four-mode suspension-control system, and an air suspension that can adjust ride height for improved stability at triple-digit speeds.
The result is the best of both worlds, according to Dr. Wolfgang Schrieber, the company's chairman and chief executive: "Bentley's new Flying Spur is the ultimate luxury performance sedan. Our engineers have worked tirelessly to ensure that the Flying Spur is the perfect combination of power, comfort, refinement and handcrafted quality. Fitted with the very latest technology, the new Flying Spur is equipped both for business and relaxation whilst remaining a car to enjoy from behind the wheel."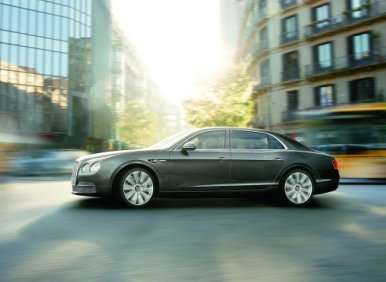 2014 Bentley Flying Spur: Luxury Highlights
As you might guess in a car that relies on more than 32 square feet of "sustainably sourced natural wood" for its cabin accents, and offers 17 shades of leather, the 2014 Bentley Flying Spur boasts far too much in the way of ultra-premium accoutrements to provide in-depth coverage here. But prospective Bentley buyers should be aware that along with all of its traditional luxury cues, the Flying Spur also offers a full complement of high-tech connectivity and infotainment features.
It all starts with the Bentley Control Unit, designed to provide mobile Wi-Fi services, 64 gigabytes of storage, and the ability to stream media to the vehicle's dual 10-inch LCD screens—which also can be used by rear-seat passengers to watch content from two separate media players, each capable of handling DVDs, SD cards, HMDI devices and USB-enabled devices (including iPads and iPods). The 2014 Bentley Flying Spur makes it simple to control all those features as well, with a new Touch Screen Remote system that also can be used to manage the climate, seat heating/ventilation, and navigation systems.
The party line from Bentley: "With its unrivalled blend of effortless driveability, exquisite luxury and craftsmanship, sculpted design, and state-of-the-art technology, the new Flying Spur takes the worldwide successor further."