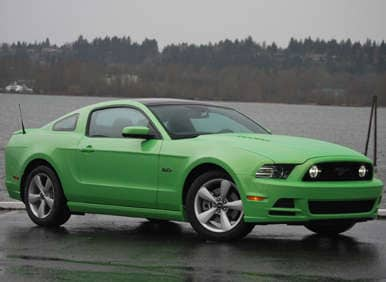 Even with the growing importance on smaller, fuel-efficient vehicles in the United States, it is good to see that the there is still plenty of competitive spirit amongst the American muscle cars. The Chevrolet Camaro has been on fire with new model after new model debuting since 2010, but the Ford Mustang has kept an equal pace with its key rival and is on the verge of reclaiming the top-selling muscle car title.
Sales total for the first half of 2012 are in, and the Ford Mustang has taken a huge bite out of the its rival's dominance helping the Blue Oval to pull within about 1,000 units of the Camaro's lead. In June, Ford sold 10,263 Mustangs marking a 16.2 percent increase over 2011 versus Chevrolet's 9,123 Camaros which were up 7.5 percent last month. For the year, the Chevy Camaro is still in the lead with 49,697 sales, but the Mustang is right on its heels with 48,624. Last year, Camaro outsold Mustang by almost 20,000 units, but the first half of 2012 has been strong for Ford's pony car with sales up 24.5 percent compared to Camaro sitting still with a slight 1.9 percent increase year-to-date.
Numerous updates made to the 2013 Ford Mustang have likely been a key factor in the Mustang's resurgent sales up to, and including, the powerful 2013 Ford Shelby GT500. The GT500 now has a 662-horsepower supercharged V-8 under the hood that Ford says allows the car to hit the 200 mile per hour mark. All 2013 Mustangs get a noticeable styling update with new front fascia, hood and taillights that really set this car apart. Not that the Chevrolet Camaro has gone stagnant adding new models such as the convertible last year and the all-new Camaro ZL1 for 2013. The new ZL1 puts out 580 hp and is said to hit a top speed of around 184 mph, and it's tuned to tackle everything from the drag strip to the famed Nürburgring. Both the GT500 and ZL1 are offered in convertible and coupe body styles.
As for the other player in the muscle car wars, the Dodge Challenger has seen its sales rise this year, too, but are up about on the year with 23,451 sales including an increase of 18 percent in June with 4,009 units sold.