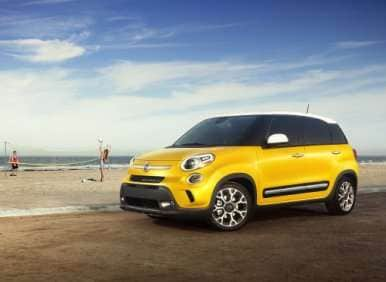 The Chrysler Group put together another strong sales performance in June, selling 156,686 vehicles that marked an increase of 8 percent as compared to June 2012.  Individual results, however, were hit and miss: Of the 23 nameplates on this month's Chrysler Group sales report, 11 scored double-digit sales gains and nine were in the red; the remaining three vehicles—the Fiat 500L, SRT Viper and Dodge Dart—weren't on sale last year. (Okay, technically, Dodge did deliver 202 Darts last June, but let's not let the facts get in the way here.)
The effect was particularly notable at the Jeep and Chrysler brands, which saw sales rise by just 90 and 386 units, respectively. Despite large advances up an down those divisions' lineups, the discontinued Jeep Liberty (down 99 percent) and Chrysler Town & Country (slipping by 39 percent) pulled down their brands' overall numbers to essentially flat growth rates; the bottom line for the two divisions included 27,249 deliveries for Chrysler and 44,609 for Jeep.
The Dodge brand shook off the losses of the Dodge Caliber and Dodge Nitro to increase sales by 12 percent, reflecting 49,843 June deliveries, with the Ram roster contributing 30,935 deliveries and a 23 percent improvement. For Fiat, the sale of the first 541 Fiat 500L models were enough to offset a 12 percent drop in volume for little brother, and turn up an extra 46 sales for the division as compared to the same month last year.
Still, as indicated by Reid Bigland, head of U.S. sales for the for the automaker: "Last month, Chrysler Group set seven individual vehicle line sales records and achieved our 39th consecutive month of year-over-year sales growth. The fundamentals for continued industry gains in new vehicle sales remain intact."
June Auto Sales: Chrysler Group's Record Breakers
As a further example of how the loss of the Liberty affected Jeep's total sales numbers last month, consider this: All of the players on the current Jeep roster set all-time June sales records except for the Jeep Grand Cherokee, and that model's 16,626 sales and 33 percent increase led Jeep in terms of both volume and growth. The other entries:
Jeep Wrangler—16,165 sales, +12 percent
Jeep Patriot—6,690 sales, +20 percent
Jeep Compass—5,034 sales, +24 percent
Dodge also boasted two record-setters last month, although one was the Dart that, as mentioned, just completed its first June on the market. A more significant mark was broken by the Dodge Challenger. The brand's muscle-car contender earned its seventh straight monthly sales record last month, with 5,101 deliveries that represented a 27 percent spike in volume.
Also reaping a record for June were the Chrysler 200, thanks to a 14 percent sales rise and 12,360 deliveries, as well as the Ram Cargo Van, lifting sales 13 percent to 1,291 units.
Two other vehicles did particularly well for Chrysler Group in June, even though they didn't actually set any records. The Ram 1500 continued to benefit from the country's renewed high demand for full-size pickups, as evidenced by a 24 percent advance on the strength of 29,644 deliveries, while the Dodge Durango led all Chrysler Group products with a 39 percent boost in volume, backed by 4,590 sales. That performance also helped the Durango overtake the Jeep Compass as the automaker's fastest grower on a year-to-date basis, since the Dodge is now ahead of last year's pace by a healthy 32 percent.