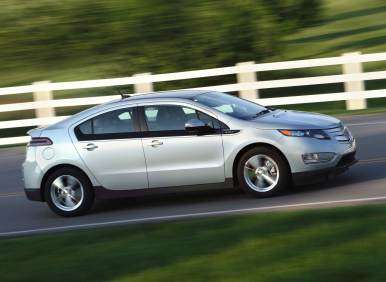 Buoyed by strong Chevy numbers in the heart of the market, as well as spiking demand for full-size pickups, General Motors ended the first half of the year by selling 264,843 vehicles in June and posting a 6.5 percent increase in volume versus the same month last year. That did leave the General trailing Chrysler and Ford, among others, but the overall numbers don't tell the whole story according to Kurt McNeil, vice president of U.S. Sales Operations for GM.
"Our Chevrolet, Buick-GMC and Cadillac dealers reported strong retail deliveries across the board in June and for the first six months of the year," McNeill said. "We have good momentum heading into the second half of 2013: the economic outlook is solid and our launch vehicles are performing well in the marketplace."
In fact, GM's retail sales were up 14 percent in June, while all-new entries like the Cadillac ATS, Cadillac XTS, Buick Encore and Chevy Spark all enjoyed relatively strong demand in the prior month. The ATS, for example, rang up 3,459 sales that were enough to beat out the Audi A4, and combined with the XTS, Cadillac's newest duo helped the brand to a 14.9 percent sales spike and its fastest growth since 1976.
More of the same is on the horizon, too, according to GM's prognosticators.
"America's families are better off than they were at the beginning of the year and they believe—with good justification—that the economic expansion is going to continue," said Mustafa Mohatarem, GM chief economist. "Even moderate economic growth will be enough to keep the auto sales rate in the second half of the year at healthy levels around the mid 15 million-unit mark."
June Auto Sales: General Deliveries
The Bowtie brand saw success from some unexpected quarters last month, as a number of greener choices set new monthly sales records even in the face of high demand for trucks. The Chevrolet Volt bounced back from slow sales early this year to register a 53.3 percent increase, with 2,698 deliveries—the highest June sales total ever for the Volt—while the Chevy Cruze reached an all-time monthly high-water mark with 32,871 deliveries, reflecting an increase of 73.2 percent. The Chevrolet Equinox also completed its 18th consecutive month of gains with its highest monthly sales total ever: 23,645 units (up 13.7 percent).
On the other hand, GM also took full advantage of the sizzling market for pickups, as the Chevrolet Silverado and GMC Sierra responded with 43,259 and 16,568 June sales, respectively, matched by 28.9 and 32.8 percent gains. And those numbers included about 6,000 all-new 2014 models, which are averaging a bare 10 days at dealerships before being purchased.
Other June sellers of note from GM include the Buick Enclave (5,922 sales, +13.7 percent) and Chevrolet Traverse (10,295 sales, +7.6 percent), and the company's individual brands performed as follows:
Buick—18,078 sales, -4.1 percent
Cadillac—13,929 sales, +14.9 percent
Chevrolet—193,460 sales, +7.4 percent
GMC—39,376, +4.5 percent