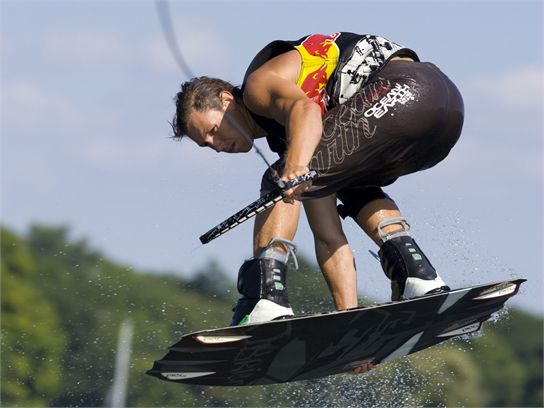 Name a major wakeboarding competition and Red Bull athlete Josh Sanders has likely participated, placed, or destroyed it. From the US X Games to the Asian X Games to the Australian Pro Tour, Josh Sanders has left his mark on the game forever. The native Australian has parlayed his experience and reputation as one of the top wakeboarders in the world into establishing a wakeboarding school in his hometown of Norwa, as well as leadership positions within the world of Australian pro wakeboarding. With that, another Autobytel With.
What was your very first car?
Ford Aerostar (Nana we named her). Nana was a long-wheelbase, so we put the seat right at the back, limo style, and pimped her with deck chairs and coolers full of Red Bull and…
Tell us about your current car situation, what you did to it, etc.
I have a black Ford F-250 in Australia. I have the custom rims I won at the 2005 Australian Pro Wakeboard Tour ready to go on the big girl, but I am a little nervous 'cause the wife drives super close to curbs and they have sentimental value, so they are in the garage next to the truck. I have a [Chevrolet] Trailblazer in Orlando thanks to Supra Boats.
Of your athlete peers, who has the tightest car? Who needs an upgrade?
Dallas Friday always has a pimp ride... especially for a chick. Most of the Australian and international wakeboarders come over for the summer following their dreams and they have some of the most un-roadworthy bombs I have ever seen. It's awesome. They could do with an upgrade.
What car do you have your eye on next?
Need a truck, something to tow the boat. Diesel. Otherwise I would probably go for a hybrid car. Save the planet.
What's your dream car, and if you could road trip it with anyone (seriously, anyone, dead or alive) who would it be and where would you go?
My dream car would probably be a Bentley or something super-smooth. But if I was going on a road trip I would like to take about 15 people, so I would probably need a bus and I would take my closest friends and family around North America. I would choose North America because you can access everywhere by road, you can meet all types of people, and I would take my closest friends and family because they are the ones I want to hang out with and I wouldn't want to risk an awesome road trip with someone I don't know, dead, alive, famous, whatever.
We asked Josh Sanders why he called the Aerostar "Nana" and he replied, "Because it was a Nana vehicle." We're still not entirely sure what that means and consulting AussieSlang.com shed no light on the matter either. That said, we're all for pimping-out minivans. The Ford F-250 is a beast and we made it our 2008 Truck of the Year. We know Australians in particular like to get crazy with their pickups, in fact we'll probably be seeing one soon in the form of the Pontiac G8 Sport Truck. Best of luck Josh, and keep it locked on Autobytel.com.
By Elliot Darvick Photos courtesy of Autobytel.com, Christian Pondella/Red Bull Photofiles