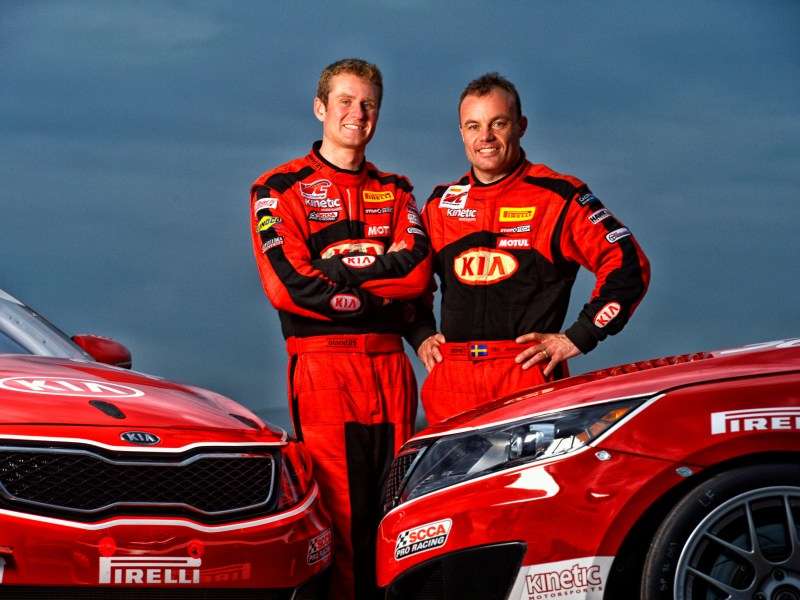 With much of the motorsports buzz this year focusing on the new United SportsCar Championship and the new engine rules in Formula 1, the 2014 Kia Optima Turbo will once again be chasing the Pirelli World Challenge championship, and with its same driving team from the previous year: Nic Jönsson and Mark Wilkins.
The former helped Kia earn its first North American motorsports title, with a Forte Koup as part of the brand's past Grand-Am efforts, and spent his first season in an Optima Turbo racer last year. Meanwhile, the latter captured two wins and six podium finishes during the 2013 World Challenge season, just missing the driver's championship. Needless to say, Wilkins is looking to wrap up some unfinished business with the 2014 Kia Optima Turbo this time around.
Said Wilkins: "After the success we had in our first two seasons, I'm thrilled to be back behind the wheel of the turbocharged Optima for 2014. We've shown improvement each year in the Pirelli World Challenge, and the development of the Optima turbo by Kinetic Motorsports has proven to be impressive; our car is ultra-competitive at all tracks we visit. Having missed the championship last year by only a few points, I can't wait to get back on track and start racing again."
That will happen March 28-30, 2014, when the 2014 Kia Optima Turbo and the rest of the field kicks off the Pirelli World Challenge season at the Firestone Grand Prix of St. Petersburg in Florida.
The party line from Michael Sprague, executive vice president of sales and marketing for Kia Motors America: "The Kia Racing team has exceeded our expectations in the Pirelli World Challenge after two solid seasons of intense competition, posting four wins and 12 podiums in that time. We had a promising run last year and came close to winning the championship in the season finale. Nic, Mark and the entire Kia Racing team are outstanding brand ambassadors, helping us to demonstrate the quality, reliability and performance of our U.S.-built Optimas. We're very glad to have both drivers back with us again and anxious to build on our strong results and have another shot at the title in 2014."