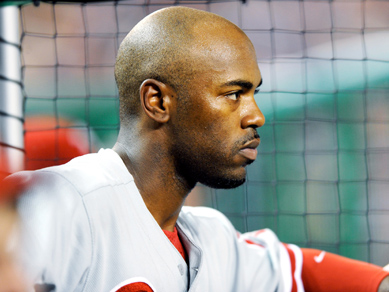 We don't need to take up your time telling you how talented shortstop Jimmy Rollins of the Philadelphia Phillies is. No, Major League Baseball did that when they made him the 2007 National League MVP. So did the fans when they invited him to the All Star Game. Three times. This year, Jimmy Rollins and the Phillies are well on their way to the playoffs. Off the field, Jimmy has been involved in running his own music label and hosts the annual charity event, the Jimmy Rollins Celebrity BaseBOWL Tournament, which this year raised money for the Arthritis Foundation of Eastern Pennsylvania. But what is Jimmy Rollins parking in the player's lot these days? With that, another MyRide With.
My latest toy is the Audi R8.  I've been driving that to and from the field, or when I have a night out, or if I'm taking my girl out to eat dinner, I like to jump in that. 
It's just one of those cars that you only see on the road every once in a while. As far as I know I'm the only one around here with it.
Actually, in 2005 I was going through a magazine and I saw it in there as a concept car and I got in touch with my financial advisor, and we got in touch with Audi and ordered it right away. Audi said it was still a concept car but we'll put you on the list. I was Number 4, behind Paul O'Neill [former New York Yankee].
It's blue. I don't know if it's called Mugello Blue, or Midnight Blue, or something, but it's one of those. I said, "Just give me any blue that you do have." So it is blue with a Tuscan Brown interior.
I used to be, but now I just go with the stocks.
Well, I had a Cadillac Escalade and I did it up nice, and two times it got broken into and after that I had had it, and from there on out I'm like, whatever comes in it is fine with me.
Uh, just the normal stuff. I mean, I shouldn't say the "normal" stuff, but you know, the normal cars for athletes – Mercedes, BMW, Range Rover and a Bentley. And then the Audi, so I got the whole spectrum. Ah-ha!
Well, she won't drive the Bentley, she won't drive the BMW, I let her drive the Audi once and I think she would really like to continue to drive that but, uh, I don't think so. But, she can drive the Mercedes or the Range Rover anytime she wants!
You know, it's funny. We asked our financial advisor about getting the incredible Audi R8 just last month, and you know what he told us? He said, "What do I look like, a car dealer? I'm your bookie! Now are you taking the under or the over on the Dolphins?" Lucky for Jimmy Rollins, he doesn't have to generate income from betting (like a former member of the Phill…just kidding!) Oh, in case you were wondering how manufacturers come up with these crazy names for colors, Jimmy's Mugello Blue Audi R8 is named after the Mugello region of Italy near Florence (or more likely the famed race circuit that resides there). Best of luck finishing the season out, keep it locked on MyRide.
By: Mary Buckheit/ESPN, Elliot Darvick Photos courtesy of Audi, James Lang/US Presswire