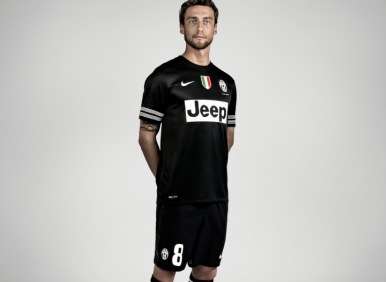 Soccer enthusiasts have been trying to win over American fans for decades—without much success—but they can perhaps take heart in knowing they've convinced American automakers to support the sport: Not only has Chevrolet signed on to sponsor Manchester United, one of England's top teams, but Jeep has gotten into the game as well, with a three-year deal with Italy's Juventus club. The new partnership was actually announced in April, but it's getting renewed buzz now thanks to both the Chevy situation and the recent public unveiling of Juventus' new Jeep-branded jerseys.
On the odd chance you're not already a member of the club's global fanbase—Juventus claims some 295 million followers around the world—it's one of the most storied teams in Italian football, with a tradition that stretches back to its founding in 1897. Juventus' long list of accomplishments includes 28 league championships and nine victories in the Italy Cup, with the club winning both again last season, and team members have played key roles in all three of Italy's World Cup crowns. Perhaps more pertinent here, however, may be the fact that Juventus is run by Italy's Agnelli family, which also controls Fiat-Chrysler, which owns the Jeep brand.
Jeep and Juventus: A New Season and a New Jeep Grand Cherokee
The three-year deal between Jeep and Juventus is an important building block in the auto company's plans to expand its global reach, as it will drastically boost awareness of the Jeep brand just as it is preparing to launch three all-new vehicles for the European market. The goal: Achieve annual sales of 125,000 Jeeps by 2015.
But ahead of those fresh launches, the new Jeep Grand Cherokee S Limited will be revealed in July during Juventus' preseason activities and take its place as the acme of the brand's European lineup. Wrapped in the same sophisticated sheet metal that adorns the U.S. Grand Cherokee, and sitting on the same highly capable platform, the S Limited has been fine-tuned for European buyers with big 20-inch alloy wheels that feature a glossy black finish, unique "black-out" styling accents, sport seats covered in fine Nappa leather and suede, and a dash of carbon fiber in the cabin.
Motivating the Grand Cherokee S Limited will be a robust 3.0-liter V6 turbodiesel engine that relies on innovative Multijet II technology to deliver 241 hp and 406 lb.-ft. of torque.
The Multijet stuff? That's some nifty Fiat-developed tech that enhances the fuel-injection process for a notable 2 percent improvement in fuel economy and a similarly sized reduction in emissions—compared to a traditional injection system—while also providing much quieter operation.
And yes, Jeep has confirmed that a diesel powerplant will be deployed in the U.S. Grand Cherokee beginning next year. Now, no one's admitted it will be the Multijet V6, but it has to be considered a likely candidate, right?