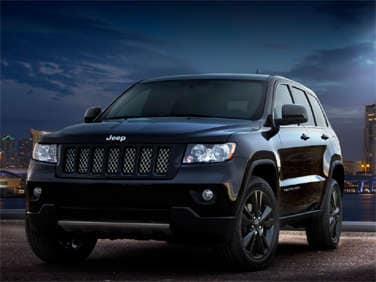 Generally speaking, there isn't much automotive news to report between the Detroit Auto Show in January and the Chicago Auto Show in February, but Jeep unveiled a new production-intent concept vehicle today at the 2012 Houston Auto Show. The attention-grabbing Jeep Grand Cherokee Concept has yet to be named, but Jeep has introduced a contest for the public to help name the model when it goes into production. It is likely that Jeep chose to launch this vehicle in Houston since the Grand Cherokee was named the SUV of Texas two years in a row (2010 and 2011) by the Texas Auto Writers Association.
The aggressive new package is highlighted by blacked-out exterior features such as the grille, headlights, liftgate trim and 20-inch wheels. As mean as this new package looks when the Grand Cherokee is painted in Brilliant Black, the changes are more obvious in other colors like Deep Cherry Red which is the color this concept will be on display with at the  2012 Washington (D.C.) Auto Show. A unique Platinum Chrome finish is used to accent the mesh grille as well as the lower fascia opening.
Aside from the fact that this production-intent concept is based on a 2012 Jeep Grand Cherokee Laredo X that starts at $34,295, Jeep has yet to announce pricing or availability of this new model. For those interested in trying to help name this concept, head on over to www.jeep.com/en/2012/namemyride which also shows pictures of the Grand Cherokee in the aforementioned red color. Entries will be whittled down to three before consumers can vote on them, and then the final name will be announced in May. The winner of this contest could win a 2012 Grand Cherokee.
"Jeep enthusiasts have always appreciated limited-edition models and the ability to customize their vehicles," said Mike Manley, President and CEO – Jeep Brand, Chrysler Group LLC. "This new Grand Cherokee comes with a unique, 'factory-customized' stealth appearance directly from Jeep, and is certain to attract interest from an array of potential customers."