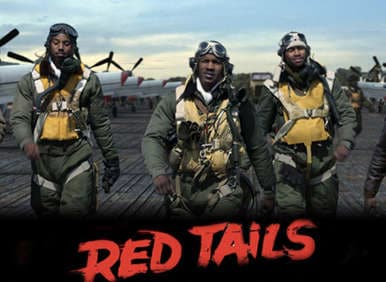 Backed by Jeep-sponsored premieres in four cities across the country—Chicago, Detroit, Los Angeles and New York—the new George Lucas film Red Tails bested all expectations with a $19.1 million box office haul in its first weekend on the screen. The movie was inspired by the story of the Tuskegee Airmen, who helped turn the tide for the U.S. in World War II as the first all-black aerial combat unit.
Based out of Tuskegee, Ala., the Airmen were essential to Allied victory during the invasion of North Africa, then went on to fight with distinction in the skies over Europe, too. All told, some 350 pilots from the Tuskegee program saw combat in World War II, supported by thousands of other African-Americans who made their contributions in maintenance, support and administrative roles. Just as importantly, the success of the Tuskegee Airmen helped overturn segregation in the U.S. military—albeit not until 1948—and lay early groundwork for the civil rights movement in this country.
"We commend George Lucas and Lucasfilm in the quest to tell the story of the Tuskegee Airmen's courage, ability and resiliency seen in Red Tails," said Kim Adams House, head of Jeep Advertising. "It is a proud moment for the Jeep brand to reunite with the renowned and brave Tuskegee Airmen—who helped to keep the many missions in the air moving forward while Jeep vehicles kept our troops moving forward on land."
And "reunite" is the operative word here: The original Jeeps, just like the original Airmen, first took off in 1941 as part of American efforts to win the war—something that gets much play in the new movie.
"We are proud to have been a part of this historic depiction that illustrates the bravery of the Tuskegee Airmen," added Adams House. "Red Tails is a movie that Jeep fans would appreciate as it also depicts the important role that Jeep vehicles played in the quest for freedom during World War II."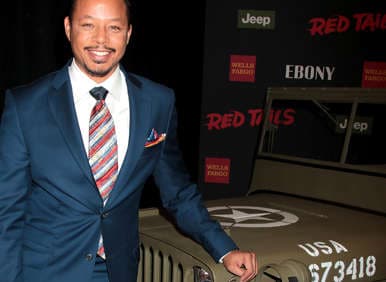 The Jeep partnership also represents a notable extension of how the brand leverages its military roots to attract customers. In the more recent past, this has been limited to tie-ins with the popular Call of Duty videogame series, which resulted in two very successful special-edition Jeep Wranglers. Does this mean a Red Trails Wrangler could be deployed sometime this year? Jeep is keeping any such plans top secret for the moment, but another couple of weeks of strong ticket sales for the movie could very well make the difference.