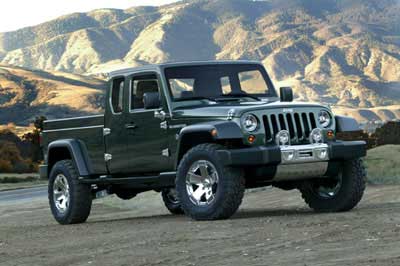 There are few things that represent off-roading quite like a Wrangler. The scaled back tough-guy look and the history have worked their way into a permanent slot in American car culture. It's a fact – when you think of off-roading, chances are the first vehicle you think of is a Jeep Wrangler – with apologies to Land Rover. So when the time comes to add to the stable of Jeep Wrangler vehicles available for sale, Chrysler execs know that they must tread lightly. Mess with the proven formula of Wrangler looks and rough terrain performance, and invite building an ordinary car – and tainting the carefully nurtured brand of the Wrangler name. Shoot. They drove these things in World War II – mess with America's off -road favorite, and invite disaster. Happily, the Jeep Gladiator concept messes with much of the formula – but keeps the good stuff intact.
Overview
The Jeep Gladiator concept takes much of its design – and its name – from the 1962 full size Jeep pickup, thus leaving intact the Jeep/Dodge/Chrysler obsession with car names from the misty, wispy past. And just like most of these retro-futuristic (oops, a Ford word there) cars, this looks to be another concept that might have one foot in the production door. The Jeep Gladiator is a sharp-looking vehicle that defies labels, as it retains much of the Wrangler mechanics but includes fancy chrome accents and a bed that can expand to eight feet in a 'classic' pull-the-back-window-out Avalanche-style mid-gate design. Dubbed a "lifestyle" pickup, the Gladiator keeps the Wrangler's solid front axle, adding a side-mounted spare and a half-door on the passenger side that opens 180 degrees. The Gladiator also features an open-air canvas roof and removable doors. Other elements of the Gladiator include a Command Trac part-time 4WD system, front- and rear-locking differentials, a front winch, and skid plates.
Will it be built?
PR hyperbole aside, if there's a business case for the vehicle, Jeep will build the thing. It doesn't take a genius to figure out the business case here: merge Wrangler rough-and-ready with the lifestyle requirements of a truck, sit back and sell, sell, sell. You can bet on it – the Jeep Gladiator concept, yet another hit rolling from the minds of the DaimlerChrysler brainiacs, will be on sale in a toned down production version.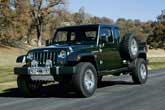 Performance
The Gladiator is powered by a 2.8-liter, four-cylinder common-rail turbo-diesel engine that provides 295 lb.-ft. of torque and 163 horsepower. Managing that power is a six-speed manual transmission and a part-time transfer case. The front and rear suspensions are multi-link designs with plenty of travel for capable off-roading. Coil-over shocks are used at all four corners, and the rear end incorporates dual, concentric springs for a comfortable ride while offering a 1,500-pound payload. Key off-roading specifications include a ground clearance of 13.7 inches, break-over angle of 23.2 degrees, and approach/departure angles of 47.6 /38.0 degrees, respectively. Tires in the front and rear are 34 inches in diameter mounted on 18-inch wheels.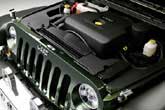 Utility
Historic Jeep elements on the Gladiator concept include the seven-slot grille and an open-air passenger compartment. There's also the expected Command Trac part-time 4WD system, front- and rear-locking differentials, a front winch, and full skid plates. Unique storage areas include a driver-side access panel as well as a lockable storage panel in front of the rear wheel. The four-foot-wide bed space is expandable, stretching into the cabin when more length is needed. The bed can be transformed easily from its standard length of 5'8" to 6'8" with the midgate expanded, and ultimately to 8'11" with the midgate expanded and the tailgate down. Inside, the seats are, of course, weatherproof, and the interior is designed for hose-out ease of care. Not surprisingly, Gladiator features a navigation system and a GPS communications system. You can bet that the production version will list that last item as an option. As this truck's purpose is for lifestyle – with the added off-road prowess – it's likely that consumers will be able to purchase models with varying levels of off-road equipment – like that front winch.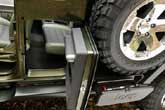 Wrap-Up
The Jeep Gladiator concept looks like a winner, as long as the seesaw battle between suburban lifestyle – see weekend do-it-yourselfer – and off-road ruggedness – see Rubicon Trail – does not tip to the side of Suburbia. If it does, Jeep will have on its hand a great volume seller, but one that turns out to ultimately be a brand killer. After 50-odd years of building something special with Jeep and the Wrangler, it would be a shame if a Mom-and-Pop Home Depot transporter tossed it to the wind.
Photos courtesy of Jeep