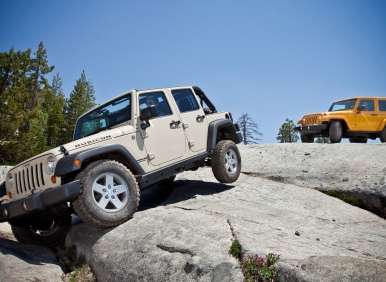 Jeep makes some of the most off-road capable sport-utility vehicles on the market, but it's rarely possible to validate just how competent the brand's offerings are on a standard dealership test drive - unless you are lucky enough to live in Michigan. A Jeep dealer in Monroe, Michigan has put together an extensive all-terrain obstacle course attached to his property in order to showcase the unstoppable nature of the SUV's parked in his showroom.
The dealership, which is run by Ralph Mahalak Jr., has been offering potential buyers an off-road test track for three years now after investing $150,000 in having it built. According to Automotive News, the track was designed by Steve Gordinier and consists of 18 distinct elements that are each intended to highlight just how hardcore a driving experience a Jeep can offer when taken off of the beaten path. Although less than 10 minutes in length, with so many steep elevation changes, a deep mud pit and a number of unusual surfaces to crawl over the experience of traversing through the course often leaves a much stronger impression on potential buyers than a simple spin around the block.
There are roughly 10 Jeep dealerships in the United States with similar courses intended to show off the vehicles at their outdoorsy best. Not every location is able to take advantage of affordable, open land immediately surrounding their address and build this type of selling tool, particularly in urban areas.
Other automakers have been slow to adopt the use of off-road tracks at the same level as Mahalak's Jeep course, although several Land Rover dealerships do incorporate rock crawling and climbing elements near their showrooms in order to demonstrate the range of four-wheel drive technologies and driver's aides that come with the high-end vehicles. Some car companies have instead opted to provide traveling test drive days where automobiles are made available to the public to be driven through special parking lot-sized tracks that have been configured for wet weather, winter or performance driving. BMW and MINI in particular have embraced this type of marketing strategy.
Perhaps it's no surprise that the test track has become such a critical selling tool for Mahalak's dealership. Designer Gordinier doesn't just limit his imagination to dealership obstacle courses - he has also designed the torture tests used to put smiles on the faces of attendees at Jeep Jamboree USA and Chrysler events. The terrain encountered at the dealership track is rough enough that only Jeep Wrangler, Jeep Grand Cherokee or Jeep Liberty test drivers are allowed to partake in its charms, as a low-range transfer case is required in order to make it through from one side to the other. All drivers must also sign a waiver indicating that they understand the risks involved in pushing a Jeep to the limit in its natural environment, although no vehicle has ever been seriously damaged or anyone injured as a result of over-enthusiasm behind the wheel.