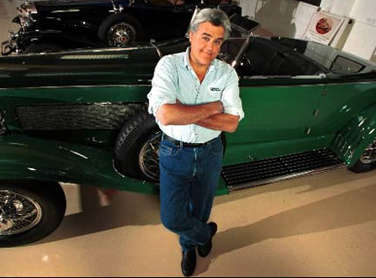 There are millions of car fans out there who would love to be Jay Leno. Leno is one of America's most visible gearheads, and he frequently opens up his collection of exotic and just plain fun automobiles to the public in the form of television features and special appearances at events across the country.
Of course, Leno's extensive automotive holdings aren't the only highlight of his celebrity car enthusiast status. The comedian's internationally-recognized face also opens up hundreds of doors within the industry itself, giving him first dibs on some of the world's most impressive vehicle debuts.
What did Jay get to drive this month, for example? For starters, he slipped into the cockpit of a prototype Morgan 3 Wheeler for Wired magazine. This ultra-lightweight trike offers zero to 60 times of just 4.5 seconds and won't go on sale on this side of the Atlantic until 2012. After tooling through British streets on the wrong side of the road for an afternoon, he then returned home where he found a brand-new Bugatti Veyron Super Sport sitting in his garage waiting for a little attention from the late night talk show host. Leno put the car through its paces on the roads of sunny Southern California with Bugatti's marketing director in tow, providing the brand with exceptional publicity but more importantly giving Jay Leno the chance to flog a 1,000-plus horsepower supercar that doesn't even have his name on the title.
How best to wrap-up such a busy month? How about popping back overseas to Germany, where Mercedes-Benz had one of the few production Mercedes-Benz SLS AMG Roadsters prepped for a little test track action in Affalterbach, the high performance tuner's base of operations. With no automotive journalist having yet been given the keys to the highly anticipated drop-top edition of the stunning gullwing SLS AMG coupe, sports car lovers around the world salivated throughout the entire video segment documenting Leno's trip.
In short, it's not just good to be king because you can then own hundreds of exciting automobiles – it's also great because you get the chance to put the pedal down in some of the world's most exotic and interesting vehicles, on someone else's dime. Oh, and fly around the world doing it, too. It's a hard life, but Jay Leno is only too willing to shoulder the burden so that the rest of us can live vicariously through his dedication to having a blast at triple-digit speeds.