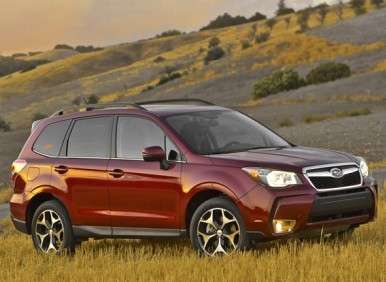 Coming off its fourth consecutive year of growth—and a 2012 in which the company sold more than 300,000 units in this country for the first time—Subaru opened up the 2013 selling season with a 21.3 percent jump in volume and 27,633 deliveries. To put that kind of expansion into context, consider that the only other automakers to outperform Subaru last month in terms of growth were Ford and Toyota and two small-volume names, Porsche and Land Rover. And the combined January sales of the full lineups from those latter two brands were lower than for the 2013 Subaru Outback by itself.
"We are excited to see strong sales across our entire model line," said Thomas J. Doll, executive vice president and COO, Subaru of America, Inc. "It is a positive start for the year and we expect strong demand for the all-new 2014 Forester when it arrives in showrooms this spring."
Added Bill Cyphers, senior vice president of sales for Subaru of America: "Car shoppers are looking for value, safety and performance. Our vehicles deliver on that promise and that is evident in our strong January sales."
January Auto Sales: Subaru Success in the Spotlight
Those glowing quotes from Subaru are then backed up by the following numbers:
2013 Subaru Outback—The Outback was the company's volume leader in January, with 8,632 deliveries and a sales increase of 16.5 percent; it also was part of the first class of vehicles to earn Top Safety Pick+ status from the Insurance Institute for Highwayn Safety (IIHS), thanks to stellar safety performance in a new, small-overlap test for front-impact occupant protection.
2013 Subaru Forester—Even with the all-new, next-gen model on its way, the current Forester logged 6,565 sales and achieved a 28.3 percent jump in volume; as for the 2014 Forester, it will go on sale in March with EPA marks of up to 32 mpg highway.
2013 Subaru Impreza WRX—The athletically inclined WRX and WRX STi remain on the previous-generation Impreza platform, but that didn't stop them from capturing 1,306 sales and a robust 83.9 percent advance as compared to January of 2012.
2013 Subaru XV Crosstrek—Just now in its first January in the marketplace, the brand's new compact SUV garnered 2,764 sales last month, outselling rivals like the 2013 Kia Sportage.
The 2013 Subaru BRZ? It was recently added to the Hagerty Hot List of future collectables, but only collected 463 sales in January.