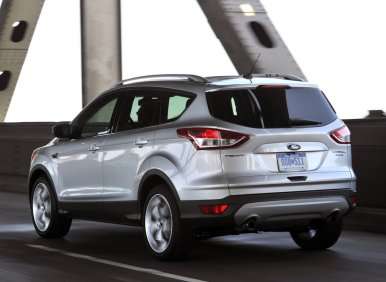 Backed by double-digit volume increases for cars, crossovers and trucks—and hybrids—the Ford Motor Company was the second-fastest-growing mainstream automaker in the country last month, when it enjoyed a 21.8 percent increase in deliveries, on the strength of 166,501 vehicles. And keep in mind that that includes a lackluster Lincoln line of 4,191 sales, representing an 18.2 percent decrease in volume for the automaker's lux division. Looking at just the Ford division itself, the brand's 162,310 sales marked a 23.3 percent advance over its numbers from January of 2012.
It meant a very nice start to the new year for Ford, which, despite some positive trends, ended 2012 having seen a fairly modest sales increase of 4.7 percent for the year. Especially heartening must have been the fact that much of the automaker's January success was from two of its all-new entries in the heart of the marketplace: The 2013 Ford Fusion and 2013 Ford Escape. 
"Ford finished 2012 strong, with retail sales showing improved strength as more customers returned to dealer showrooms," said Ken Czubay, Ford vice president, U.S. Marketing, Sales and Service. "Ford's fuel-efficient cars and hybrid vehicles showed the most dramatic growth for the year, and we achieved our best year for commercial vehicle sales since 2008." 
January Auto Sales: Ford Records Fall
How busy were Ford dealerships last month? Except for the 2013 Ford Mustang and 2013 Ford Expedition, every model in the brand's lineup either scored a double-digit increase in sales or was spending its first January on the market. That being said, Ford's standouts last month included:
2013 Ford Fiesta—The brand's subcompact entry leveraged 4,285 January sales into a 22.4 percent increase, and helped Ford's small cars to their highest January sales total in more than 10 years.
2013 Ford Fusion—With momentum continuing to grow for the Fusion Hybrid and Fusion Energi plug-in hybrid, the midsize member of the Ford lineup posted a new high-water mark for January sales, with 22,399 deliveries—an increase of 64.5 percent.
2013 Ford Taurus—It was a robust 43.1 percent sales increase and 4,934 deliveries for the Taurus, no doubt helped by a new-for-2013 2.0-liter EcoBoost engine that enables the full-size sedan to achieve 32 mpg on the highway.
2013 Ford Escape—Stiff competition among smaller crossovers limited the Escape to sales growth of "only" 15.5 percent last month, but that still translated into 19,939 deliveries and a new volume record for January.
2013 Ford Explorer—Coming off a month in which Kiplinger's Personal Finance named it one of 2013's least expensive vehicles to insure, the Escape's bigger brother ensured a 46 percent growth rate with 14,554 January deliveries.
2013 Ford Transit Connect—The innovative Transit Connect—soon to be joined at dealerships by the 2014 Ford Transit Wagon and 2014 Ford Transit full-size van—also set a January sales record; the vehicle's 3,161 deliveries  represented a 46.8 percent jump in volume.
2013 Ford F-150—Although not all precincts have yet reported, it's clear that U.S. customers have once again voted the Blue Oval's full-size pickup the No. 1 vehicle in America: The F-150 delivered 46,841 units and a 21.7 growth rate last month.