Jaguar XKR: Preview – It's tough being a supercar buyer. Despite rising gas prices, an increasing number of sub five-second cars are hitting the market, making it darn near impossible to decide which one to take home. Do you grab a Ford GT before they're gone? A Chevrolet Corvette Z06 for the weekends, leaving enough cash left over for a regular 'Vette as a daily commuter? An iconic Porsche 911? The new BMW M6? So much for unlimited funds making life easier. Whether or not it simplifies the decision-making process is a point to ponder on a rainy day, but joining the fray of exquisite and breathtakingly fast motorcars is the 2007 Jaguar XKR, available in coupe or convertible form. Based on the recently-released XK, the XKR adds a 420-horsepower supercharged engine, a stiffer and more controlled suspension, added steering response, bigger brakes, and a host of tasteful visual tweaks. Blending the brute engine power with a lighter body allows the XKR to reach 60 mph in only 4.9 seconds in coupe form, or five seconds flat in rag-top guise. Official pricing is still to come, though Jaguar suggests a 12.5-percent premium over the XK. At current prices, that puts the 2007 XKR coupe at about $85,000 and $92,000 for the convertible.
Why it matters
There are countless directions one could take in discussing why the XKR matters. Among them is Jaguar's relationship with Ford Motor Company. Ford's troubles are not exactly breaking news, so it stands to reason that every car within every one of the company's brands (think Volvo, Mazda, Jaguar, Ford etc.) needs to be a winner. There's no room for unprofitable or poorly-received models. Jaguar, including the 2007 XKR, is important to Ford's bottom line. And then there's Jaguar's image in the marketplace, something that has been a bit cloudy in recent years, especially with the entry-level X-Type serving to dilute the brand's bloodlines. Jaguar wants and needs to regain its reputation for exceptional craftsmanship, timeless styling, and top-notch performance. Depending on your perspective of the front end styling, the 2007 XKR looks to be taking a step in the right direction.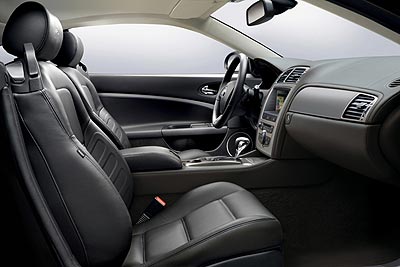 What's under the hood
Representing a 100-horsepower and 110 lb.-ft. power gain over the normally-aspirated 2007 Jaguar XK is the XKR's supercharged 4.2-liter V8. With 420 horsepower at 6,250 rpm and 413 lb.-ft. of twist at 4,000 rpm, this 32-valve beast with variable valve timing is mated to a six-speed automatic transmission operated via steering wheel-mounted paddle shifters or a center-mounted shifter. Power is delivered to the rear 19-inch Jupiter alloy wheels (20-inch Cremona alloys are optional). Three modes are available with the gearbox: Drive, or regular automatic mode; Sport, which keeps the revs up longer and blips the throttle on downshifts; and Manual for times when the driver wants to manage shift points. The all-aluminum body drops 154 pounds from the previous XKR coupe's curb weight and 220 pounds from the soft-top convertible. Coupled with the potent powertrain, the 2007 Jaguar XKR's weight loss allows the coupe to reach 60 mph in 4.9 seconds, while the convertible takes a click longer at an even five seconds. Top speed is electronically-limited to 155 mph. Though impressive, outright speed is only one of the 2007 XKR's selling points. Others include an updated Computer Active Technology Suspension (CATS) system designed to improve handling, stiffer springs, a more responsive Servotronic steering system, additional rear suspension bracing, and an exhaust system tuned to be quiet around town and which roars upon heavy throttle application. With the added performance come larger and thicker disc brakes accompanied by ABS, electronic brake-force distribution, and hydraulic brake assistance.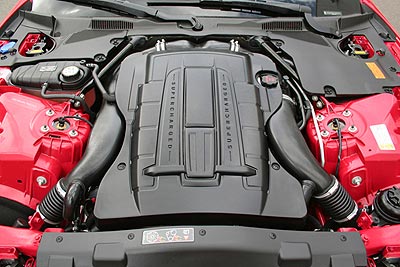 What it looks like
Upon its introduction the 2007 Jaguar XK drew praise for its Aston Martin-inspired shape and complaints for its Ford Taurus-like face. Clearly, a verdict may be hard to determine. Love it or hate, few will complain about the visual tweaks Jaguar designers employed to distinguish the 2007 XKR from its less-powerful stablemates. Changes include unique fascias, aluminum side vents, a wire mesh grille, hood vents, quad exhaust outlets, and a tri-color R badge on the trunk lid. XKR buyers also get standard 19-inch Jupiter alloy wheels as standard equipment, should they not opt to pay a bit extra for 20-inch Cremona rims. The 2007 Jaguar XKR's interior features thicker bolsters on bucket seats emblazoned with an R badge. That same single-letter moniker has found its way onto the tachometer and steering wheel. Also unique to the XKR is standard "woven" aluminum trim or optional polished burl walnut.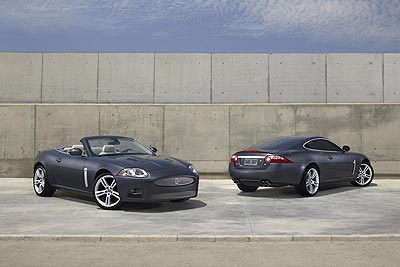 What we think
As car nuts, all we really need to hear is 4.9 seconds, supercharged V8, rear-wheel-drive, and we're pretty much sold. Until you get to the part about $85,000, that is. But for people who actually shop in this range, the 2007 Jaguar XKR is worth investigation. The love-it-or-hate-it front end gets a splash of style with a new fascia and mesh grille inserts, unique alloys fill the wheel wells, and the interior features subtle touches befitting the XKR's place in the lineup. Consider it a poor man's Aston Martin. Yet what really makes this model shine is the supercharged engine that promises to move the whole package with authority. With an estimated price creeping up on $100,000, the XKR is an expensive ride, but it offers the upscale style and prestige that the faster and less expensive Chevrolet Corvette Z06 lacks, and packs comparable horsepower to the BMW M6 that stickers for about $10,000 more.
Photos courtesy of Jaguar