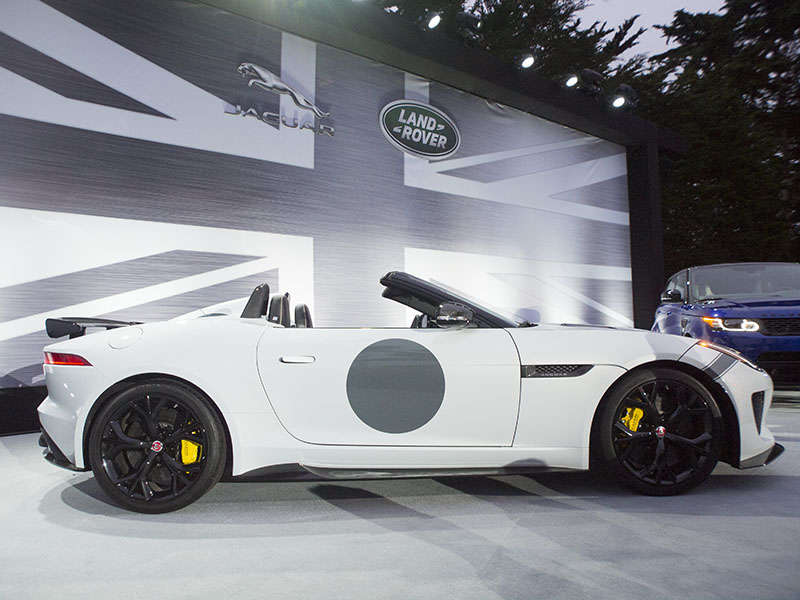 Jaguar Project 7 ・ Photo by Megan Green
The production version of the Jaguar F-Type Project 7 made its world debut earlier this year at the Goodwood Festival of Speed. Now, Jaguar will be pulling the covers off the U.S. version of the speedster ahead of the Pebble Beach Concours d'Elegance, scheduled to take place this weekend. The main difference between the Project 7 shown at Goodwood and the one shown here is the windshield. U.S. regulations meant Jaguar had to fit a full height windshield into the car's frame, and not a shortened one.
As we previously reported, the Project 7 packs an uprated version of Jaguar's superchaged 5.0L with 575 horsepower, paired with an eight-speed automatic. The sprint from 0-60mph is achieved in 3.8 seconds and if you keep your foot on the accelerator, the Project 7 can reach a top speed of 186mph.
Deliveries begin next spring and buyers will have the choice of Glacier White and Ultra Blue; British Racing Green, or Ultimate Black and Caldera Red. Pricing starts at $165,925 (includes a $925 destination charge).