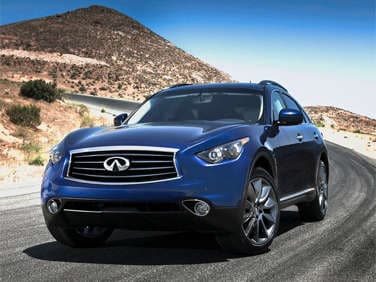 Although Infiniti is preparing to introduce the all-new JX three-crossover later this year, its more iconic crossover, the Infiniti FX, is getting some fairly newsworthy changes itself for 2012. Like any mid-cycle design update, the changes to the 2012 Infiniti FX are limited to a minor facelift, colors and option packaging which should all keep this sporty crossover fresh as it goes up against the all-new Porsche Cayenne. The 2012 Infiniti FX will still be available in FX50 AWD, FX35 AWD and FX35 RWD configurations when it goes on sale in October.
2012 Infiniti FX: Updated Look
Arguably one of the most aggressive-looking crossovers on the market, the 2012 Infiniti FX gets an even meaner look thanks to a revised front fascia. The biggest change to the new front end is a reshaped grille that is likely to become a signature look for Infiniti, and if the shape looks familiar, that's because it was also featured on the front of the Infiniti Etherea Concept. Accentuating the revised grille, lines from the 2012 FX's arched fenders now flow into the fascia giving the new look more definition. Finishing off the new front end, the egg-shaped fog light bezels now get chrome accent trim to match the tasteful use of chrome throughout the FX's exterior design. A new exterior color, Graphite Shadow, will replace Platinum Graphite on the FX's available color palette.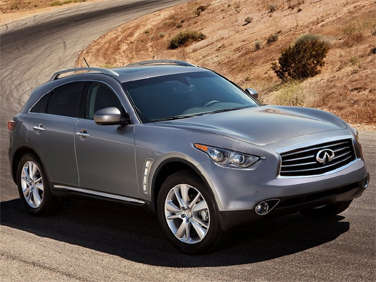 2012 Infiniti FX: New Packages
The updated 2012 Infiniti FX will also benefit from two new wheel designs that include a 20-inch, five-split-spoke wheel and a 21-inch, 10-spoke wheel that matches the FX's styling with a dark finish and a jet-turbine-like spoke design. The new 20-inch wheel is available on the FX35 Deluxe Touring Package while the 21-inch wheels are a part of an all-new FX35 AWD Limited Edition package. This latter option also includes an exclusive Iridium Blue exterior color (shown at right) with matching piping on the interior, tinted headlights, aluminum pedal accents, navigation and Infiniti's Around View Monitor.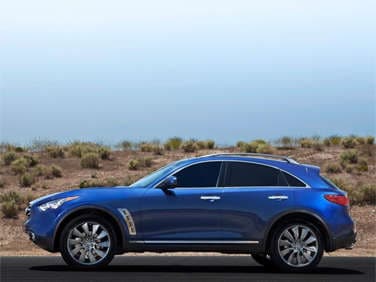 2012 Infiniti FX: Same Power and Luxury
Final changes to the 2012 Infiniti FX include minor packaging updates such as the inclusion of Adaptive Front Lighting on the FX50 Sport Package and leather, climate-controlled seats now being offered on the FX35 Deluxe Touring Package instead of the previous FX35 Premium Package. The base 2012 Infiniti FX35 continues to use the 303-horsepower, 3.5-liter V-6 while the 2012 Infiniti FX50 uses the 390-horsepower, 5.0-liter V-8. The 2012 Infiniti FX will likely be on display at the 2011 Pebble Beach Concours D'Elegance later this month alongside the all-new 2012 Infiniti JX, and pricing for the updated FX and its new packages is likely to be announced beforehand.