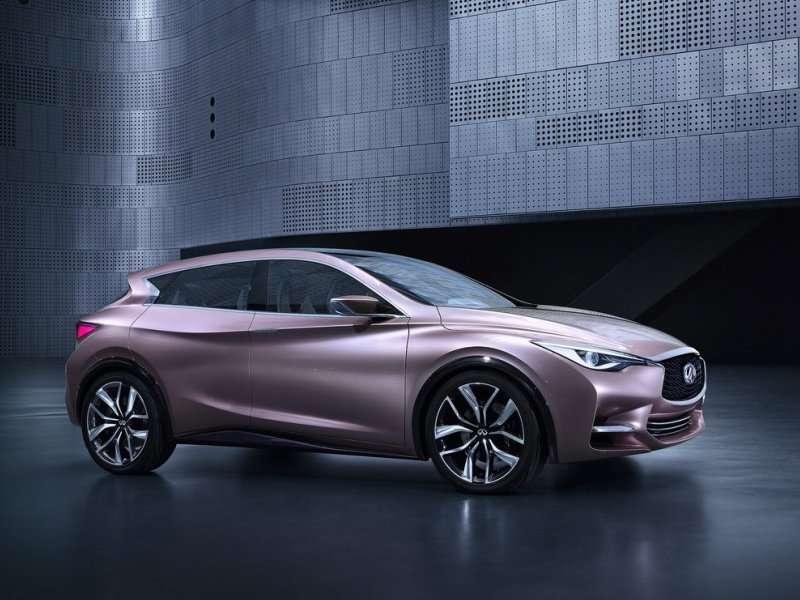 This fall's Frankfurt Motor Show in Germany has added another significant world debut to its roster, with the news that the Infiniti Q30 Concept will be revealed at the event on September 10. Of course, heading off any possible info leaks, the brand already has released a photo of the new vehicle, along with a (very) few details about what folks can expect.
Obviously, the Infiniti Q30 Concept shows some fairly dramatic styling, with the brand noting that its design incorporates "bolder, sensual sculpting and enhanced muscularity," as well as the expected sharp focus on premium materials and impeccable craftsmanship. But that being said, the Infiniti Q30 Concept is hard to label, and that's just the way Infiniti wanted it.
The concept behind the concept was to introduce a vehicle that "deliberately challenges categorization," thanks to a body style that blends the athletic demeanor of a sport coupe with the versatility of a hatchback and the raised ride height of a crossover. That does cause some philosophical challenges for Infiniti's new naming strategy, however. As moniker-minded readers may recall, the brand now is deploying a new system for designating its vehicles. It's a straightforward approach in which: "The premium automotive brand will see its model range simply prefixed either by Q—for sedans, coupes and convertibles, or QX, for crossover and SUV models."
Whatever you call it, the Infiniti Q30 Concept almost certainly heralds the launch of a production model that will take on the growing range of premium compact crossovers like the Buick Encore, Audi Q3 and Mercedes-Benz GLA, probably some time late next year.