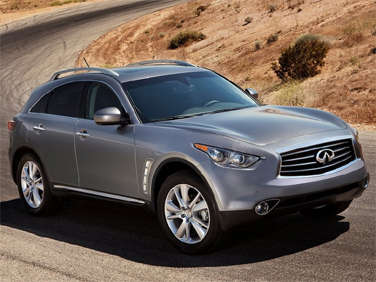 Back in 2003, the majority of new car buyers had decided they needed a vehicle with a high seating position, four-wheel drive, and as much steel around them as they could get, to make the drive down to the video store to rent a movie. (Yeah, you actually had to leave home back then to get a movie to watch.) One comedian incisively quipped; "What is it about having a kid makes people feel they need to go out and buy a two-ton, four-wheel drive urban assault vehicle—with four feet of ground clearance—just to drive the little sucker to soccer practice?"
Whatever it was, it took hold in an major way and nearly every auto company rushed to put their version of the SUV into production. While most were based them on large truck platforms, Nissan took a different approach with the Infiniti FX. The company put it on the sports car platform it had developed for the Nissan 350Z and Infiniti G35.
This platform's front/mid-engine configuration placed the powerplant behind the centerline of the front wheels, tucked in closer to the middle of the vehicle. By concentrating the majority of the weight inside the vehicle's wheelbase, Nissan significantly reduced the FX35's resistance to changes of direction, enabling it to turn more readily and endowing it with outstanding handling characteristics.
Thus, the Infiniti FX35 became one of the first of a new breed of SUV, one more like a grand touring machine than a family hauler. In other words, the Infiniti FX35 fulfilled the promise of the word "sport" in the phrase "sport utility vehicle".
There have been two generations of the FX35 produced since its 2003 introduction.
2003 - 2008 Infiniti FX35
Packing a 280-horsepower, 3.5-liter V6 engine, independent suspension, a five-speed automatic transmission, traction control, stability control, anti-lock disc brakes, and a decidedly Italian exhaust note, the 2003 Infiniti FX35 was configured more like a GT car than a SUV. Buyers could choose between rear-wheel drive and all-wheel drive configurations.
Being a product sold under the auspices of Nissan's upscale Infiniti brand, the FX35 came wonderfully equipped; power-adjustable front seats, reclining rear seats, dual-zone climate control, cruise control, HID headlights and a six-speaker CD stereo were all included in the base price. If you wanted to go more spendy, you could add a 300-watt, 11-speaker Bose audio system, 20-inch wheels—as part of a sport-tuned suspension system, and navigation. Higher tech options included Intelligent Cruise Control and Lane Departure Alert. And, of course, the FX35's heated seats could be upholstered in leather.
Nissan got the FX so absolutely correct right off the bat, changes were minimal for 2004 and 2005. So, over those two years, the suspension was tweaked a bit to improve ride, a snow mode was programmed into the automatic transmission, an air filtration system was added, and to up the bling factor, the 20's could be had in chrome. For 2005, a new smart key was instituted, and roof-mounted side curtain airbags were installed.
Model year 2006 marked the first truly significant refresh of the FX. The SUV got new designs for the bumper, grille and wheels. To keep pace with its competitors, Nissan fitted a rearview monitor, a 300-watt Bose audio system, and a power tilt/telescoping steering wheel as standard equipment.
To renew the ambiance of the interior, a new center console design and revised electroluminescent gauges were specified. Biased as it was toward handling, yet another suspension revision was instituted to improve the ride quality of the Infiniti. The FX35 also got standard leather seating; a 10-way power actuated driver's seat with memory and an eight-way adjustable power passenger seat. For 2007, iPod connectivity was added and engine output dropped to 275-horsepower. For 2008, satellite radio was made standard equipment.
2009 – 2011 Infiniti FX35
The 2009 model year marked the introduction of the second generation Infiniti FX35. Along with all-new exterior styling, the 3.5-liter V6's engine output was bumped to 303 horsepower. A seven-speed automatic transmission was added to the mix, which featured downshift rev matching and adaptive shift control, enabling it to "learn" its driver's proclivities and respond accordingly. The suspension system was reworked—again, this time with a double wishbone setup all in an effort to improve ride, without sacrificing the handling prowess for which the FX is justifiably renowned.
Key features included a hard-drive-based navigation system with real-time satellite traffic information, lane departure warning, and adaptive cruise control with Distance Control Assist. DCA uses the laser range finder from the adaptive cruise control to determine how fast the FX is approaching an obstacle. If it determines a collision is about to happen, DCA sounds a warning. If the driver doesn't respond, it will automatically apply the brakes to help decrease the severity of the ensuing crash.
The standard equipment roster listed 18-inch alloy wheels, xenon headlights, a power liftgate, leather upholstery, full power accessories, power front seats, a manual tilt/telescoping steering column, cruise control with steering-wheel-mounted switches, dual-zone automatic climate control, a back-up camera, 60/40-split rear seats, and an 11-speaker Bose surround audio system with a six-CD changer, auxiliary audio jack and satellite radio.
And even though that looks like it could/should/ought to be everything anyone would have ever wanted on a car, the options list also featured heated and cooled front seats, Bluetooth, an iPod connector, and an electrically operated tilt/telescoping steering column. There were also 20-inch alloy wheels, adaptive headlamps, maple wood interior trim, and a hard-drive-based touchscreen nav/w voice recognition and real-time traffic information. But wait, there was even more; a four-camera "Around View Monitor" provided a 360-degree composite image of the vehicle from the outside; plus Infiniti offered rain-sensing windshield wipers, adaptive cruise control, a rear-seat entertainment system, and a tow package (for AWD models).
For 2010, Bluetooth and a USB audio port were added to the standard equipment roster. A two-gig hard drive was added to the optional Bose premium audio system for digital music storage. Also on the entertainment front, the optional navigation system got added functionality with an in-dash DVD player for music and video and Bluetooth streaming audio to enable your mobile music collection to flow seamlessly into the system. The unit also had the capability to access the Zagat restaurant guide and weather information.
Current Model: 2012 Infiniti FX35
Having been thoroughly updated in 2009, Infiniti made some big styling changes to the FX for the 2011 model year. Outside, the 2012 Infiniti FX35 will get updated sheet metal that includes a new corporate face that will soon be shared with the larger Infiniti JX crossover. New wheel designs as well as two new exterior colors will also help to set the 2012 FX apart from previous FX model years. Infiniti also made some minor option package changes to the new FX such as adding climate controlled seats on the Deluxe Touring Package.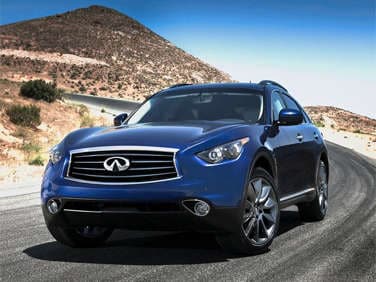 Summary
The GT car of SUVs soldiers on as one of the few fun to drive vehicles in this class. The Infiniti FX35 offers an extraordinary array of hi-tech features encased in a package that performs strongly, is arguably handsome, and certainly looks like nothing else on the road.
Models built prior to 2007 offered five more horsepower, so if you're a power freak, there's an opportunity for bragging rights at a reduced price. Drivability of the FX35 didn't really change though.
The Infiniti has also proven remarkable reliable over the years—though like so many other vehicles offering so much tech it does have quirks. Still, while the FX35's recall history is somewhat light, there have been some. As always, we suggest you run an Internet search for "Infiniti FX35 recalls" incorporating the model year of your interest.
Of course, we always recommend you subject any used vehicle you're seriously considering to a pre-purchase inspection by a trusted professional mechanic, one well versed in the vehicle of your choice.