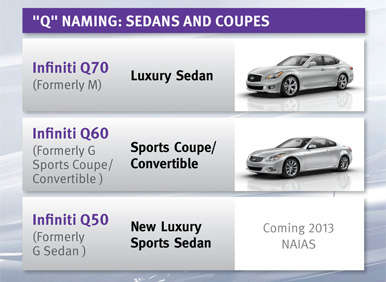 Infiniti announced today that it is changing its vehicle naming strategy for the 2014 model year, with cars carrying a "Q" designation and SUVs wearing a "QX" nameplate. Within each vehicle series, the numerical designation will no longer reflect a model's engine displacement. Rather, it will now convey a vehicle's position within the series hierarchy, with the larger and/or more expensive vehicles equipped with higher numerical names.
To illustrate, this is how the 2014 Infiniti car lineup will change:
2013 Infiniti G37 Sedan = 2014 Infiniti Q50
2013 Infiniti G37 Coupe = 2014 Infiniti Q60 Coupe
2013 Infiniti G37 Convertible = 2014 Infiniti Q60 Convertible
2013 Infiniti M = 2014 Infiniti Q70
As for the 2014 Infiniti SUV lineup, the company will sell the following models:
2013 Infiniti EX37 = 2014 Infiniti QX50
2013 Infiniti JX35 = 2014 Infiniti QX60
2013 Infiniti FX = 2014 Infiniti QX70
2013 Infiniti QX56 = 2014 Infiniti QX80
In explaining the new naming convention, Infiniti said, "This strategic change reflects Infiniti's desire for clarity and cohesiveness as it embarks on ambitious growth plans, including significant expansion of the Infiniti portfolio."
Infiniti Announces New "Q"-based Naming Strategy for 2014
The new 2014 Infiniti naming strategy is similar to Audi's "A" and "Q" vehicle designations, which is perhaps not surprising. Johan de Nysschen became the President of Infiniti Motor Limited in July of 2012, following a 19-year career at Audi. During de Nysschen's tenure, Audi transformed itself from a fringe luxury market player into a global powerhouse known for design, quality, performance and, because Audis delivered authenticity, brand cachet.
Now, de Nysschen is charged with putting Infiniti – a brand with the same luxury and performance aspirations as Audi – on more consumer test-drive lists. With the all-new 2014 Q50 set to debut at the 2013 North American International Auto Show in January, replacing the still-popular G37 Sedan in Infiniti's lineup in time for the summer of 2013, that shouldn't be too hard. De Nysschen's greater challenge is getting butts into the seats of the other models in the lineup.
About the new naming strategy, de Nysschen explained that in advance of expanding the number of Infiniti models in the years to come, and because the Infiniti brand is expanding into new markets where consumers are not familiar with the current naming conventions, it became clear that "a simple and consistent nomenclature framework" was necessary. After researching and evaluating options, de Nysschen said, "We concluded that 'Q' captured the inspiration within the next generation of Infiniti models, as well as emphasizing our performance credentials while harking back to our heritage with the Q45 – Infiniti's first iconic flagship product."
De Nysschen also explained that as the company employs new powertrains designed to improve both performance and fuel efficiency, if Infiniti's numerical designations were to continue to reflect engine displacement, some customers might not be comfortable with nameplates with smaller numbers when the time comes to replace an older Infiniti with a new Infiniti.