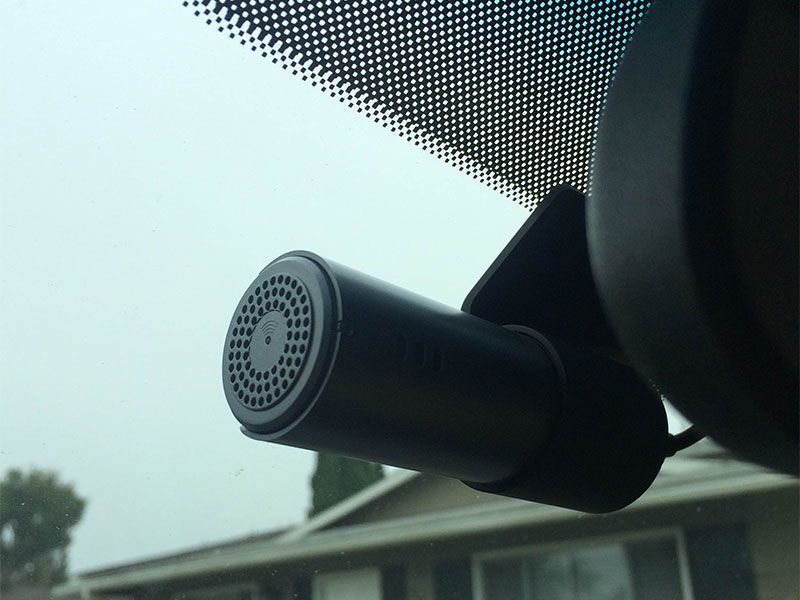 GoLuk T1 mounted view from inside
Dashboard-mounted cameras (dash cams for short) have become ubiquitous to the daily driving experience. In the event of an accident, these compact, continuously running cameras can be used to determine who's at fault. And while it doesn't happen too often here in the U.S., insurance fraud from persons jumping in front of cars can quickly be disproved with video footage.
At this stage in the game, there are hundreds of dash cams on the market, and while some tout advanced features, multi-cameras, and ultra-high definition images, others, like GoLuk's T1, take aim at simplicity and ease of use.
What's Included
Every GoLuk T1 comes in a square plastic box and includes the camera body, a wireless remote control, charge cord, mount, and instruction booklet. Not included is a micro SD card, which is necessary to store recorded videos. These cards can be purchased in a range of storage sizes, and start at $5 on Amazon, but the T1 caps capacity at 64GB. Fear not, though; the T1 continuously loops footage once it hits the storage limit, so you won't "run out of space." While SD cards are not expensive these days, GoLuk should really include one from the factory so buyers would truly have everything they need to start using their camera right away.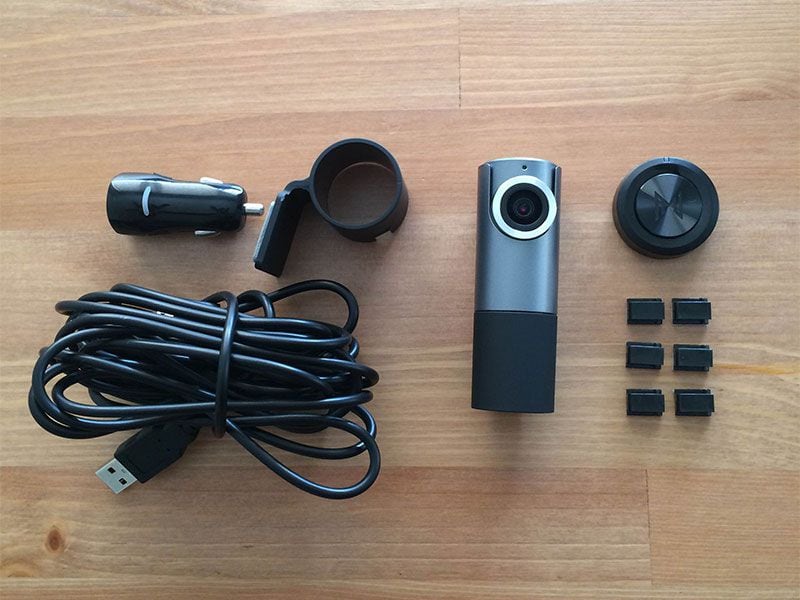 Getting Started
Once the camera's out of the box, it will take a few minutes before it's ready to use. After placing the camera body in its dark gray housing, you'll need to mount the camera next to your rearview mirror. GoLuk provides adhesive tape to secure the camera in place, but you'll need to be confident about your placement—removing the camera is no easy task.
Once mounted, the T1 is compact and discreet. That is until you route power to it. The included cigarette lighter charge cable is plenty long, but even if you run it along your dash, A-pillar, or headliner, the setup is plenty noticeable. Dedicated individuals can remove interior panels to hide the cord, but that's hours of additional work. GoLuk does sell a standalone battery adapter for $29.
Finally, you'll need to pair the T1 to your smartphone to access GoLuk's app. Once you've downloaded the app and paired via Bluetooth, you can create a personal account. All told, the multi-step setup process can be completed in about 10 minutes.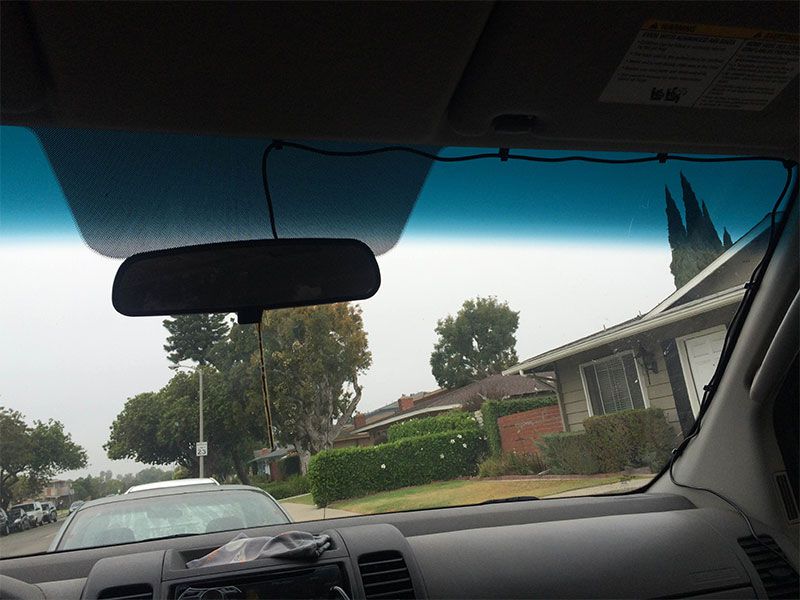 Ease of Use
As a camera, the GoLuk functions so simply that it feels like you're missing something. Turning on your vehicle automatically awakens the T1 as the charge port gets power. Once the dash cam is on, you're ready to record at a moment's notice. While you could choose to hit record immediately upon ignition, the button can be switched on or off independent of the camera getting power.
Most folks will choose to mount the record button near the steering wheel or gear selector for ease of use, but its adhesive backing allows you to place it almost anywhere in the cabin. When you press record, the camera emits a beep and a red blinking light lets you know it's begun recording. With each recorded section of video, the T1 includes six seconds of audio and video from before and after so you won't miss any important footage.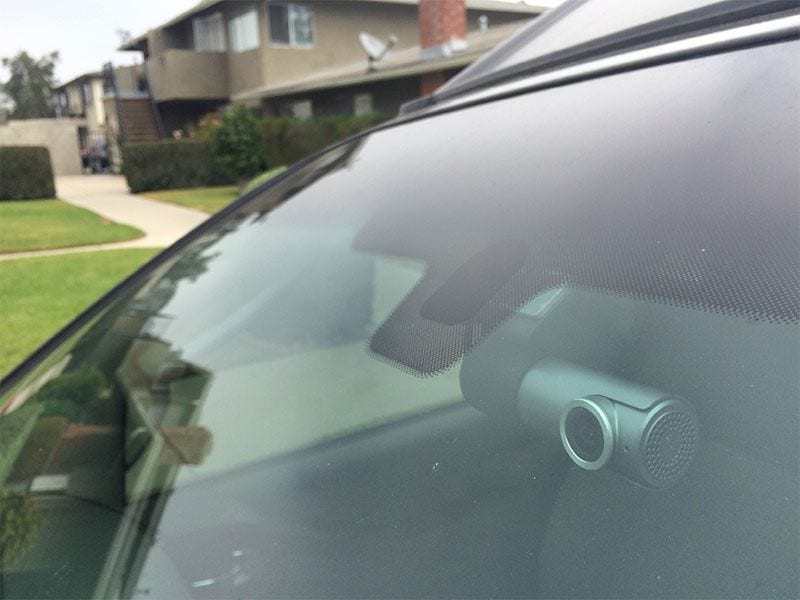 Features
The dash camera market is highly competitive, so GoLuk has chosen to differentiate the T1 by its smartphone app and ease of use. In addition to 1080p video recording and a shock sensor, the GoLuk app allows users to access recordings right on their phone and share online.
Though 1080p should be a uniform determinant of quality, it looks different from one device to another. For the T1, however, the footage looks great. A wide-angle lens captures almost everything a driver or passenger would see from the front seats, so you can have confidence that the footage will back up any claims you'll need to make to law enforcement or insurance agencies.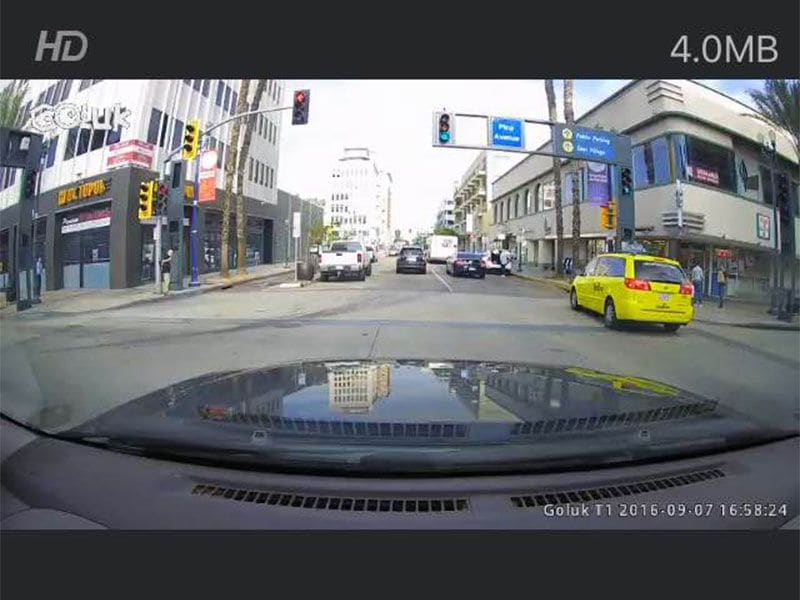 App Highlights
The GoLuk app for iPhone and Android not only lets you adjust the camera from your phone, it gives you access to a community of users who are sharing their videos daily. Your personal account can be used to store, edit, and share videos, in addition to watching hours of recorded videos from far-off destinations. Several of today's leading dash cams feature built-in screens, but the T1 relies on your smartphone's screen to reveal what the camera sees. While some might consider this a missing feature, it keeps the T1 compact. Also, the visual is much larger on your smart device.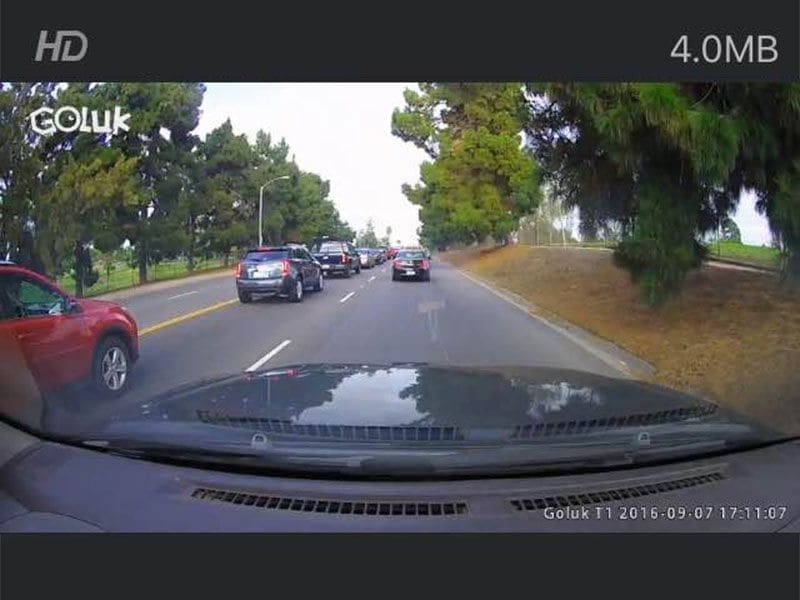 Strengths, Weaknesses
The Goluk T1 is an impressive dash cam for its $129 price, with a dead simple interface and a slender shape that won't clutter your car's cabin. The camera is highlighted by a stellar app for sharing and editing video, and it helps build a community of T1 users across the globe. Best of all, the T1 is one of the most affordable dash cams on the market.
Unfortunately, there are a couple drawbacks. As stated, the long black power cord ruins some of the aesthetic of your car's interior if you're unable (or unwilling) to remove panels and hide the cord. GoLuk's optional battery pack is a good addition, but adds price. Last, the installation could be better. While the adhesive tape is clean and secure, it can leave residue on your windshield. It also means you can't easily move your GoLuk T1 between vehicles. An included suction mount would be a great addition.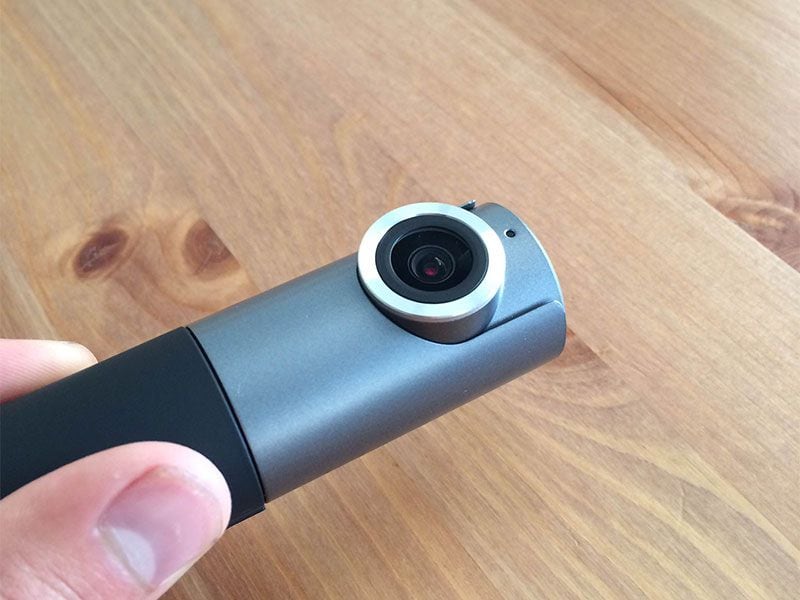 Pricing and Competition
At its $129 price point, the GoLuk dash camera has a few close rivals, including the Z-Edge Z3, Vantrue R2 2K, and Spy Tec G1W-CB. Each of these dash cams feature wireless connectivity and an LCD in-camera display, but none have an app to rival GoLuk's T1. While we have a few quibbles with the compact T1's mounting equipment, it's among the best dash cams you can get for the price.