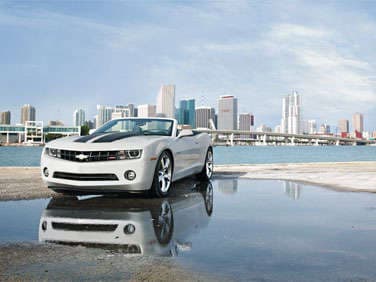 Once it gets its hooks in you, you will always have a craving for it.  We're speaking, of course, about muscle - specifically, automotive muscle.  There's just something about having hundreds of horses ready to be unleashed by your right foot that engages the hooligan aspect of your lizard brain and convinces you that it's completely reasonable to leave 30 feet of rubber in the parking lot of the local Wal-Mart - after hours, of course.
We've put together a list of eight exceptional muscle machines that are deserving of a test drive from anyone who values smiles per gallon more than miles per gallon.
01. 2012 Chevrolet Camaro
The 2012 Chevrolet Camaro might offer a 323 horsepower V-6 as its entry-level engine, but the real story is the 6.2-liter V-8 found under the hood of the SS trim level.  The Chevrolet Camaro SS delivers 426 horsepower and 420 lb-ft of torque, and this allows the muscle car to rip off a zero-to-60-mph run of just five seconds.  A six-speed manual transmission is included free of charge with the Camaro SS but a six-speed automatic is also available to add a touch of civility to daily cruising.  For those who need even more juice, the Camaro ZL1 slaps on a supercharger and squeezes out an astonishing 580 horses and 556 lb-ft of twist from its V-8 engine.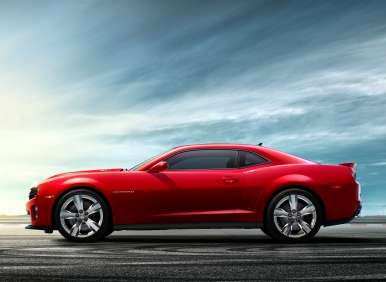 02. 2012 Dodge Charger
The 2012 Dodge Charger's menacing scowl indicates that this is one full-size family sedan with a secret - a 370 horsepower secret, in the case of the R/T edition.  The Dodge Charger R/T's 5.7-liter Hemi V-8 is also capable of delivering 395 lb-ft of torque, sent to either the rear or all four wheels (if optional all-wheel drive is ordered) via a five-speed automatic transmission.  60-mph arrives in a quick 5.4-seconds, and for absolute speed demons the Charger can also be ordered in SRT8 trim, which replaces the base Hemi motor with a 6.4-liter unit that is rated at 470 horsepower and 470 lb-ft of torque.  This is enough juice to knock almost a full second off of the sedan's sprint to 60-mph.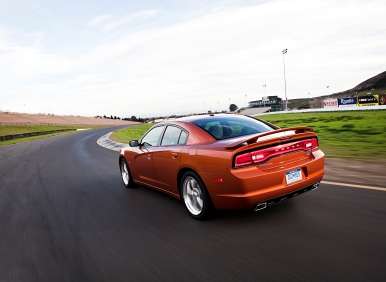 03. 2012 Land Rover Range Rover Sport
The 2012 Land Rover Range Rover Sport is a truck with attitude, especially when ordered in Supercharged trim.  The Land Rover Range Rover Sport Supercharged is outfitted with a 5.0-liter, eight-cylinder engine that grinds out 510 horses and 461 supercharger-induced lb-ft of torque.  A six-speed automatic transmission routes that power to all four wheels, and with that much grip available the heavy SUV rockets to 60-mph in an impressive 5.5 seconds - quick enough to wipe out many a sport sedan from stoplight to stoplight.  The Range Rover Sport Supercharged is also notable for being the only off-road capable muscle machine on our list.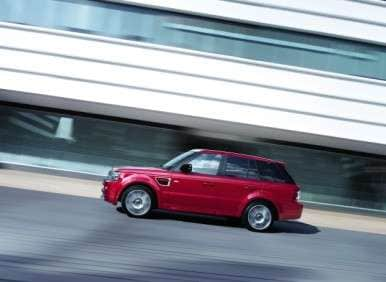 04. 2012 Mazda MAZDASPEED3
The 2012 Mazda MAZDASPEED3 is the bully stalking the compact performance car playground.  The Mazda MAZDASPEED3 hatchback is motivated by a turbocharged, 2.3-liter four-cylinder engine that has been carefully tuned to blast out of the gate with the full force of 262 horsepower and 283 lb-ft of torque.  If you can keep a tight grip on the steering wheel and fight off the vehicle's urgent sideways tug at full throttle, the MAZDASPEED3 can reach 60-mph in 6.3 seconds.  A six-speed manual transmission is the only gearbox available with the compact car, and a limited-slip differential allies itself with drivers as they try to launch the overboosted front-wheel drive hatchback.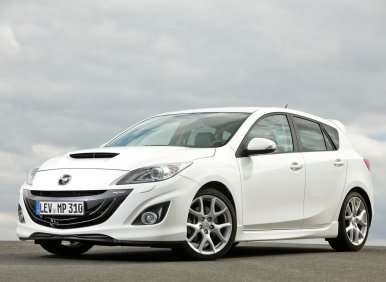 05. 2012 Cadillac CTS-V
The 2012 Cadillac CTS-V comes in coupe, sedan and even wagon body styles.  Each one of these luxury-focused performance rides is capable of obliterating the competition thanks to the installation of a supercharged 6.2-liter V-8 engine that can be counted on to produce 556 horsepower and 551 lb-ft of torque.  Both a six-speed automatic and six-speed manual transmission are available with the Cadillac CTS-V (as are a magnetically controlled suspension system and Recaro sport seats), and the vehicle can rocket to 60-mph in just 4.3 seconds.  This is supercar territory from a comfortable cruiser that won't ask you to make any sacrifices on your daily drive.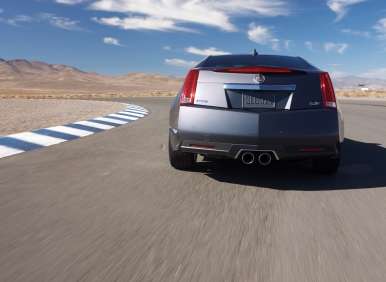 06. 2012 Dodge Challenger
The 2012 Dodge Challenger's retro-themed styling seems to suggest that the big coupe is a throwback to days of yore.  A quick peek under the Dodge Challenger R/T's hood, however, quickly establishes that this is one muscle car that has benefited from a serious injection of modern technology.  The Challenger R/T comes with a 5.7-liter Hemi V-8 that offers up 376 horsepower and 410 lb-ft of torque, managed by either a six-speed manual or six-speed automatic transmission.  This version of the two-door coupe can reach 60-mph in 5.5 seconds, a fast figure that is still a full second slower than the blazing performance put in by the Challenger SRT8 392.  The SRT8 392 model benefits from a 6.4-liter Hemi V-8 that is rated at 470 horsepower and 470 lb-ft of torque, which is more than enough to incinerate the rear tires at will.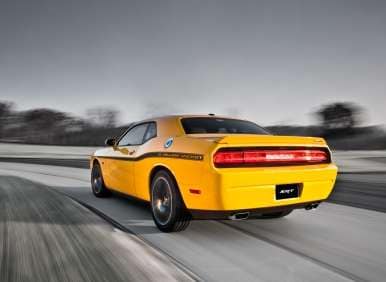 07. 2012 Chevrolet Corvette
The 2012 Chevrolet Corvette is well-known for its world-beating handling and braking, and its styling attracts drivers who want to stand out from the crowd.  Equally impressive, however, is the Chevrolet Corvette's engine lineup.  The 'Vette starts out with a 6.2-liter V-8 that is rated at 430 horses and 424 lb-ft of torque, while the Z06 model gains a 7.0-liter unit that thunders across the finish line with 505 horsepower and 470 lb-ft of torque accessible via the loud pedal.  Taking on all comers is the Corvette ZR1, which comes with a supercharged 6.2-liter, eight-cylinder engine that boggles the mind with 638 horsepower and 604 lb-ft of torque.  Both the Z06 and the ZR1 post up 0-60-mph times in the 3.9 second range, and transmission choices for the Corvette include six-speed manual and automatic gearboxes.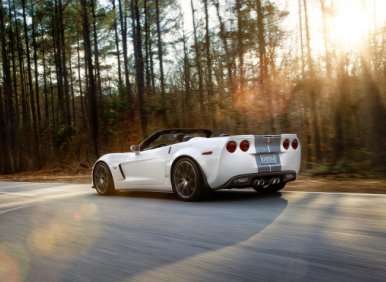 08. 2012 Subaru WRX STI
The 2012 Subaru WRX STI is a muscle machine with grip, a 305-horsepower missile that offers point-and-shoot handling thanks to its advanced all-wheel drive system.  The Subaru WRX STI, which also features 290 lb-ft of torque from its turbocharged 2.5-liter four-cylinder engine, is renowned as a direct descendant of the brand's rally-winning race cars and brings with it an appropriately raw driving feel.  The WRX STI is capable of keeping up with far more expensive machinery, hitting 60-mph from a standing start in 4.5 seconds, and the sedan (or hatchback) is shifted exclusively via a six-speed manual transmission.