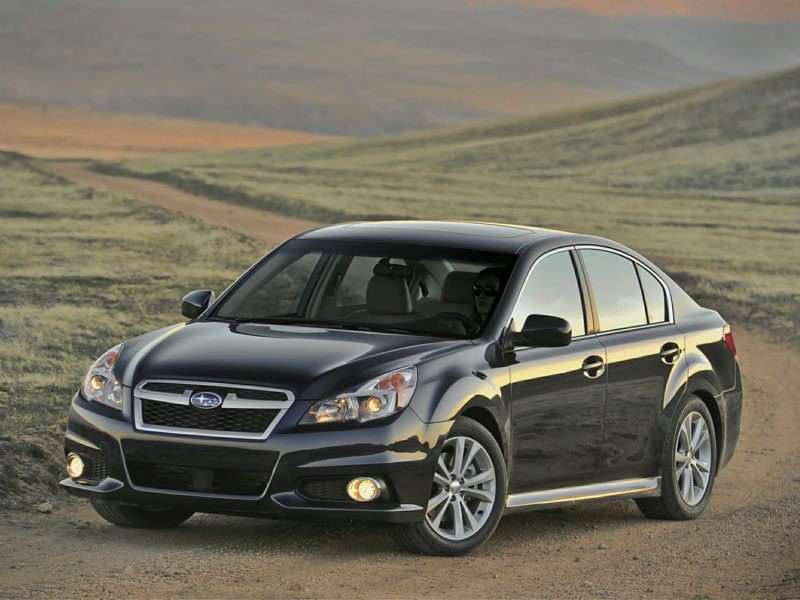 Subaru Legacy ・ Photo by Subaru
The Cadillac ATS and SRX, Mercedes-Benz C-Class sedan, Subaru Legacy and Outback, and Volvo S60 and XC60 are the first vehicles to earn top marks in a new safety-testing regimen from the Insurance Institute for Highway Safety (IIHS). The Institute's new ratings program shifts the focus from crash protection to crash avoidance by analyzing the performance of forward-collision warning and automatic-braking systems.
Forward-collision warning—now also a recommended technology of the National Highway Traffic Safety Administration (NHTSA)—can alert drivers when their vehicles are closing too quickly on potential road obstacles, while the autobrake setups can automatically provide braking support to help mitigate front-end collisions. According to IIHS research, both technologies have proven effective at "helping drivers avoid front-to-rear crashes." Uncoincidentally, the Institute also has added forward-collision protection as a criteria for its 2014 Top Safety Pick+ honors, which also require strong performance in IIHS crash testing in small- and moderate-overlap frontal impacts, side impacts, and rollover scenarios.
Added David Zuby, chief research officer for the IIHS: "Front crash prevention systems can add a thousand dollars or more to the cost of a new car. Our new ratings let consumers know which systems offer the most promise for the extra expense.
Specific details about the Institute's methodology can be found at www.IIHS.org, but the results of the initial round of testing, which included 74 "moderately priced luxury midsize cars and SUVs," are on the next page.
2013 IIHS Crash Avoidance Ratings:
The new IIHS testing program employs a three-stage rating system, starting with a "basic" level for entries with a forward-collision warning system. Per the Institute, vehicles that earned that basic rating in the first round of tests were:
Acura MDX and ZDX
BMW 3 Series and X3
Cadillac ATS and SRX
Chevrolet Equinox and Malibu
Dodge Durango
Ford Edge, Explorer, Flex and Fusion
GMC Terrain
Honda Accord and Crosstour
Infiniti EX, FX, JX, Q50, QX50, QX60 and QX70
Jeep Cherokee
Lexus IS and RX
Lincoln MKT, MKX and MKZ
Mercedes-Benz GLK and M-Class
The Acura MDX and the two Cadillac products also receive higher ratings when equipped with their makers' available safety-upgrade features, with the MDX, for example, joining the ranks of those with "advanced" marks in the new IIHS analyses, including:
Acura MDX
Audi A4 and Q5
Jeep Grand Cherokee
Lexus ES
Mazda Mazda6
Volvo S60 and XC60
Then, as you might expect, the Volvo vehicles also can be configured with enough available safety gear to reach the pinnacle of the new ratings peak and receive "superior" ratings, which brings us back to those top performers mentioned on the previous page:
Subaru Legacy and Outback
Cadillac ATS and SRX
Mercedes-Benz C-Class
Volvo S60 and XC60