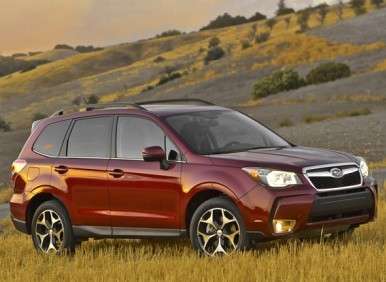 With the fully redesigned 2014 Subaru Forester recently joining the club, Subaru remains the only auto brand in the country with a full lineup of IIHS Top Safety Pick winners. The honor goes only to vehicles that provide superior occupant protection in rigorous testing by the Insurance Institute for Highway Safety. More specifically, Top Safety Picks like the Forester must score the highest possible marks in testing from front-, rear- and side-impact scenarios, as well as a roof-strength test that analyzes performance in rollover situations.
The 2014 Subaru Forester accomplished that task thanks to an increasingly robust list of standard safety features that, for the new model year, now adds front seats designed specifically to lessen the chance of whiplash injuries, a driver's-side knee airbag, Brake Override (which shuts off engine power in certain situations when the driver presses both the gas and brake pedals), and a fuel-system cutoff system. That latter feature automatically cuts the flow of fuel to the engine if the Forester's sensors detect an airbag deployment. In addition, the 2014 Subaru Forester also is offered with the brand's EyeSight driver-assist feature.
EyeSight bundles adaptive cruise control, pre-collision braking, and lane-departure warning into one package, backed by Subaru's innovative stereo camera technology.
The 2014 Subaru Forester—priced from $21,995—already has begun arriving at dealerships, helping the brand achieve an all-time February sales record, too.
February Auto Sales: Short Month Is Long on Volume for Subaru
Hazardous winter weather suppressed industry sales to the tune of a very modest 3.7 percent gain in February, but Subaru bucked that trend to deliver 28,163 vehicles last month. The total was 11 percent higher than in the same month in 2012 and marked a new high-water point for the brand for February sales.
True, deliveries of that all-new 2014 Subaru Forester were essentially flat in February as compared to the same month in 2012, but folks can look for that to change as more units get to local dealerships this month. And it's worth mentioning that the Forester did contribute 5,529 sales to the brand's total, making it No. 2 in the lineup for February volume. Leading the way was the Subaru Outback, which garnered a sales jump of 2.9 percent on the strength of 9,016 deliveries.
Also showing serious momentum last month were the Subaru Impreza WRX—backed by a sales spike of 61.2 percent and 1,486 sales—and the recently released Subaru XV Crosstrek. Subaru's brand-new compact crossover welcomed 3,258 sales in its first February in the United States and outsold rivals like the Kia Sportage.
"Subaru vehicles continue to win awards and recognition from the industry press and our customers are purchasing our products in record numbers," said Thomas J. Doll, executive vice president and chief operating officer, Subaru of America, Inc. "With the addition of the all-new 2014 Forester being introduced this month, we are confident that we will establish another all-time monthly sales record again in March."