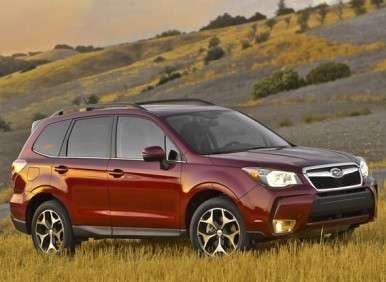 The Insurance Institute for Highway Safety (IIHS) recently put its first class of crossovers through its new small-overlap crash test, and just two of the 13 entries scored well enough to earn the Institute's enhanced Top Safety Pick+ designation: The all-new 2014 Subaru Forester and the 2013 Mitsubishi Outlander Sport.
The 2014 Subaru Forester was a particularly strong performer in the small-overlap test, and in fact became the first vehicle of any kind to achieve top grades in all the individual components of the test, including all four injury measures on the crash-test dummy. Also, according to the IIHS: "The airbags worked as intended, and the space around the dummy was well-maintained."
The 2013 Mitsubishi Outlander received an "acceptable" grade in the new test, while the following crossovers all qualified for traditional Top Safety Pick status in the May round of evaluations:
2013 BMW X1
2013 Buick Encore
2013 Ford Escape
2013 Honda CR-V
2013 Hyundai Tucson
2013 Jeep Patriot (when fitted with its available side-torso airbags)
2013 Kia Sportage
2013 Mazda CX-5
2013 Volkswagen Tiguan
2014 Jeep Patriot
Then there's this: Toyota asked the IIHS to delay putting the 2013 Toyota RAV-4 through the small-overlap procedure until later this year, to allow time for the automaker to "make changes to the RAV4 to improve performance in the test." The RAV-4 was tested in the other evaluations and earns a Top Safety Pick designation at this time.
Current IIHS Top Safety Pick+ Honor Roll
As safety-minded readers may recall, the IIHS late last year began running select vehicles through an additional testing procedure that "replicates what happens when the front corner of a vehicle strikes another vehicle or an object like a tree or a utility pole. In the test, 25 percent of a vehicle's front end, on the driver's side, strikes a 5-foot-tall rigid barrier at 40 mph." Vehicles have to receive either "good" or "acceptable" grades in that "small overlap" test, as well as the highest possible grades in the organization's other evaluations—for moderate-overlap, side, rear, and rollover occupant protection—to qualify for "+" status.
And at this stage, an even 20 vehicles have done so:
2013 Acura TL
2013 Honda Civic Coupe
2013 Honda Civic Sedan
2013 Chrysler 200 Sedan
2013 Dodge Avenger
2013 Ford Fusion (models made after December 2012)
2013 Honda Accord Coupe
2013 Honda Accord Sedan
2013 Kia Optima
2013 Lincoln MKZ
2014 Mazda Mazda6
2013 Mitsubishi Outlander Sport
2013 Nissan Altima Sedan (models made after November 2012)
2014 Subaru Forester
2013 Subaru Legacy (models made after August 2012)
2013 Subaru Outback (models made after August 2012)
2013 Suzuki Kizashi
2013 Volkswagen Passat (models made after October 2012)
2013 Volvo S60
2013 Volvo XC60