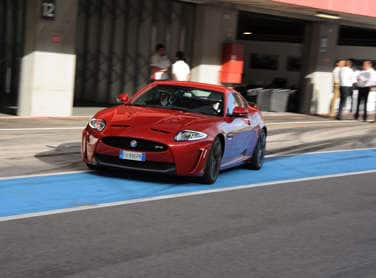 It's good to be king – and that is especially true in the world of luxury sports cars. When catering to a group of buyers who expect nothing less than the absolute best in terms of performance, comfort and style, automakers can't leave anything up to chance. This means that each and every aspect of a high end sports car has been designed to within an inch of its life so as not to disappoint at full throttle – or even when simply loafing down the highway enjoying the scenery.
Let's take a quick look at 10 luxury sports cars sitting at the top of the ladder in terms of price, performance and exclusivity.
01. 2012 Chevrolet Corvette ZR1
The 2012 Chevrolet Corvette ZR1 represents the pinnacle of sports car engineering from General Motors. The Chevrolet Corvette ZR1 is not only the most expensive version of the iconic performance vehicle ever built by the brand, but it's also the most awe-inspiring. The ZR1 is powered by a 6.2-liter, supercharged V-8 engine that develops 550 horses, output which is channeled to the rear wheels by a six-speed manual transmission. Able to hit 60 miles per hour from a standing start in just 3.8 seconds, the Corvette ZR1 also comes with features such as carbon ceramic brakes, lightweight carbon fiber body panels and an adaptive suspension system.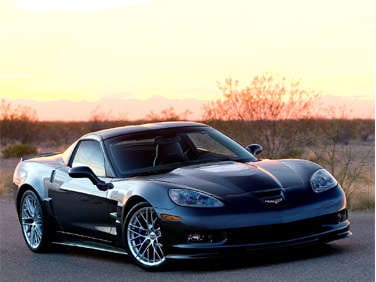 02. 2012 Nissan GT-R
The 2012 Nissan GT-R takes a high tech path towards delivering otherworldly driving thrills. The Nissan GT-R is built around an all-wheel drive system that offers a special launch control mode that vaults the coupe to 60-mph in an astonishing 2.9 seconds. An upgrade for the vehicle's 3.8-liter, twin-turbo V-6 sees the 2012 model churning out 530 horsepower and 448 lb-ft of twist. Throw in Nissan's six-speed dual-clutch automated manual transmission, enormous 15.4-inch front Brembo brake rotors and a suspension system that can be set by the driver for either spirited or casual conditions, and it's clear that the Nissan GT-R is a finely-tuned track weapon that happens to be disguised as a street car.
03. 2011 Porsche 911 Turbo
The 2011 Porsche 911 Turbo is the latest iteration of what has become a classic and highly successful formula for the German automaker. The Porsche 911 Turbo is a rear-engine coupe featuring a twin-turbo flat-six engine located behind the passenger compartment that produces 500 horsepower and an overboosted 516 lb-ft of torque. This sobering level of motivation has made the 911 Turbo a respected track weapon that rewards skilled pilots with eyebrow-raising lap times. The Porsche leaps to 60-mph in 3.2 seconds, comes with standard all-wheel drive and offers the availability of either a six-speed manual transmission or a seven-speed dual-clutch automated manual unit (PDK).
04. 2011 Ferrari 458 Italia
The 2011 Ferrari 458 Italia is a true exotic, a fire-breathing, eight-cylinder Italian supercar that leaves drivers breathless after even just a few moments at full throttle. The Ferrari 458 Italia features a mid-engine design that provides the perfect weight balance for dipping into corners at white-knuckle speeds without risking a loss of control, and its 4.5-liter motor squeezes 562 horsepower and 398 lb-ft of torque out of its 9,000 rpm redline. A seven-speed dual-clutch automated manual transmission is responsible for handling the Ferrari's gear shifting duties, and the strikingly-styled coupe is capable of reaching 60 miles per hour in an extremely rapid 3.4 seconds.
05. 2012 Lexus LFA
The 2012 Lexus LFA is by far the most dynamically interesting vehicle ever produced by the Japanese luxury brand. This should come as no surprise, as the Lexus LFA was designed from the ground-up to be a legitimate contender in the world of ultra-performance automobiles. The LFA makes use of a 4.8-liter V-10 engine that shares a lineage with the same motors that originally powered Toyota's F1 race machines, and its 552 horsepower and 354 lb-ft of torque echo a formidable competition-oriented past. The Lexus is chock full of technology, from its carbon-ceramic brakes to its extensive use of carbon fiber body panels, and it blows past the 60-mph mark in a very quick 3.6 seconds.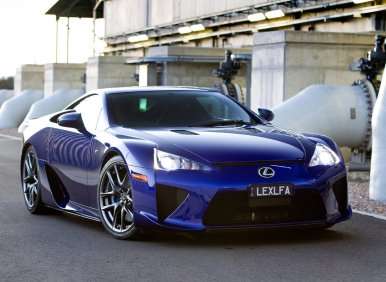 06. 2011 Mercedes-Benz SLS AMG
The 2011 Mercedes-Benz SLS AMG harkens back to the original 50's-era 300SL, a vehicle with which it shares its long hood and unusual gullwing door design. The Mercedes-Benz SLS AMG shatters the original SL's performance records, however, thanks to a generous investment from AMG's engineering department that has seen the coupe gain an aluminum chassis design, a seven-speed dual-clutch automated manual transmission and a race-bred braking system. In addition, the SLS AMG comes with a 563 horsepower, 6.2-liter V-8 engine that also generates 479 lb-ft of torque and provides enough thrust to catapult the luxury car to 60 miles per hour in a scant 3.8 seconds.
07. 2011 Lamborghini Gallardo
The 2011 Lamborghini Gallardo was built to do two things: turn heads and incinerate asphalt through the judicious application of overwhelming power. The all-wheel drive Lamborghini Gallardo accomplishes both of these goals with aplomb, thanks to its V-10 power plant and an incredible visual presence that causes lesser automobiles to shake quietly as it prowls down the street. The Gallardo's 5.2-liter 10-cylinder engine is good for 552 horsepower and 398 lb-ft of torque, and with the availability of both a traditional six-speed manual transmission as well as a dual-clutch automated manual that offers the same number of forward gears, the coupe is capable of pleasing drivers of all stripes. It also doesn't hurt that the Lamborghini can reach 60-mpg in just a tick over 3.5 seconds.
08. 2011 Aston Martin DBS
The 2011 Aston Martin DBS provides all of the British marque's vaunted luxury features while honing the coupe's performance capabilities to a very fine point. The Aston Martin DBS offers a level of handling precision seldom seen in a premium automobile of its stature, and it also comes with rocket-like acceleration thanks to the inclusion of a 12-cylinder engine that generates a smooth 510 horsepower along with 420 lb-ft of twist. Six-speed manual and automatic gearboxes are available (with the latter offering steering wheel-mounted shift paddles), and the DBS can hit 60 miles per hour from a launch in a respectable 4.3 seconds.
09. 2011 Tesla Roadster Sport 2.5
The 2011 Tesla Roadster Sport 2.5 doesn't advertise a gaudy cylinder count or come with a guttural, fear-inducing exhaust note. In fact, the Tesla Roadster Sport 2.5's electric engine is one of the quietest in the business. Don't let the two-seat convertible's silent running fool you, however – this is one supercar that backs up its exotic looks with the kind of performance potential that leaves many of its gasoline-chugging competitors in the dust. The Tesla is outfitted with an electric motor that offers up 288 horsepower and an instant-on 295 lb-ft of torque, sent to the rear wheels through a direct-drive transmission, and 60 miles per hour in the Roadster arrives in a startling 3.9 seconds.
10. 2012 Jaguar XKR-S
Jaguar claims that the 2012 Jaguar XKR-S is the fastest sports car ever produced by the Coventry-based automaker. This is strong praise for the Jaguar XKR-S, considering the long history of motorsports achievement and road-going prowess that are part and parcel of the Jaguar legend. The XKR-S builds on the already athletic platform of the standard XKR by bumping up horsepower to 550 and torque to 502 lb-ft from its supercharged 5.0-liter V8. The coupe, which can reach 60-mph in 4.2 seconds, also gains track-derived aerodynamic add-ons to its body work as well as a stiffened suspension system, carbon-fiber air diffusers and widened wheels and tires for maximum grip.