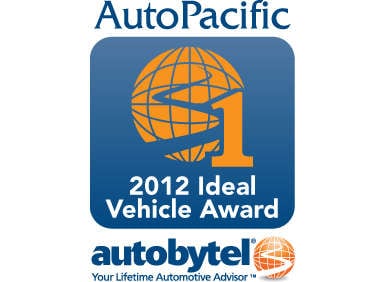 The 2012 Ideal Vehicle Awards (IVA) by AutoPacific and featured on Aubytel aren't voted on by automotive experts, members of the media or industry insiders.  Instead, they are culled from survey results gathered from over 75,000 actual new truck, new SUV and new crossover and car owners who have taken the time to provide their honest feedback about the vehicles that they live with on a daily basis.  There's no hype, there's no agenda - just the opinions and experiences of drivers just like you.
AutoPacific has tallied up the ratings and put together this list of what represents the cream of the automotive crop for the first half of 2012.  Let's take a look at this year's Ideal Vehicle Award Winners in the truck, crossover and SUV categories.
Large Light Duty Pickup - Ford F-150
For the 2012 Ford F-150, winning the 2012 Ideal Vehicle Award in the Large Light Duty Pickup segment is merely par for the course.  This best-selling full-size truck has regularly eclipsed the competition when it comes to owner loyalty and popularity, thanks in part to an impressive range of configurations (Regular, SuperCab and SuperCrew body styles, plus four different bed lengths), trim levels, as well as an array of advanced drivetrains.  The Ford F-150 is the first pickup to offer a twin-turbo V-6 option, and this EcoBoost motor comes with 365 horsepower and 420 lb-ft of torque while providing 21-mpg on the highway.  Other engines available with the F-150 include a 302 horsepower, 3.7-liter V-6, a 360 horsepower, 5.0-liter V-8, and a 6.2-liter, 411 horsepower V-8 found in the off-road oriented Raptor model.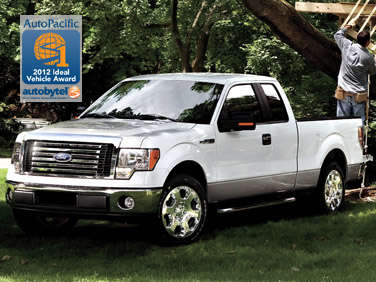 Heavy Duty Pickup - GMC Sierra HD
The recipient of the 2012 Ideal Vehicle Award in the Heavy Duty Pickup category is a vehicle that many people turn to when it's time to tow or haul a load that a light truck just can't handle.  The 2012 GMC Sierra HD comes with the rugged frame and suspension system that is needed when pulling an enormous trailer or lugging a load of bricks from one job site to another, and it also offers the option of dual rear wheels that help to expand its towing capacity to an astounding 21,700 lbs.  The truck's drivetrain choices include a 360 horsepower, 6.0-liter V-8 and a 6.6-liter, turbodiesel V-8 that grinds out an incredible 397 horsepower and 765 lb-ft of torque.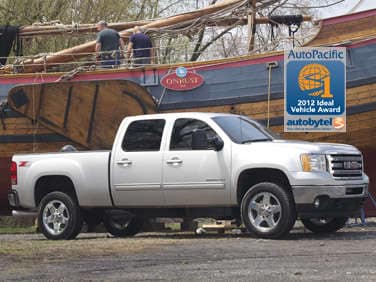 Compact Pickup - GMC Canyon
The 2012 GMC Canyon's robust dimensions and powerful engine choices helped to push it to the top of the heap and snag the 2012 Compact Pickup Ideal Vehicle Award.  Regular, extended and crew cab models mean that the GMC Canyon can seat as many as three extra passengers if required, and it is one of the few remaining trucks in its class to offer V-8 power in the form of a 300 pony, 5.3-liter unit.  Four and five-cylinder editions of the truck are also in the cards, and selecting the available off-road package adds a touch of toughness to the Canyon's overall package.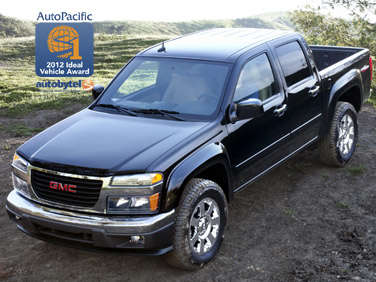 Luxury SUV - Land Rover LR4
The 2012 Land Rover LR4 captures the 2012 Ideal Vehicle Award for the luxury suv category, and it's easy enough to understand its appeal.  Not only does the Land Rover LR4 provide opulent levels of comfort features and options - including available high end leather upholstery, a Harman Kardon sound system, and a 360-degree camera system to assist with parking - but it also offers seating for seven and the kind of off-road capability not often found in a premium sport-utility vehicle.  The LR4 is motivated by a 375 horsepower, 5.0-liter V-8 engine that sends its output via a six-speed automatic transmission to all four wheels thanks to the presence of full-time four-wheel drive.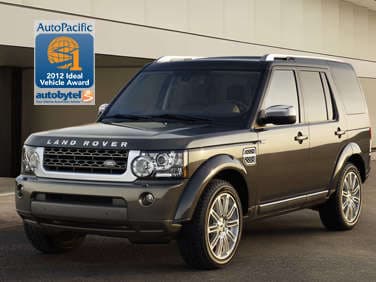 Large SUV - GMC Yukon XL
The 2012 GMC Yukon XL continues to be a favorite amongst families and trades-people alike, snagging the 2012 Ideal Vehicle Award for the Large SUV category.  The Yukon XL's extended wheelbase affords the truck with a monstrous 137.4 cubic feet of total cargo space, and it also provides a heaping helping of legroom for as many as nine passengers across three rows of accommodations.  The GMC Yukon XL boasts a tow rating of just under 8,000 lbs, optional four-wheel drive, and a standard 5.3-liter V-8 engine that generates 320 horsepower and 335 lb-ft of torque.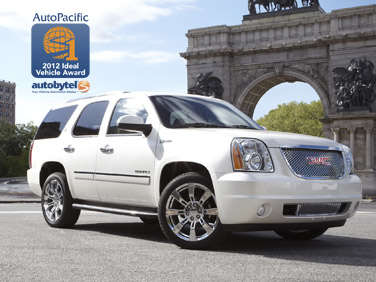 Mid-Size SUV - Jeep Grand Cherokee
The 2012 Jeep Grand Cherokee's position as the 2012 Ideal Vehicle Award winner for Mid-Size SUV demonstrates just how well this SUV has managed to appeal to family shoppers interested in a practical vehicle with an off-road edge.  The Jeep Grand Cherokee acquits itself well on smooth pavement thanks to its unibody platform, but the availability of several different four-wheel drive systems means that the vehicle can also make short work of wilderness trails and handle slippery, snowy conditions without a second thought.  A 290 horsepower 3.6-liter V-6 engine represents the Grand Cherokee's entry-level mill while a 5.7-liter Hemi V-8 adds 360 ponies and 390 lb-ft of twist to the equation for those seeking livelier acceleration.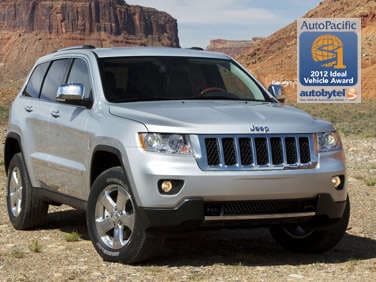 Premium Luxury Crossover SUV - Porsche Cayenne
The 2012 Porsche Cayenne finds itself taking home the 2012 Ideal Vehicle Award Premium Luxury Crossover SUV hardware, and this large people mover has enjoyed immense critical acclaim and high sales figures for the German brand that was previously associated solely with building sports cars.  The Porsche Cayenne adopts the styling cues found on the Porsche 911 coupe and applies them to a brawny platform that not only moves five passengers from point A to point B but can do so remarkably quickly.  The Cayenne offers V-6, V-8 and hybrid drivetrains, with the top-of-the-line Cayenne Turbo generating 500 horsepower and 516 lb-ft of torque from a turbocharged 4.8-liter V-8 engine that is managed by an eight-speed automatic transmission and all-wheel drive.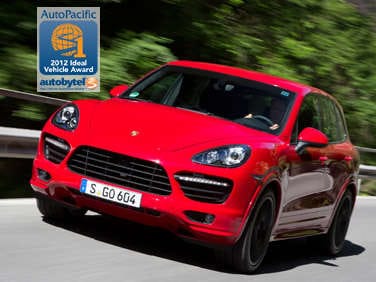 Luxury Crossover SUV - Volvo XC70
Volvo might have walked away from its wagon lineup in North America but in their place it leaves the 2012 Volvo XC70, the 2012 Ideal Vehicle Award recipient in the Luxury Crossover SUV category.  This wagon-like crossover delivers the taller ride height and available all-wheel drive that SUV buyers expect while also providing a smooth driving experience and Volvo's reputation for top-notch safety.  Engine choices include a 240 horsepower, 3.2-liter six-cylinder unit and a turbocharged 3.0-liter six-cylinder the pushes out 300 horses and 325 lb-ft of torque.  For those not convinced that a wagon-based crossover can offer the same level of practicality as more traditional SUVs, consider that the XC70 comes with 72 cubic feet of total cargo space with the second row of seating folded forward.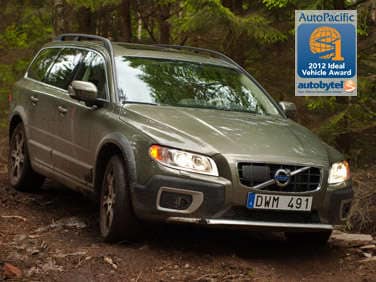 Large Crossover SUV - Ford Flex
The 2012 Ford Flex is the 2012 Ideal Vehicle Award winner in the Large Crossover SUV segment, and this unusual entry proves that walking to the beat of a different drum is often a compelling strategy in the automotive world.  The Ford Flex offers slab-sided styling, seven-passenger seating, and innovative features such as an optional second-row refrigerated center console.  The Flex also comes with a modicum of performance if buyers choose to swap out its 262 horsepower, 3.5-liter base V-6 for the available twin-turbo EcoBoost edition of the same engine - a unit that develops 355 horsepower and 350 lb-ft of torque and is paired with standard all-wheel drive.  Best of all, opting for the EcoBoost Flex doesn't mean sacrificing fuel economy for more grunt, as the model almost matches the standard all-wheel drive Flex's EPA rating.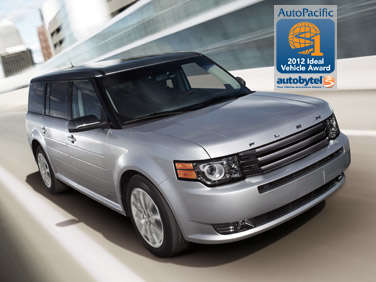 Premium Mid-Size Crossover SUV - Honda Pilot
The 2012 Honda Pilot's position as the recipient of the 2012 Ideal Vehicle Award in the Premium Mid-Size Crossover category is no doubt predicated on the fact that it does almost everything well.  The Honda Pilot's family-friendly interior can swallow either 87 cubic feet of cargo space or as many as seven full-size passengers across three rows.  The Pilot also serves as an exceptionally comfortable daily driver thanks to Honda's careful suspension tuning.  Under the hood, the crossover comes with a 250 horsepower, 3.5-liter V-6 engine that is matched with a five-speed automatic, and both all-wheel drive and front-wheel drive configurations are available with the vehicle.  The latter turns in fuel mileage figures of 18-mpg city and 25-mpg highway.