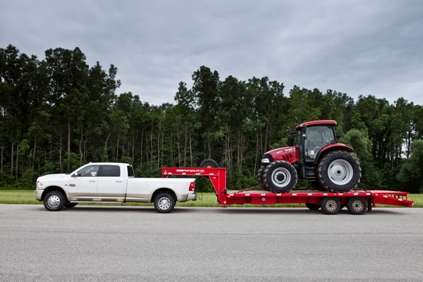 Not everyone interested in an automobile that offers additional towing power needs to haul a 20-foot boat trailer. There are now many different tow options out there that take into account the full range of utility needs. Need to transport a U-Haul tow-along from one state to another? No problem. Want to pull a small camping trailer to the park on the weekends? Mission accomplished. Need to drag your house off its foundations? There's something for you, too.
Let's take a closer look at eight towing platforms and what they have to offer.
01. 2012 GMC Yukon
Towing Capacity: 8,400 lbs.
Best Suited For: That boat we just mentioned.
The 2012 GMC Yukon makes excellent use of its full truck frame in order to provide a stable and brawny towing platform that is more than capable of handling extended-length boat trailers. The GMC Yukon features a 5.3-liter V-8 engine that provides 320 horsepower and 335 lb-ft of torque and it can also be ordered with four-wheel drive to help you maintain your grip when launching off the trailer into the water. For extra-heavy loads, consider the even longer Yukon XL which adds an extra degree of stability and peace of mind on windy, twisty roads.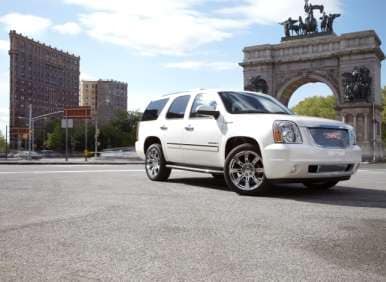 02. 2012 Jeep Wrangler Unlimited
Towing Capacity: 3,500 lbs.
Best Suited For: Kayaks and ATVs.
The 2012 Jeep Wrangler Unlimited offers a roomier, four-door interpretation of the classic off-road icon. This means that you can bring the entire family along in comfort the next time you break trail - and its 3,500 lbs of towing capacity lets you haul kayaks to the lake and ATVs to the clearing so that you'll have something to do together as a group once you've parked the Jeep Wrangler Unlimited for the day. The Jeep comes a 3.6-liter V-6 that generates 285 horsepower and 260 lb-ft of torque, and it can also be had with the option of a trailer sway control system as well as the choice of Class I and Class II hitches.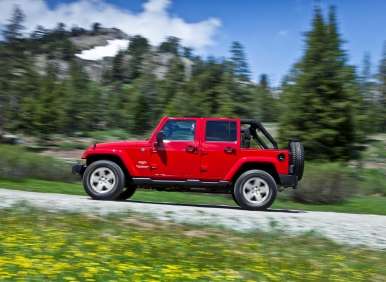 03. 2012 Chrysler Town & Country
Towing Capacity: 3,600 lbs.
Best Suited For: U-Haul Moves
Borrowing a friend's van to help you move house is a time-honored tradition and one that the 2012 Chrysler Town & Country is proud to continue. Not only does the Chrysler minivan offer 143.8 cubic feet of total internal storage space with the rear two rows of seating out of the picture, but it can also tow a trailer that weighs up to 3,600 lbs. That means you can avoid renting a truck and simply pick up a cheap, affordable box trailer for the day and move all of your clothing, furniture and lifestyle accessories to your new home in one single trip. It also doesn't hurt that the Town & Country's 3.6-liter V-6 puts out a healthy 283 horses and 260 lb-ft of twist to keep everything moving along smoothly.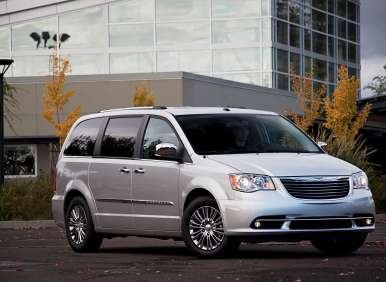 04. 2012 Buick Enclave
Towing Capacity: 4,500 lbs.
Best Suited For: Mid-Size Camping Trailer
The 2012 Buick Enclave is designed to provide almost all of the utility associated with a traditional full-size SUV while delivering the driving dynamics of a large sedan. This big crossover succeeds in its dual role, and its 4,500 lbs of towing capacity makes it an excellent choice for towing a good-size camping trailer into the wilderness for a weekend of fun. The Buick Enclave is blessed with a 3.6-liter V-6 that is good for 288 horsepower and 270 lb-ft of torque, and with 23.3 cubic feet of space behind the third row the vehicle can handle a decent amount of camping gear even when fully loaded with eight passengers.
05. 2012 GMC Canyon
Towing Capacity: 6,000 lbs.
Best Suited For: Hauling Your Miata To The Track
The 2012 GMC Canyon is a mid-size pickup truck that can be equipped with a 5.3-liter V-8 engine that churns out 300 horsepower and 320 lb-ft of torque. With this motor under the hood, the 6,000 lbs of towing capacity offered by the GMC Canyon makes it a great choice for hauling your Mazda Miata - or similarly lightweight race car - to the track on the weekends. Although heavier cars might give the Canyon's wheelbase a bit of a challenge, a Miata-sized trailer is the perfect complement to the extra storage space available in the Canyon's six-foot cargo bed.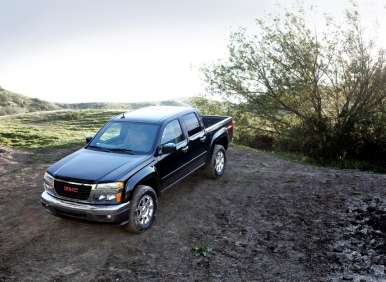 06. 2012 Subaru Outback
Towing Capacity: 3,000 lbs.
Best Suited For: A Pop-Up Camper
The 2012 Subaru Outback is a tall, wagon-like crossover that is designed to deliver just enough off-road capability to keep things interesting. Rutted, muddy roads and open fields are no problem for the Subaru Outback and its better than average ground clearance, and thanks to the availability of a 256 horsepower, 3.6-liter six-cylinder engine that also generates 247 lb-ft of torque the vehicle can tow an appreciable 3,000 lbs. Standard all-wheel drive makes the Outback a great choice for setting off into the woods with your pop-up camper trailing behind you.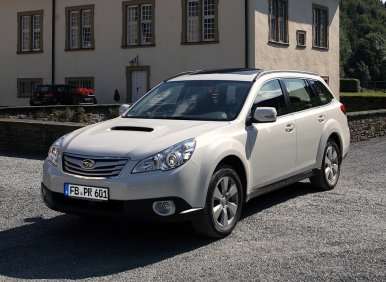 07. 2012 Dodge Ram 3500
Towing Capacity: 14,000 lbs.
Best Suited For: Horse Trailer
The 2012 Dodge Ram 3500 can be had with dually wheels and features an exceptionally powerful 6.7-liter turbodiesel inline six-cylinder engine that develops 350 horsepower and an earth-shattering 800 lb-ft of torque. With that kind of grunt on tap, and with the reinforced frame and chassis that the Dodge Ram 3500 provides as standard equipment, it's easy to see why this vehicle is favored by livestock owners and pretty much anyone who has to get something unusually large and ridiculously heavy from point A to point B. The Ram 3500's open cargo bed is another bonus that allows for the use of gooseneck and fifth wheel trailer designs not available with lesser tow vehicles.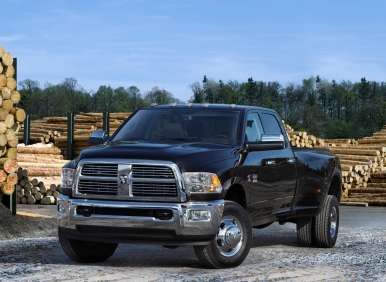 08. 2012 Chevrolet Express 1500
Towing Capacity: 6,300 lbs.
Best Suited For: Cleaning Out A Storage Locker
The 2012 Chevrolet Express flies almost completely under the radar when evaluating the class of potential tow rigs that are out there. The reality is that full-size vans are very similar in their design to pickups, and the Chevrolet Express' 6,300 lbs of towing capacity and available all-wheel drive make it a compelling pick for hauling a good-size utility trailer away from a storage locker clean out. It also doesn't hurt that the Express can be had in a cargo configuration that provides 270.4 cubic feet of total internal storage space.