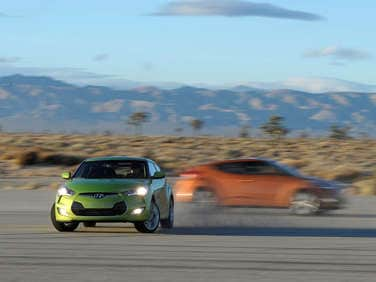 Fresh off of being named Autobytel's 2012 Car of the Year, the Hyundai Veloster has added another piece of hardware to the ol' trophy case: The nationally renowned auto journalists who make up the jury for the International Car of the Year (ICOTY) Awards recently provided their verdict, too, and recognized the Veloster as "International Sporty Coupe of the Year—Most Personality."
"The Veloster is one of the most exciting and fun vehicles we've seen pass through the sporty coupe category in a long time," said Courtney Caldwell, ICOTY founder and executive producer. "The ICOTY jury agreed that the new Veloster had the most personality and will bond effortlessly with consumer lifestyles in both mind and spirit."
That kind of connection was a key element for the Veloster's victory, since the annual ICOTY Awards were created specifically to honor vehicles that excel at inspiring passion and loyalty among their drivers. For the Veloster, this means offering attributes like:
• Dramatic design cues, including a unique third door that provides easy access to rear seats
• Top-notch fuel economy, with an EPA line of 29 mpg city/38 mpg highway/32 mpg with a six-speed EcoShift dual-clutch automatic transmission or 28/40/32 with a six-speed manual
• A spry 138-hp I4 engine with direct injection
• Plenty of customer-satisfying technologies, such as Hyundai's Blue Link telematics system
• A starting price of $17,300
• The automaker's 10-year, 100,000-mile warranty protection
And remember, this sporty coupe will get even sportier later this year, when the 2013 Hyundai Veloster Turbo takes off in the summer. Introduced during the recent North American International Auto Show, the Veloster Turbo is equipped with a twin-scroll turbocharger that breathes significant additional power into the car's engine. The bottom line: 201 hp and 195 lb.-ft. of torque that's complemented by EPA ratings of 27 mpg city/38 mpg highway.
"Conceived to attract new, youthful drivers to the Hyundai brand, Veloster stands out from the crowd with a stylish yet functional design that combines the best characteristics of both a coupe and hatchback," said Scott Margason, director, Product Planning, Hyundai Motor America. "The unique personality of the car is attracting many different types of shoppers and we're honored that the ICOTY jury agrees."