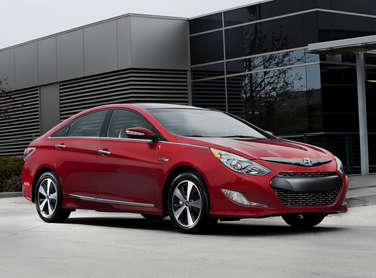 Well, it took a little longer than I expected—a whopping five months in total—but the 2011 Hyundai Sonata Hybrid appears to have broken out of the pack and become just the second hybrid in the industry to reach mainstream sales numbers. It's an important achievement, because in the 10+ years the Toyota Prius has been on sale in this country not a single competitor had come close to its sales success, and at this stage, you had to wonder if it would ever happen.
The spring disasters in Japan didn't help, of course, since they shut down most hybrid production just as the market for the fuel-efficient vehicles was on an upturn, and now that manufacturing is coming back up to speed, slipping fuel prices and general customer acceptance of $3.50-per-gallon gas as "cheap" have once again slowed demand—in most cases. But the Sonata Hybrid sold 4,177 units in July, which I believe is the highest monthly mark ever for a non-Prius hybrid and represents the first such vehicle to crack 3,000 monthly sales.
That's probably a bit of a surprise to the folks at Ford, but it shouldn't be.
The Fusion Illusion
Although the Blue Oval has gained a significant amount of green cred for its hybrid lineup—including the 2011 Ford Fusion Hybrid, Ford Escape Hybrid and Lincoln MKZ Hybrid—it's never exactly gained a significant amount of sales. The Fusion Hybrid was the company's top seller from that group in 2010, with 20,816 deliveries, and the Escape was good for another 11,182 sales. The rest were spread between the MKZ (1,192), Mercury Milan (1,416) and Mercury Mariner (890). But even if we add that all up, we're still talking about an average of less than 3,000 total hybrid sales a month—more than a 1,000 fewer than the Sonata Hybrid sold all by itself in July.
And that's putting an optimistic spin on the situation, because last month the three extant Ford hybrids combined to tally a mere 1,588 sales.
Now, I had really thought it was going to be Ford that broke the hybrid game open with the Fusion Hybrid and Ford Escape Hybrid, since those are two well-established industry names with strong track records of success and I had expected they would attract customers looking for high fuel-economy numbers wrapped in traditional packaging. Plus, they have the whole "Ford is the only automaker that didn't take a bailout" momentum behind them as well.
That clearly didn't happen, and last month the Ford threesome trailed not only the Prius and the Sonata on the hybrid sales charts, but also the Lexus CT 200h, 2011 Honda Insight, Honda CR-Z and Lexus RX 450h. It's long been a mystery to me why the Fusion didn't do better, and I've heard a mix of conspiracy theories about the situation. But regardless of the past scenarios, with the Sonata on the market today, a more obvious reason comes to mind: The starting price of a Fusion Hybrid is $28,600, while the base MSRP of the 2011 Hyundai Sonata Hybrid is $25,795—that's just $495 more than a Fusion SEL with an I4 engine and over $1,000 less than a Fusion V6 SEL.
This happens to fit in perfectly with my belief that two key U.S. brands—Ford and Chevy—are taking their products too far upscale and leaving themselves open to undercutting in exactly this way.
And my prediction is that this will be exacerbated when the new Fusion (and new Fusion hybrid) are launched in the near-term future.
The Ford Way Forward?
The current Fusion Hybrid already is priced up near the entry-luxe cars, with an MSRP that's $970 more than that of a 2011 Buick LaCrosse. And the next-gen Fusion will almost certainly take another jump forward, because it will be built on the same platform as the European Ford Mondeo and have the same premium-ish Euro positioning as the current Focus and Ford Fiesta. So even though Ford is bringing more of its hybrid manufacturing in-house, which should help costs, I expect the MSRP of the Fusion Hybrid (and the entire Fusion lineup) will continue to edge higher.
The company can be expected to counter this to some extent with the Ford C-MAX hybrid, which will probably be positioned as Ford's affordable, family-oriented efficiency solution, but the C-MAX will be locked in a battle with the coming Toyota Prius v for that same positioning. In addition, the C-MAX is going to wear a new-school exterior design that may not appeal to those seeking a traditional sedan silhouette, bringing the hybrid segments right back where we started from: Waiting for a high-efficiency "regular" sedan with a family-friendly price tag.
You know, just like the Hyundai Sonata Hybrid.