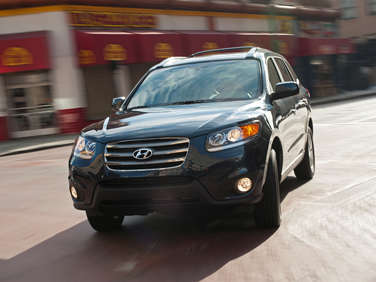 Many argue Hyundai's turnaround in the U.S. began with its offer to buy a customer's car back if they lost their job. Others attribute Hyundai's robust sales increases to the company's 10-year/100,000 mile warranty protection. Still others credit Hyundai's pledge to guarantee the resale value of its cars after five years.
While it's true all of those factors certainly contributed to the dynamic growth of Hyundai in the U.S., it can also be argued the company's Santa Fe SUV is what made people start seriously considering a Hyundai in the first place. In fact, during the vehicle's early years on the market, so popular was Santa Fe, Hyundai dealers had trouble keeping them in stock. That first generation Hyundai Santa Fe was the best selling Hyundai model for a number of years.
Classified as a mid-size crossover today, slotting beneath Hyundai's Vera Cruz, and above its Tucson, the Hyundai Santa Fe is currently in its second generation.
Hyundai Santa Fe: 2000 – 2006
Introduced in late 2000, as a 2001 model, the first Hyundai Santa Fe was a significant linchpin in Hyundai's effort to remake its image in the U.S., and while many people thought it looked kind of quirky, the Santa Fe's quirkiness attracted attention.
At launch, Hyundai offered three trim levels, GL, GLS and LX.
Within those designations, two engines and two transmissions were offered. The base engine was 149-horsepower, 2.4-liter inline four-cylinder producing 156 ft-lbs of torque. Hyundai's engineers paired the four-cylinder engine with a five-speed manual transmission, front-wheel drive and an all-independent suspension system. As an option, the four could also be had with a four-speed automatic. It should be noted this engine was offered for GL trim Santa Fe models only.
The other engine offering, available across the entire Santa Fe trim line, was a 181-horsepower, 2.7-liter V6 producing 177 ft-lbs of torque. Available with both front- and all-wheel drive Santa Fe models, the V6 engine was shipped only with the four-speed automatic transmission. Another differentiator between four-cylinder and V-6 Santa Fe models is the four came with rear drum brakes, while the V6 used four discs.
Standard features on GL models included; alloy wheels, air conditioning, power windows, dark-tinted glass, a CD player and a 60/40 split-folding rear seat. Moving up to the GLS added; a limited-slip differential, foglights, power door locks, cruise control, a first-aid kit, and remote keyless entry. The main thing going to the LX got you above the GLS kit was leather upholstery.
On the positive side, drum brakes were dropped for 2002, and a sunroof was added to the mix as an option for the GLS and LX trim grades. Around the middle of 2002, Hyundai chose to rework the interior a bit with some chrome brightwork to add a more premium look. Also toward that end, the company specified larger A/C outlets, illuminated window switches, gas-charged support struts for the rear hatch, and a clock in the center stack. On the not so positive side, Hyundai admitted to over-guesstimating the output of the Santa Fe's engines and revised the horsepower quotes down to 138 for the four and 173 for the six.
Side airbags were offered across the board for 2003, along with a new 3.5-liter V-6 and a five-speed automatic transmission. A more powerful audio system by Monsoon was stirred into the Santa Fe brew as well. Output quotes for the 3.5 vary between 195 and 200 horsepower. We're going with the lower figure here just to be on the safe side. Torque was quoted at 219 ft-lbs. The new five-speed automatic was offered only with the 3.5-liter V-6, the four-speed automatic continued to route the power from the 2.4-liter four and the 2.7-liter V-6. The Monsoon audio system came bundled with a six-disc CD changer on LX trimmed models as standard equipment. It was an option on GLS versions of the Santa Fe.
The 2.7-liter was dropped from the LX lineup, making the 3.5 the sole engine offering for the top Santa Fe. It continued as an option for the GLS though, offered alongside the 2.7. On GLS models the 3.5 could be had with either front- or all-wheel drive, just as it could on LX models.
The base (GL) model was dropped, making Santa Fe a V-6-only proposition. The GLS continued offering both V-6 engines and both transmissions. ABS was added as standard equipment on both models, as was traction control. The exterior appearance was freshened with new taillights, side cladding, wheels, and a reshaped rear bumper. Interior enhancements included new cloth upholstery for the seats, and the instrument panel was reworked. The LX got a power-actuated driver's seat.
For the last year of the first generation Santa Fe, Hyundai went ahead and loaded the Limited model up, everything optional on previous iterations was made standard equipment on the 2006 Limited, including an auto dimming rear view mirror and automatic climate control.
Hyundai Santa Fe: 2007 – 2010
2007 – 2010
Completely redesigned, the 2007 Santa Fe model swapped its quirky façade for a more mainstream and contemporary look. Introduced at the 2006 North American International Auto Show (Detroit), the Santa Fe rolled off an American assembly line in Montgomery, Ala.
Sharing its underpinnings with Hyundai's Sonata, as well as its factory, the 2007 Santa Fe represented a significant step forward in size, appearance and driving characteristics.
Two V-6 engines were again offered for the new model. The 2.7-liter V-6 was essentially a carryover from the previous Santa Fe, although it was updated with variable valve timing. The '06 Hyundai's 3.5-liter V-6 was replaced by a 3.3-liter V-6. The second-generation Santa Fe produced 242 horsepower out of the 3.3-liter V-6 and 226 ft-lbs of torque.
Hyundai paired the engine with a five-speed automatic transmission. The 2.7-liter V6 was offered with a choice of the five-speed automatic, a five-speed manual, or a four-speed automatic. That engine made 185 horsepower and 183 ft-lbs. While at launch, only the four-speed was available with the 2.7, the five-speed came on line for it later in the model year.
Three trim levels were offered, GLS, SE and Limited. Standard kit with the GLS included; the 2.7-liter V6, front-drive (all-wheel drive was an option though), 16-inch wheels, power windows, power-actuated and heated outside mirrors, remote control keyless entry, a tilt-and-telescoping steering wheel, cruise control, and a CD player.
The next level up, SE, featured; the 3.3-liter V-6, front- or all-wheel drive, 18-inch alloy wheels, an auto-dimming rearview mirror, automatic headlights, a trip computer and steering-wheel-mounted audio controls. Arriving at the Santa Fe Limited brought all of the SE's equipment; plus leather upholstery, heated front seats, a power-actuated driver seat, and dual-zone automatic climate control.
All three trim levels were available with XM satellite radio and third row seats as options. DVD players were offered as options with SE and Limited.
Fresh off a complete redesign, 2008 was a light year for adjustments. A Harmon Kardon Logic 7 audio system was specified for the Limited, Bluetooth made it first appearance in Santa Fe (as an option), a sunroof was finally offered as standard equipment on Santa Fe Limited, the SE model got upgraded cloth upholstery, and navigation was offered as an option for Limited. The DVD player option was dropped for SE, but remained available for Limited.
On the audio front, iPod compatibility was introduced, along with USB inputs. SE and Limited were offered with towing packages and cross rails for a roof rack as standard kit.
Engine room revisions dominated Santa Fe's news for 2010. For the first time since 2004, a four-cylinder engine was again available for Santa Fe. Producing 175 horsepower and 169 ft-lbs of torque, it was offered in GLS and Limited models, but not in SE.
Transmissions were also big news for 2010. Six-speeds (both automatic and manual) replaced the fours and fives previously in residence. GLS models offered both manual and automatic transmissions, while the rest of the lineup was automatic only. However, if you wanted all-wheel drive with the four-cylinder engine, you were locked into the six-speed automatic.
On the tech front, Bluetooth, steering-wheel-mounted audio controls and a USB audio jack became standard for all Santa Fe trim levels. Navigation was offered as option on all three trim levels.
Hyundai Santa Fe: Current Model (2011)
For 2011, the only significant change from 2010 was a new 10-speaker audio system by Infinity fitted to Limited models.
Summary
Once attractive primarily because it was so different, the Santa Fe is now attractive because it's so good. With a full compliment of features, a nice assortment of powertrains and holding fast to the core Hyundai value story, Hyundai's Santa Fe is a good buy on the secondary market.
While there haven't been any significant recalls on the Santa Fe, there have been a few. You'd do yourself a good service to research that aspect of the history of any Santa Fe model you have under consideration.
Similarly, you'll want to make sure a good Hyundai mechanic gives any Santa Fe you're considering a thorough going over before you make a purchase offer. It's a smart thing to do with any pre-owned automobile.