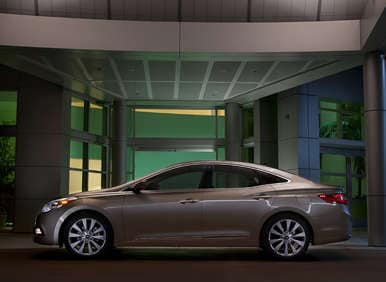 What do Brad Pitt, Viola Davis, George Clooney, Meryl Streep and the all-new 2013 Hyundai Azera all have in common? Well, they'll all be in the spotlight during the 84th Academy Awards show, which ABC will broadcast live on February 26. But while Pitt et al. will be hoping to garner the golden statuettes, Hyundai is hoping to garner eyeballs for the nine different TV spots it will run as the exclusive automotive sponsor of big event.
The spotlight will be on the new Azera, as the Hyundai's redesigned near-luxury sedan will star in two spots directed by two-time Oscar nominee Wes Anderson. Known for bringing a highly personal touch to films like The Darjeeling Limited and Fantastic Mr. Fox, Anderson's work with the Azera will focus on its premium features like Hyundai's Blue Link connectivity and infotainment system. Particularly interesting should be the "Talk to My Car" ad that plays on how voice-activated vehicle systems have been used in movie vehicles throughout the years. For this commercial, Hyundai's team designed new film clips that mimic the look and feel of vintage movies.
Also set to show during the telecast ads for:
• Hyundai Sonata Hybrid—including one highlighting its lifetime battery warranty
• Hyundai Elantra—the 2012 North America Car of the Year
• Hyundai Equus—the ultra-premium flagship of the Hyundai portfolio
• Hyundai Genesis Coupe—redesigned and powered up for the new model year
• Hyundai Genesis R-Spec Sedan—packing a 429-hp 5.0-liter V8 that is Hyundai's most powerful production engine ever
Further, beyond the Anderson-directed Azera ads, the car will be on display in two more commercials created specifically for the Academy Awards broadcast, and Hyundai will post behind-the-scenes footage from the Anderson shoots on its YouTube channel the day after the show.
"Hyundai is proud to share the spotlight with Hollywood's biggest names on Oscar Night and is excited to introduce the award show's huge national audience to the all-new Azera," said Steve Shannon, vice president of marketing, Hyundai Motor America. "The glamour of the event and its star attendees provides the perfect venue to show off our newest luxury sedan."