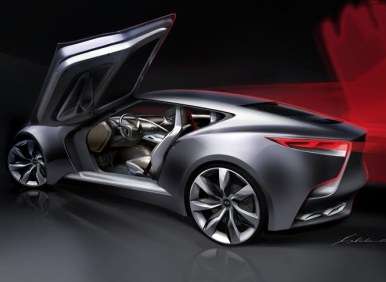 Could this be the all-new 2014 Hyundai Genesis Coupe? Probably not with those doors, but the Hyundai HND-9 Concept no doubt hints at a new design direction for the brand's premium sports coupe, while also showcasing its probable powertrain.
The former, described as "an evolution of Hyundai's fluidic sculpture design philosophy," dials down some of the excesses seen on the Hyundai Elantra and friends for a cleaner, more cutting-edge look that emphasizes the classic "long in front, short in back" proportions of a traditional sports coupe. The result is a fairly aggressive appearance that also benefits from typically massive show-car wheels and chiseled front and rear fascias, with the latter being accented by intricate, multi-dimensional sculpting around the headlights and taillights.
The power source for the Hyundai HND-9 is the 3.3-liter V6 with direct injection that motivates the redesigned Hyundai Azera, but in the concept, engineers have turbocharged the engine to increase its output to about 365 hp; distributing that power is an eight-speed automatic transmission.
Now, about those "butterfly" doors: Unconventionally hinged doors have been a supercar design cue at least since the introduction of the classic Mercedes-Benz 300SL "Gullwing" car in the 1950s, but rare is the automaker that has used them in an affordable-ish vehicle. In fact, my extensive research/quick visit to Wikipedia turned up only the Toyota Sera, a JDM sport compact built from 1990-1996, and the Renault Twizy, a Euro-only, city-sized EV.
Hyundai, however, does have a history of dramatic door design—see the Hyundai Veloster—and is just the kind of brand that would try to shake things up by bringing those doors into production in the 2014 Genesis Coupe.
We'll find out for sure on March 28, when the Hyundai HND-9 is introduced to the public at the Seoul Motor Show in South Korea.