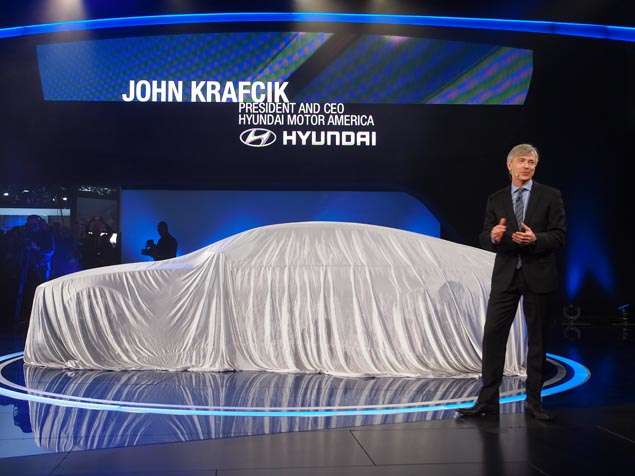 Hyundai wastes no time in explaining why the HCD-14 Genesis Concept matters. This concept vehicle, according to the automaker, "provides a glimpse into future Hyundai premium vehicle design." Hyundai introduced the HCD-14 Genesis Concept at the 2013 North American International Auto Show in Detroit.
Today, Hyundai sells the Genesis mid-luxury sedan and the Equus large luxury sedan, each competing against high-priced vehicles in difficult segments. But, as John Krafcik, Hyundai Motor America president and CEO, pointed out: "Genesis and Equus now deliver a nine percent retail market share in their premium segments, higher than the five percent retail share Hyundai brand achieves in the overall industry."
This performance, says Krafcik, justifies the development of a new generation of premium rear-wheel-drive models. The HCD-14 Genesis Concept hints at the design direction Hyundai will take, and Krafcik says the company will focus on delivering engaging driving dynamics and modern technology with the new models.
What's New for the Hyundai HCD-14 Genesis Concept:
Displays future design language for Genesis and Equus
5.0-liter V-8 engine
8-speed automatic transmission
Rear-wheel drive
Rear-hinged rear doors
Driver-centric interior
Analog and digital instrumentation
Eye-tracking and 3-D hand-gesture recognition technology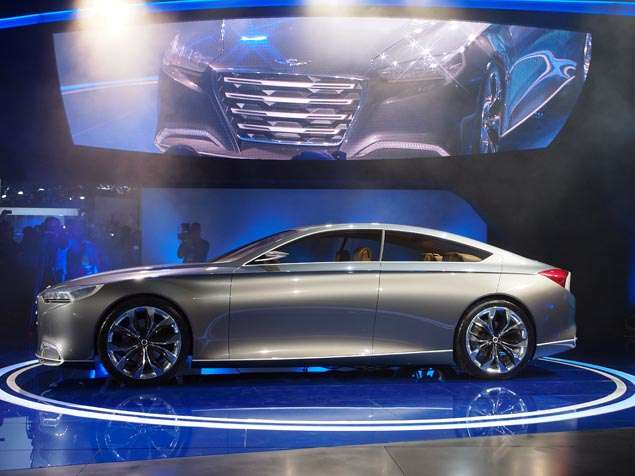 New Hyundai HCD-14 Genesis Concept: Styling and Design
Any concept vehicle represents an exercise in styling and design. In this case, the HCD-14 Genesis concept signals the direction Hyundai plans to take with the next-generation versions of the Genesis Sedan and the Equus, introducing what the automaker calls a "fluidic-precision, liquid-metal" design language that employs "dramatic surfacing" to convey "natural restraint."
The result is this blunt-nosed, 4-door fastback coupe, which blends premium design and materials with sport-tuned performance and handling, according to Hyundai.
Signature design elements include "classic rear-drive sport sedan proportions," tidy overhangs, a tapered greenhouse, a short rear deck, and rear-hinged rear doors. Up front, the HCD-14 Genesis Concept features a big and bold brushed metal grille flanked by LED headlights at the upper corners and air intakes at the lower corners. Oversized exhaust outlets match those air intakes around back, while LED taillights mimic the appearance of the headlights at the upper corners of the decklid.
There is little in the way of extraneous detailing on the HCD-14 Genesis Concept, aside from badges that look too much like a Chrysler's.
Inside, the HCD-14 Genesis Concept features a "design-wave" architectural theme with laminated and milled wood trim designed to give the cabin texture. A driver-centric cockpit features a mix of analog and digital instrumentation, and includes an iPad storage station. The center console flows all the way to the rear of the cabin, limiting passenger capacity to 4.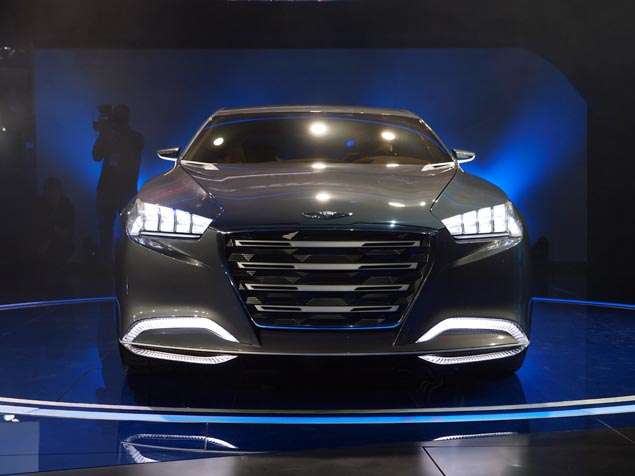 New Hyundai HCD-14 Genesis Concept: What's Under the Hood
Hyundai says that the HCD-14 Genesis Concept is equipped with a direct-injected, 5.0-liter V-8 engine, an 8-speed automatic transmission with paddle shifters, and rear-wheel drive. In the current Genesis Sedan, Hyundai's 5.0-liter V-8 generates 429 horsepower and 376 lb.-ft. of torque.
Additional hardware details include driver-selected driving modes, independent 5-link front and rear suspension, oversized wheels with low-profile performance tires, and a ceramic-lined exhaust system. A new multi-mode power steering system retains the traditional road feel and feedback of a hydraulic system while employing the benefits of an electric system, according to Hyundai.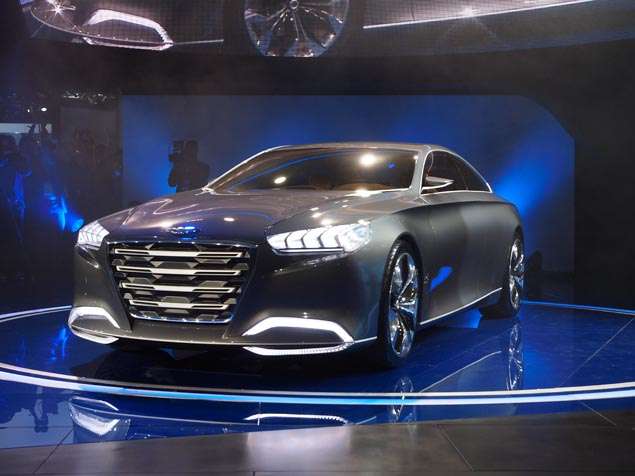 New Hyundai HCD-14 Genesis Concept: Features and Technology
Perhaps equal in significance to the HCD-14 Genesis Concept's exterior design is the car's attempt to eliminate driver distraction through eye-tracking and 3-D hand-gesturing technologies.
The HCD-14 Genesis Concept's designers eliminated the traditional center stack of interior controls, replacing them with an "intuitive driver interface system" that combines eye-tracking technology with a heads-up display. The driver "selects" a system by viewing it on a menu on the heads-up display, and then operates the navigation system, audio system, climate system, smartphone integration system, and other controls via hand-gestures. Effectively, the driver must never look below the vehicle's cowl plane, allowing the driver to keep his or her eyes on the road at all times.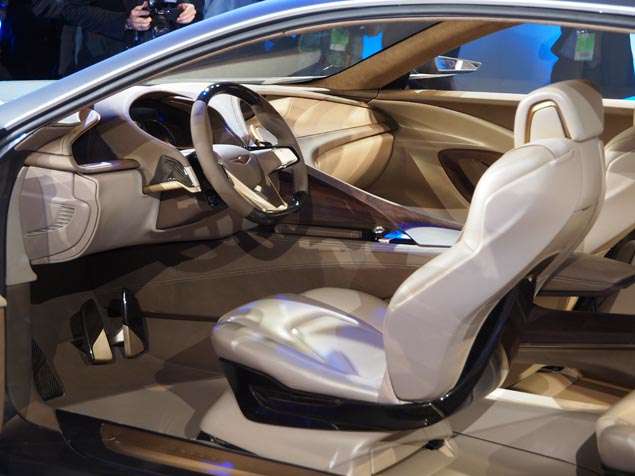 New Hyundai HCD-14 Genesis Concept: What Autobytel Thinks
While we're aware that not everyone will like the Hyundai HCD-14 Genesis Concept's provocative grille and lighting elements, we think this design strikes exactly the right balance between cautious conservatism and design derring-do. The HCD-14 Genesis Concept looks like nothing else on the road and displays an unmistakably upscale, clean, uncluttered, and elegant appearance. It would make a fine flagship for Hyundai.