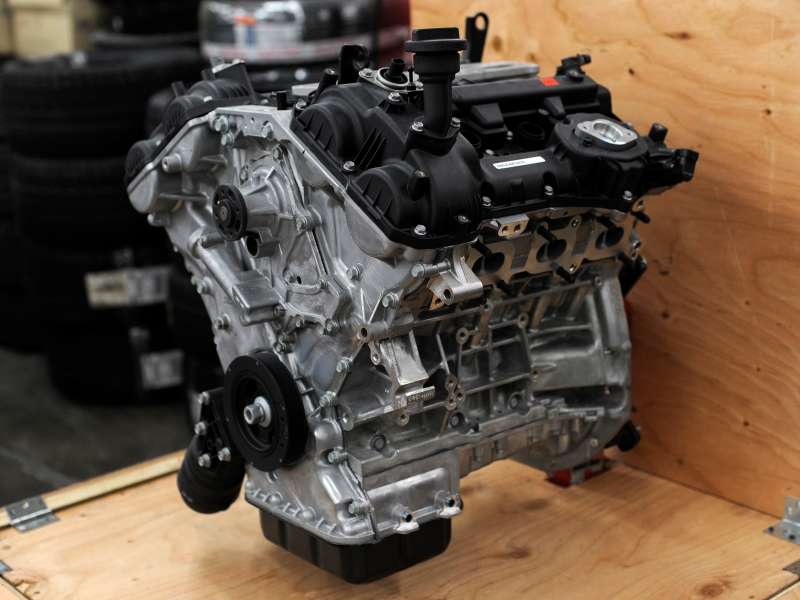 Hyundai has entered the crate-engine business, offering three new powerplants to aftermarket tuners with a passion for the Hyundai Genesis Coupe—or who just want a new factory-backed source of motivation for their latest custom projects. The two engines are, unsurprisingly, based on the powerplant pair currently being offered in the 2014 Hyundai Genesis Coupe, and will include the 3.8-liter V6 with direct injection, as well as two versions of the coupe's 2.0-liter 4-cylinder unit.
One will come complete with Hyundai turbocharging hardware, while the other will be prepped for those who prefer to add their own forced-induction systems. This option combines velocity and value, because mechanics don't have to pay for the stock turbo hardware when they're planning to add aftermarket components anyway. Pricing starts at $4,500 for the turbo-ready 4-cylinder engine, then moves up to $6,000 with a turbocharger (as well as 274 and 275 lb.-ft. of torque), and tops out at $9,000 for the V-6, which makes 348 hp and 295 lb.-ft. of torque in the production Hyundai Genesis Coupe.
All three come complete with intake manifolds, ignition coils, injectors and fuel-delivery assemblies, and each one is covered by a 12-month/12,000-mile replacement parts warranty. The crate engines are only available at authorized dealerships, too.
The party line from John Krafcik, president and CEO of Hyundai Motor America: "As more Genesis Coupes have entered the pre-owned enthusiast market since its 2009 launch, we've witnessed strong interest in leveraging the low cost potential of this rear-drive platform and its powertrains for the tuner market and motorsports.
"Now, with our new crate engine program, Hyundai is making it more affordable for these same enthusiasts to modify their Genesis Coupe, or perhaps inject some high-value horsepower into other platforms."