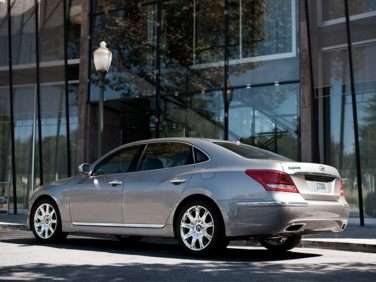 Much like today's top PGA golfers, the Hyundai lineup is known for its success with long drives: After all, with cars like the Hyundai Elantra and Hyundai Accent capable of 40 mpg on the highway, fans of the brand's vehicles can go quite a fair way on a single tank of gas. And now, thanks to a new sweepstakes from Hyundai, one of those fans also can go to the Kapalua Resort in Maui for the 2013 Tournament of Champions—sponsored by the automaker, of course.
All it takes is a quick visit to the contest's Facebook page at on.fb.me/HyundaiRoadToKapalua, where entrants also need to "Like" the Hyundai Equus. Which shouldn't be too hard to do, considering the elegant Equus has quickly become a top contender in the premium sedan segments, thanks to its stunning array of luxury features. Standard amenities range from an electronically controlled air suspension to heated and cooled seats (with a massage function for the driver) to a 608-watt 17-speaker Lexicon audio system. The car also packs in the most powerful V8 ever offered by a Hyundai production vehicle, transforming 5.0-liters of displacement into 429 hp and 376 lb.-ft. of torque, and then running it through an advanced eight-speed automatic transmission.
Hyundai has been partnering with the PGA's Tournament of Champions since 2011, providing vital support to the winners-only competition that kick off the next PGA season. 
"It's been an exciting season on the PGA Tour [so far this year], with an outstanding group of winners who've already qualified for the 2013 Hyundai Tournament of Champions, and we are now offering one lucky fan the opportunity to join them in Hawaii," said Steve Shannon, vice president, Marketing, Hyundai Motor America. "We are really looking forward to our third year as title sponsor and continuing our connection with golf fans and the Maui community."
The sweepstakes contest is open now through Oct. 31, 2012.