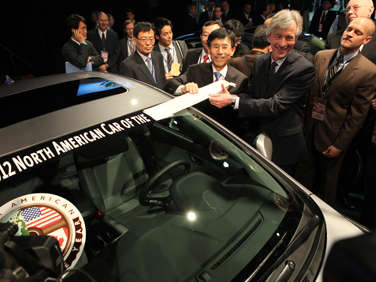 In an industry that's also recently seen the launch of four all-new, next-gen compact rivals—including the Chevy Cruze, Ford Focus, Honda Civic and VW Jetta—it was the Hyundai Elantra that was named the 2012 North American Car of the Year. The award, given each year in conjunction with the North American International Auto Show in Detroit, was the automaker's second: The Hyundai Genesis took the title in 2009.
"Elantra speaks to the success of our recipe of bold design and great fuel economy," said John Krafcik, president and chief executive officer, Hyundai Motor America. "In a year with some truly breakthrough competitors, we are honored that the jury recognizes Elantra's far-reaching impact on the industry."
Specific ingredients of that recipe include a highly aerodynamic expression of Hyundai's fluidic sculpture design language—the Elantra's 0.28 coefficient of drag is lower than that of the Chevy Volt—along with EPA ratings of 29 mpg city/40 mpg highway/33 mpg combined. And as an added bonus, drivers can achieve those same marks regardless of whether they prefer a six-speed automatic or manual transmission. Of course, the 50 independent auto journalists who voted on the Car of the Year award clearly weren't the only ones impressed with the Elantra; U.S. buyers made it one of the best-selling cars in the country in 2011.
Per the automaker, the Elantra has "the highest owner satisfaction with real-world fuel economy in the compact class, according to data from J.D. Power and Associates." Further, the Elantra turned up the volume by 41 percent last year to achieve a record 186,361 sales and was a key factor in Hyundai's ability to set its own new full-year benchmark. The company tallied 645,691 deliveries in 2011 for a 20 percent overall gain that included a 29 percent jump in retail business.
Coincidentally, the 2012 North American Car of the Year—the 2012 Elantra—also is built in North America—at Hyundai's manufacturing complex in Alabama.