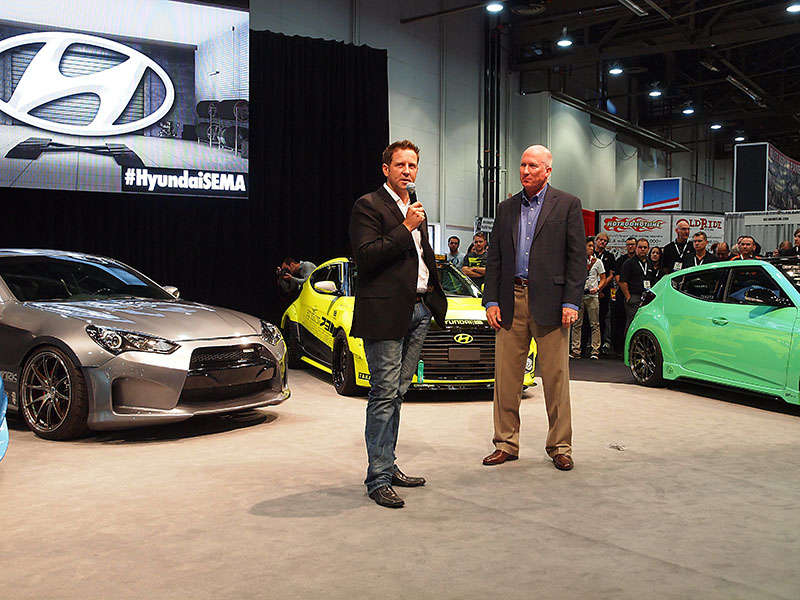 Part of reaching out to enthusiasts is offering them the kind of support they need to build the high performance vehicles of their dreams.  Automotive giants like Ford and GM have long offered extensive parts and expertise to race and street builders, and even smaller companies like Mazda operate successful grassroots outreach programs designed to pull weekend hot shoes and pros alike into the fold.
It's no surprise, then, that Hyundai chose the 2013 SEMA show to announce its new crate motor program, which will bring fully-assembled engines at a discount to the aftermarket.  Hyundai is offering both its 3.8-liter V-6 and 2.0-liter four-cylinder (each with direct fuel injection) in crate form, with the latter offering versions both with and without a turbocharger for maximum flexibility.
Showing off the potential of each of these Hyundai power plants are a range of show cars that took the stage at Hyundai's SEMA booth.  The most outrageous of these custom rides is the Bisimoto Engineering Genesis Coupe, which squeezes a phenomenal 1,000 horsepower from a twin-turbocharged version of the 3.8-liter V-6 crate motor.  ARK Performance offers a more restrained take on the 3.8-liter Genesis Coupe with its Legato show car, which punches the motor out to 4.0-liters in order to generate 400 horses and focuses more on creating a smooth track machine rather than a dyno monster like the Bisimoto car.  The 2.0-liter turbo is represented by a trio of compacts – two Velosters and a Genesis Coupe – put together by Fox Marketing, EGR, and John Pangilinan, respectively.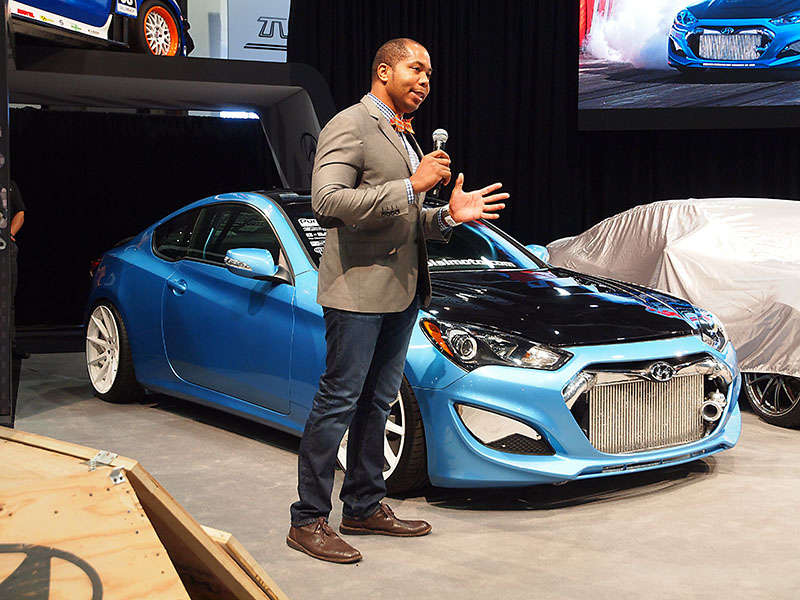 How much will it cost aftermarket builders to pick up a new crate motor from Hyundai?  The V-6 checks in with a price tag of $9,000, while the four-cylinder can be purchased either with ($6,000) or without ($4,500) a turbo and intercooler setup.  The Korean brand claims that these prices reflect a 25% markdown over what it would cost to put together the same engine package using the current Hyundai catalog.  While the 2.0-liter mill strikes us as a deal – especially for those seeking a front-wheel drive-friendly setup that can be transversely mounted – the 3.8-liter might have a harder row to hoe given the inexpensive proliferation of LSx V-8 engines currently available to hot rodders.