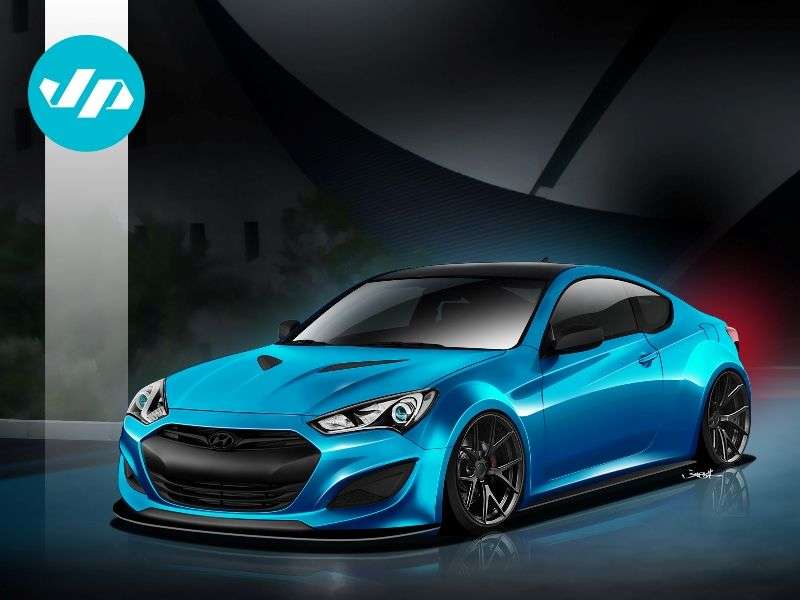 We're getting a bit of a teaser of what Hyundai has in store for the SEMA Show next month. The automaker is teaming up with ARK Performance to build a very unique Genesis Coupe named the Legato Concept. For those wondering about Legato, it is an Italian musical term meaning "tied together."
Starting with the exterior, ARK performance fits a new body kit that includes front and rear bumpers, side skirts, deck lid, and "wide-body cues." The Legato concept is finished in a silver color and a set of Rays Engineering G25 wheels wrapped in Nitto tires. Inside the Legato concept is very luxurious with a set of Takata Drift Pro LE seats, an AiM Sports Strada GT steering wheel, digital gauge cluster, and a Rockford Fosgate sound system.
Under the hood, Hyundai's 3.8L V6 has been stroked to 4.0L thanks to new pistons and crankshaft. Other changes for the V6 engine include connecting rods, oil cooler, intake system, headers, and lightweight pulley kit. Total output of this engine stands at 400 horsepower and 425 pound-feet of torque. To handle this extra power, ARK fitted a dual-mass flywheel and carbon clutch kit.
The Legato concept is lowered thanks to an ARK coilover suspension system and stops via a new carbon brake pads.
"The ARK Legato Concept demonstrates the compelling appeal and versatility of the original Genesis Coupe production concept. ARK Performance has taken this original concept and expanded its appeal to the most demanding premium coupe owners at a whole new level," said Mike O'Brien, vice president of product planning for Hyundai Motor America.