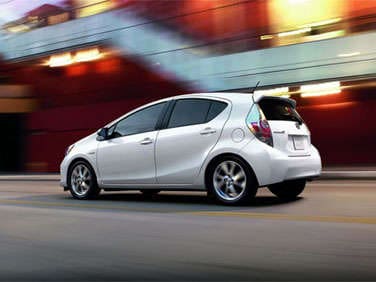 Hybrids, hybrids everywhere - and not just where you would expect to find them.  Hybrids are no longer restricted to dedicated models like the Toyota Prius and while those types of vehicles are still out there, stringent corporate average fuel economy regulations have automakers turning to battery-assisted drivetrain technology in order to boost their bottom line when it comes to miles per gallon across the board.  This is leading to all sorts of interesting hybrid applications in the crossover, sedan, luxury and even pickup truck segments. 
Let's take a look at eight hybrid vehicles that run the gamut of what eco-conscious buyers will find on dealer lots across the country.
01. 2012 Lincoln MKZ Hybrid
The 2012 Lincoln MKZ Hybrid was the first premium battery-powered vehicle to be priced at exactly the same MSRP as its gasoline-only sibling.  This presented mid-size luxury sedan buyers with an intriguing choice: to go green or not to go green.  The entry-level Lincoln MKZ Hybrid is powered by a 2.5-liter, four-cylinder engine that is paired with an electric motor in order to generate a total of 191 horsepower.  Front-wheel drive and a continuously-variable automatic transmission are included as standard equipment, and the MKZ Hybrid returns fuel economy of 41-mpg city and 36-mpg highway - more than double the around-town figure of the gasoline edition of the car.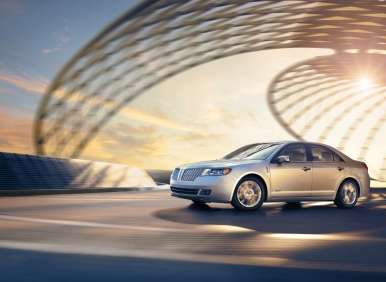 02. 2012 GMC Sierra 1500 Hybrid
The 2012 GMC Sierra 1500 Hybrid proves that selecting a non-traditional power plant doesn't having to give up on practicality or utility.  The GMC Sierra 1500 Hybrid, which comes in four-door Crew Cab trim, offers a five-foot, nine-inch cargo bed and the ability to tow up to 6,100 lbs.  Not only can the battery-assisted pickup haul a decent load but it also returns fuel mileage that is 25 percent better in the city than an equivalently-powerful gas-motored Sierra (20-mpg).  Highway mileage comes in at 23-mpg.  The Sierra Hybrid's 6.0-liter V-8 is assisted by a pair of electric motors that altogether deliver 379 horsepower - and of course four-wheel drive is available as an option.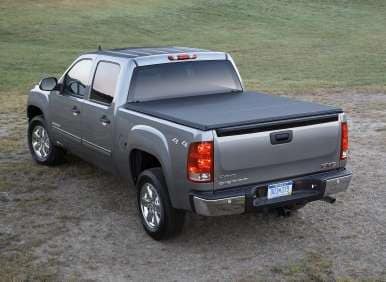 03. 2012 Chevrolet Volt
The 2012 Chevrolet Volt is one of the most famous hybrids on the planet, despite being marketed primarily as an electric vehicle.  Yes, the Chevrolet Volt can travel up to 50 miles or so using battery power alone but it also comes equipped with a small gasoline engine that serves as a generator to add at least another 300 miles per tank of fuel onto the vehicle's range.  It's not exactly possible to determine the Volt's fuel mileage using the same criteria as other hybrid models, but the compact hatchback receives a 95 MPG-e rating from the EPA.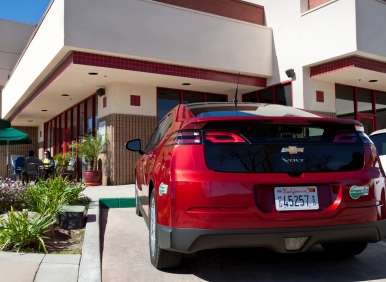 04. 2012 Ford Escape Hybrid
The 2012 Ford Escape Hybrid is quite simply the most fuel efficient crossover vehicle on the market.  The Ford Escape Hybrid offers seating for five as well as 66 cubic feet of total cargo space, and its 2.5-liter, four-cylinder engine is matched with a single (front-wheel drive) or a pair (all-wheel drive) of electric motors that push out 177 horsepower in total.  A continuously-variable automatic transmission manages the hybrid system and helps to deliver 34-mpg in stop and go driving and 31-mpg during highway cruising.  All this is accomplished without sacrificing any of the day-to-day practicality offered by the regular edition of the compact Ford Escape SUV.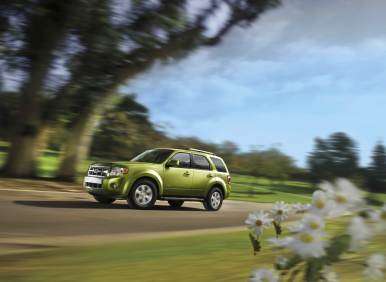 05. 2012 Honda Civic Hybrid
The gas-only version of the Honda Civic is quite frugal at the pump in its own right, but the 2012 Honda Civic Hybrid takes things to an entirely new level.  The compact Honda Civic Hybrid sedan makes excellent use of the brand's Integrated Motor Assist drivetrain, which in this vehicle consists of a 1.5-liter, four-cylinder engine and an electric motor - both of which have seen a boost in output for the current model year.  The Civic Hybrid delivers 110 horsepower, is shifted via a continuously-variable automatic transmission, and returns fuel economy of 44-mpg in city driving and 44-mpg on the highway (also an improvement over the previous-generation sedan).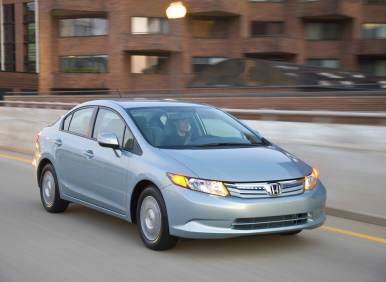 06. 2012 Lexus LS 600h L
The 2012 Lexus LS 600h L is an example of hybrid design that isn't focused quite as much on fuel economy as it is on accentuating performance.  The Lexus LS 600h L is the luxury automaker's flagship, and the extended-wheelbase sedan comes crammed to the brim with every conceivable convenience feature.  The LS 600h L's hybrid system consists of a 5.0-liter V-8 engine paired with two electric motors that together grind out an impressive 438 horsepower, sent to all four wheels via a continuously-variable automatic gearbox.  Lexus engineers claim that the vehicle was designed to offer V-12 power while returning V-8 fuel economy and while the high class sedan's 19-mpg city and 23-mpg highway rating isn't as lofty as other hybrids, it doesn't drink down fuel at quite the same rate as some its full-size premium competitors.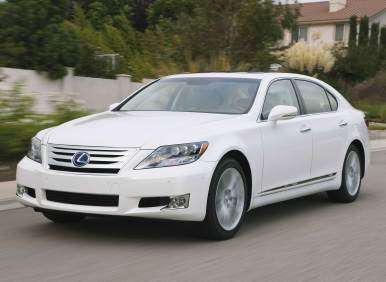 07. 2012 Hyundai Sonata Hybrid
The 2012 Hyundai Sonata Hybrid is another new kid on the battery-driven block.  The Hyundai Sonata Hybrid adds substantial fuel economy to an already competent family sedan package, introduced by a 2.4-liter, four-cylinder engine and a single electric motor that together put out a respectable 206 horsepower.  The Sonata Hybrid makes use of a traditional six-speed automatic transmission - which can be shifted manually, if desired - and it posts up fuel economy numbers of 35-mpg around town and 40-mpg during highway cruising.  This places the Hyundai in excellent company when comparing it against other mid-size, four-door automobiles in its class.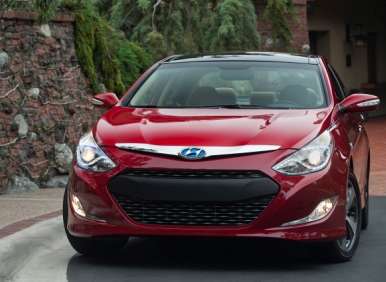 08. 2012 Honda Insight
The 2012 Honda Insight measures up to the image that most buyers have of dedicated hybrid vehicles: compact, lightweight and futuristically-styled.  The Honda Insight is all about miles per gallon, with few creature comforts to be found when purchased in base trim, and it offers a relatively affordable entry point into the hybrid universe thanks to an MSRP of less thank $20,000.  The hatchback's 1.3-liter, gasoline-powered four-cylinder engine is yoked to an electric motor and a continuously-variable automatic transmission, and it offers 98 horsepower and fuel mileage of 41-mpg in stop and go driving and 44-mpg on the highway.