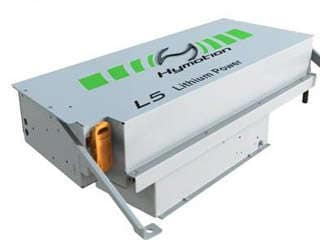 Hybrid conversion can be done through hybrid conversion companies like E-Drive, OEMtek, Hybrid Conversion, and Netgain motors or through a conversion kit that you can install yourself. It is possible to convert hybrids like the Toyota Prius to being a plug-in as well as convert a conventional vehicle to being plug-in hybrid electric vehicles.
Several companies build and offer hybrid conversion kits for sale. Hymotion is one of these companies. They offer a plug-in for the Toyota Prius and soon they will offer a kit for the Ford Escape Hybrid.
According to a recent press release, Hymotion is expecting their Plug-in battery to 'double' the fuel economy of the Toyota Prius. This revolutionary expected fuel economy of 100 miles per gallon is due to the Lithium Ion Polymer technology. According to Anthony Wei, Hymotion's Vice-President Business Development, says, 'Our PHEV battery is smaller, lighter and more powerful than the NiMH batteries that are currently available for hybrid vehicles.'
Another company, E-Drive, also offers plug-in conversion kits. According to them, by installing this EDrive upgrade your driving range expands to over 1000 miles per fill-up. Their system uses a 110-volt wall socket to plug your EDrive vehicle in overnight. With a full charge, the vehicle will be able to achieve over a 100 miles per gallon for the first 40 miles.
Both of the above two companies require you to take your vehicle in and have a professional installation done. The EDrive system can be installed in approximately four hours. The lithium-ion battery system goes under the cargo carpet in the rear of the vehicle. The motors, engine and the hybrid system up front of the vehicle don't need to be touched.
Poulson Hybrid will be offering a reasonably priced conversion kit that vehicle owners can install themselves within three to four hours. Poulson is working at developing a network of authorized installers to take care of marketing as well as the installation of the kit for around $500.
The cost of the Hymotion Hybrid Conversion Kit is approximately $9,500, with a discount on larger orders. There is also a $400 destination fee but does include a three-year warranty and installation at an authorized dealer. For the E-Drive system, the cost for their systems is between $10,000 - $12,000 dollars. For an A123 conversion kit, you need to put down a $1,000 deposit then the company sets up the installation of the kit at one of their many dealers before the balance of close to $9,000 is due.
Another kit that will soon be available will be from Poulsen Hybrid out of Shelton, Connecticut. They plan to offer a conversion kit that can turn any conventional car into a plug-in hybrid electric vehicle for approximately $7,000. Their system will mount small electric motors onto the rear wheels. Poulson Hybrid also plans to use lithium-ion batteries that will double the vehicles mileage. It should cost less than a dollar to charge.
VS Composites is offering a $4,000 Electrocharger in 2009 that will boost fuel economy by close to 60 percent. It will replace the vehicles alternator with an electric generator. It's initial cost is cheaper than the Poulsen's versions but will cost three to five times more to charge up. The Electrocharger is easy to install and can be done by any mechanic. The system is color coded and takes approximately 3 hours to install.
Expect it to take at least 8 years to recoup the cost of the conversion. According to Philip Gott, of Global Insight, a plug-in hybrid will cost close to 2 cents per mile as compared to 10 cents a mile for a conventional car.
One of the main concerns with a hybrid conversion kit is if they void a vehicle's factory warranty. For this reason alone, consider conversion kits from automakers. Toyota is planning a conversion kit by 2010. Another concern is the safety of the vehicles occupants as some of the safety design could be compromised by modifications.
Reliability is another unknown factor as these kits haven't been on the market long. The benefits of hybrid conversion include improved fuel economy, reduce dependency on foreign oil and save you money. If you wait a little longer, the cost of conversion will become more cost effective. Like all technology, the price does eventually come down.