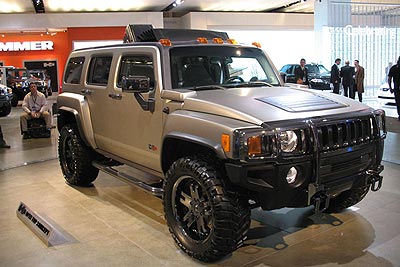 Hummer H3 Open Top Concept Brief – 2007 Detroit Auto Show: Part of the allure of capable four-wheel-drive vehicles is their ability to take people off the beaten path, to areas not readily accessible by regular, everyday transportation. Unfortunately, most vehicles are closed boxes, and fail to let in any of the outdoors you've made a special trip to enjoy. That's not a problem with the Hummer H3 Open Top Concept, a rugged four-wheeler with a huge, retractable sunroof. Engineered by ASC (the same company that creates convertible versions of some of the market's most popular hardtops), the safari-style top is designed to be durable and weatherproof.
What's It Looks Like
In addition to the expansive soft sunroof, the Hummer H3 Open Top Concept features a number of parts currently available from your local Hummer dealer, most done up in black chrome for this one-off vehicle. Those items include a brush guard, DVD players in the headrests, tube steps, a cat-back exhaust system, noise-canceling headphones, and OnStar Turn-By-Turn navigation. The H3 Open Top Concept also features special Silver Spectra tri-coat paint, 20-inch Rozzi EGO rims rolling on 325/50R-20 Mickey Thompson rubber, and lambskin leather upholstery for the seats.
Photos courtesy of Thom Blackett