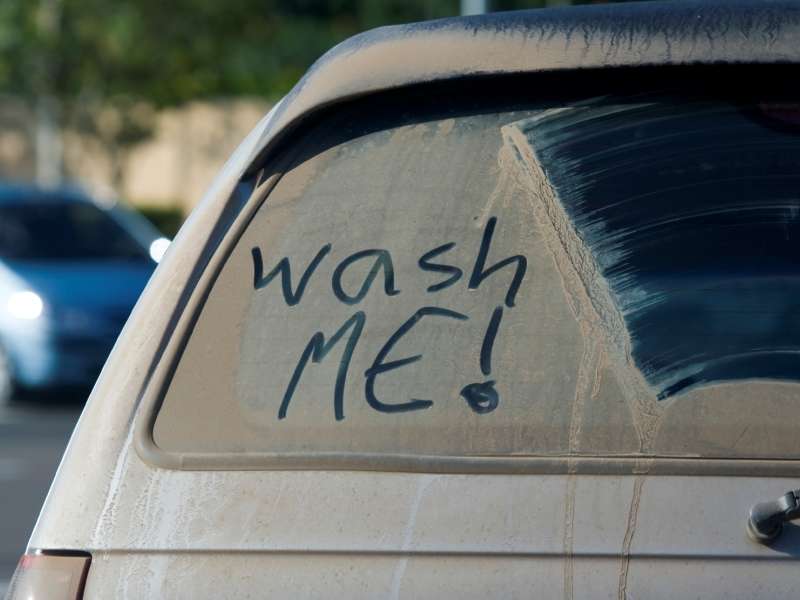 Learning how to wash a car can be an easy and fun activity, especially on a hot day. Park out of direct sunlight and assemble the items you'll need: soap, two buckets, a good quality wash mitt (or two or three), a working hose, wheel cleaner, and some microfiber drying towels. Always use a proper soap designed for washing cars and not a dish soap which can strip wax from the paint surface. Add some of this soap to one of the buckets and fill them both with warm water. The second bucket will be used to rinse the sponge, keeping most of the dirt out of the soapy water.
If there are any bug marks, sap, or bird droppings on your paint you can treat them with a little bit of straight car wash soap to help make them easier to remove. Rinse the wheels and tires, and spray on some wheel and tire cleaner (but first make sure that it's safe for your wheels). Using an old wash mitt clean the wheels and tires, and then rinse them down. If you used the rinse bucket while cleaning your wheels, empty and refill it with fresh warm water.
When washing a car always work down from the top to the bottom. Rinse the car well, removing as much dirt as possible. Starting with the roof, divide the vehicle into sections. Dip the cleanest wash mitt you have into the soapy water and start to wash the area. Try not to scrub too hard as this can scratch the paint. Rinse the mitt in the clean water, wring it out, dip it back into the soapy water and keep washing. When you've finished one section rinse the entire car well to keep it wet and prevent spots, and then move down to the next section. When you get to the bottom where it's dirtiest consider using a separate wash mitt. You may want to keep three separate mitts, use the newest for cleaning the main part of the car, an older one to clean the bottom, and the oldest to clean the wheels. If the car still seems dirty after you've finished, start at the top and go over it again.
To prevent water spots dry the car using microfiber drying towels. Start with the glass surfaces as they are easier to dry with a fresh towel. Again, work from the top to the bottom. If you can, lay the towel out across the surface, press it down lightly, and then remove it. Try to drag the towel across the surface as little as possible as this can create scratches.