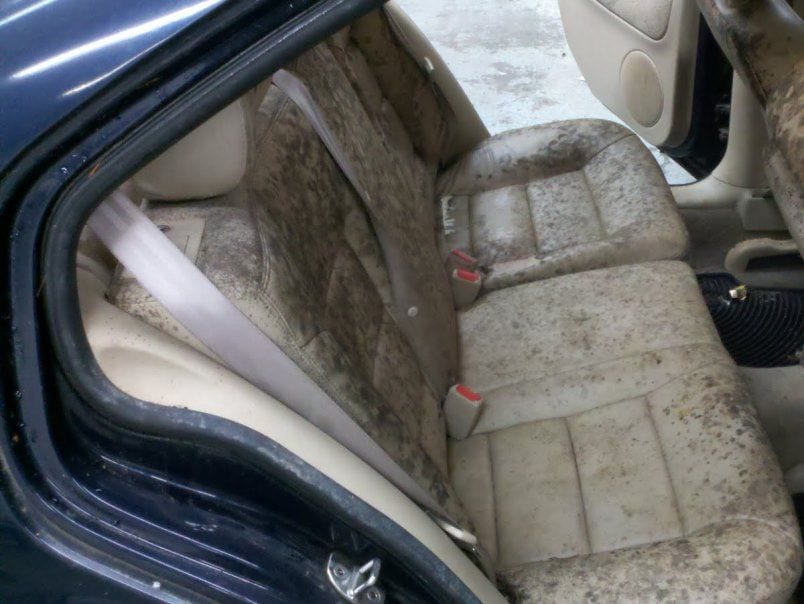 mold in backseat
Musty odors in vehicles begin with mold and mildew growth resulting from excess moisture and inadequate ventilation. These factors can cause toxins, pollutants and gases to accumulate which nurture mold and dust mites. The unpleasant odors are a warning sign of an unhealthy environment that can ultimately affect your health and a moisture saturation issue that can cause costly damage to your vehicle.
What is Mildew?
• Mildew is a thin, white to bluish-green growth. • Molds are simple plants belonging to the group known as fungi. • Molds are always present in the air. • Mildew needs moisture and warmth to grow. • Molds that cause mildew flourish in areas that are dark, damp, warm, and have poor circulation. • Mildew grows in and on carpeting and furniture.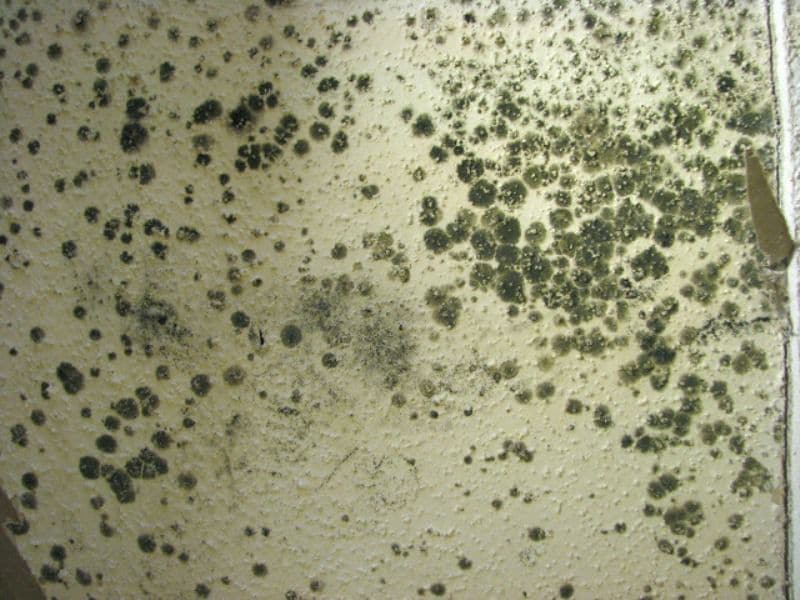 What is the Damage?
In addition to an unpleasant musty odor, molds and mildew cause considerable damage if permitted to grow. • Mold and mildew discolor fabrics, leather, paper and wood. • Mold and mildew eat away at fabrics until they rot and fall apart.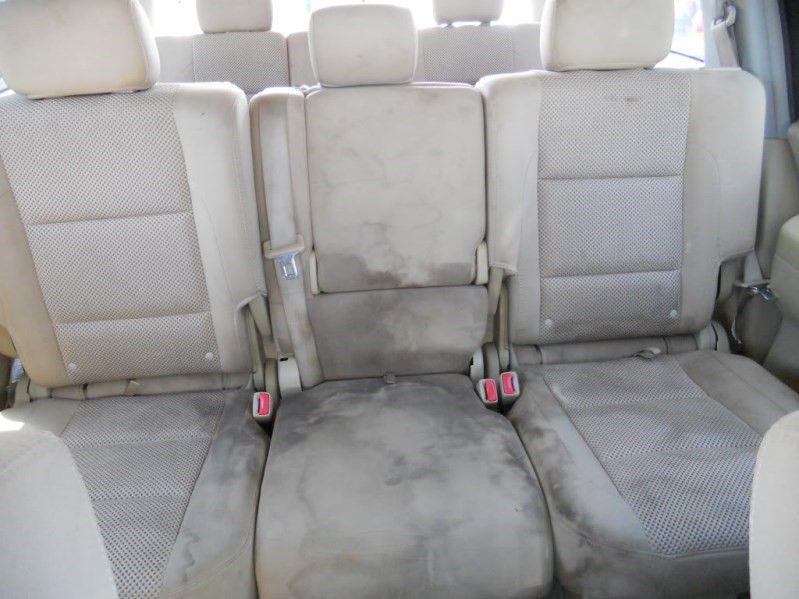 Mildew Prevention and Removal
Prevention is the best mildew solution. Keep the interior of your vehicle clean, well-ventilated and very dry. • Keep everything clean • Soil and food can supply enough food for mildew to start growing when moisture and temperature are right.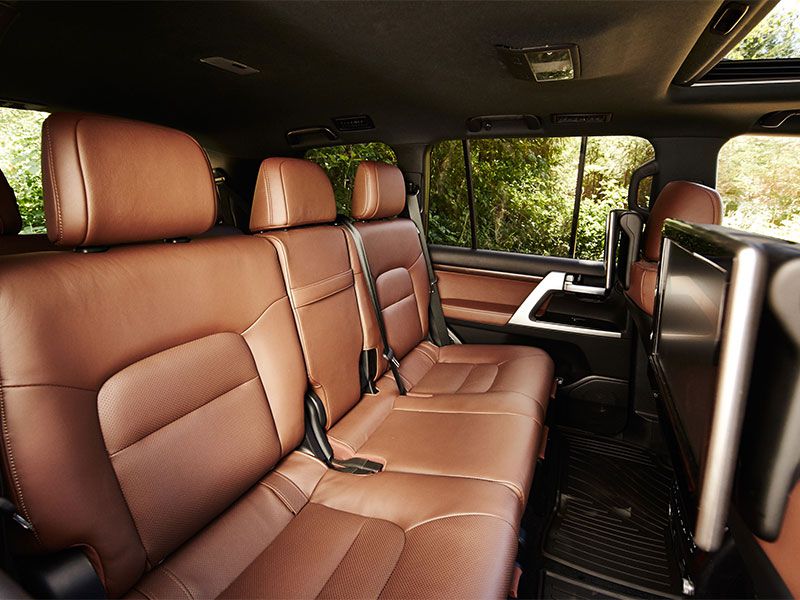 Dry the Air - Mechanical Air Drying
The first step in mildew control is to control dampness from condensation of moisture onto cooler surfaces. Cool air holds less moisture than warm air. Properly-installed air-conditioning systems remove moisture from the air of the cabin space by taking up warm air, cooling it, removing the moisture and circulating cool, dry air back into the cabin. If necessary, heat the vehicle for a short time to get rid of dampness. Then open doors and windows to let out the moisture-laden air or use an exhaust fan to force it out.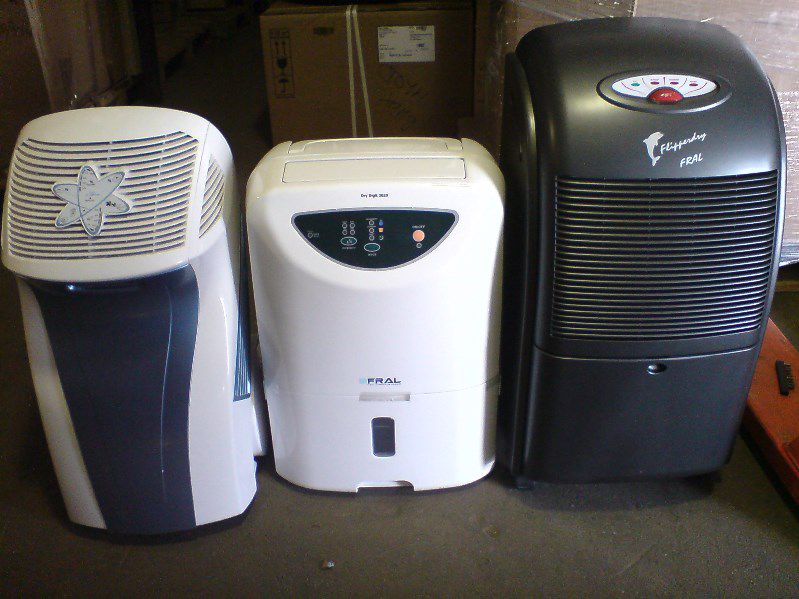 Photo by WikiCommons
Dry the Air - Chemical Air Drying
- Moisture-absorbing silica gel, alumina and anhydrous calcium sulfate are very useful, non-harmful chemicals that can hold half their weight in water. To use, hang cloth bags of the chemical or place open container on the floor. Keep the door well sealed and kept closed so that moisture from outside air will not go in. • is available in small, white granules. • holds twice its weight in water. • liquefies as it absorbs moisture. • do not let this chemical touch clothing or household textiles; it can make holes in them. • Place the granules in a simple cup-shaped container made from non-rusting screen or waxed cardboard perforated with small holes. • Support the container in an enameled pot so the liquid can drip away from the container, leaving the calcium chloride to take up more moisture. • Place the pot in the vehicle. • Close the door. • One pound of calcium chloride will last from two weeks to two months, depending on the humidity. • When only liquid is left, discard and start over.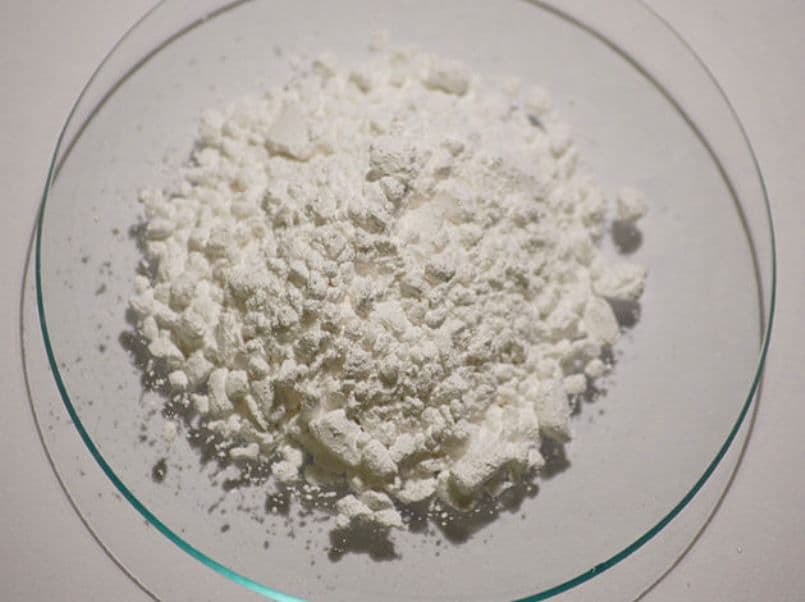 Photo by WikiCommons
Upholstery
• Remove loose mold from outer covering by brushing. • Run a vacuum cleaner attachment over the surface to draw out more of the mold. • Do everything conveniently possible to dry the article, such as using an electric heater. • Expose to sun and air to stop mold growth. Mildew that has reached the padding of cushions and mattresses must be cleaned by a storage or detailing company with facilities for fumigation.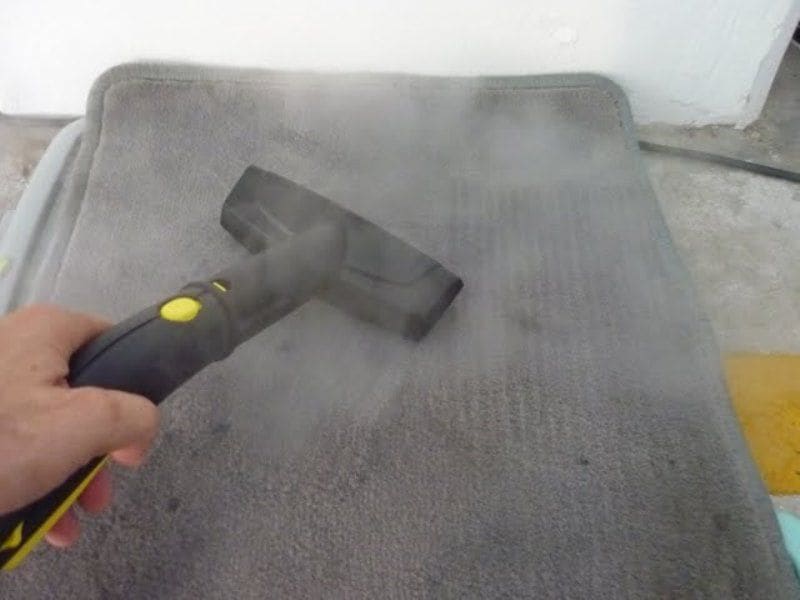 Rugs and Carpets
• Sponge rugs and carpets with thick, dry soap or detergents suds and wipe clean with a damp cloth. • Use an electric shampoo machine. If the problem is excess water, such as flooding, immediate action is important to keep mildew from growing. If the carpet has been saturated, the best recommendation is to have it professionally cleaned, deodorized and dried.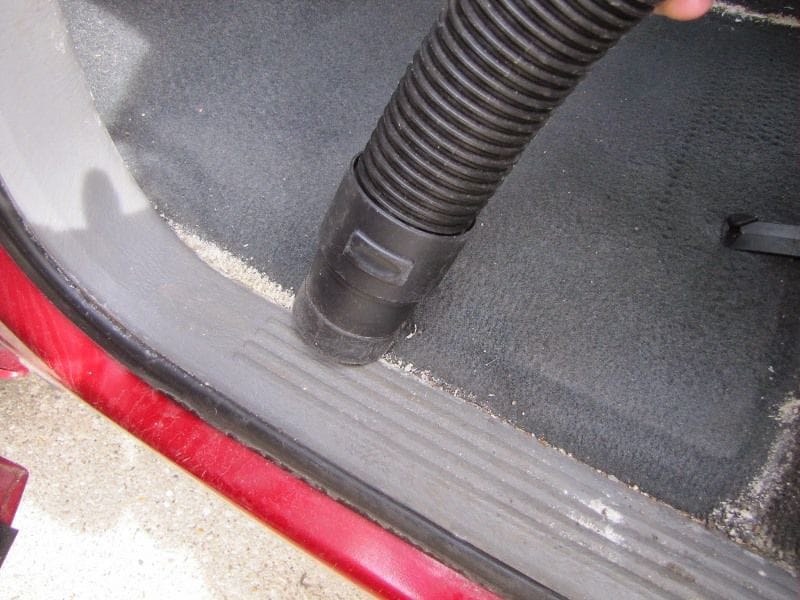 Leather Goods
To remove mildew from leather goods, • wipe them with a cloth moistened with a diluted alcohol mixture of one cup denatured or rubbing alcohol to one cup water. • If mildew remains, wash with thick suds made from saddle soap, or a soap containing germicide or fungicide, then wipe with a damp cloth.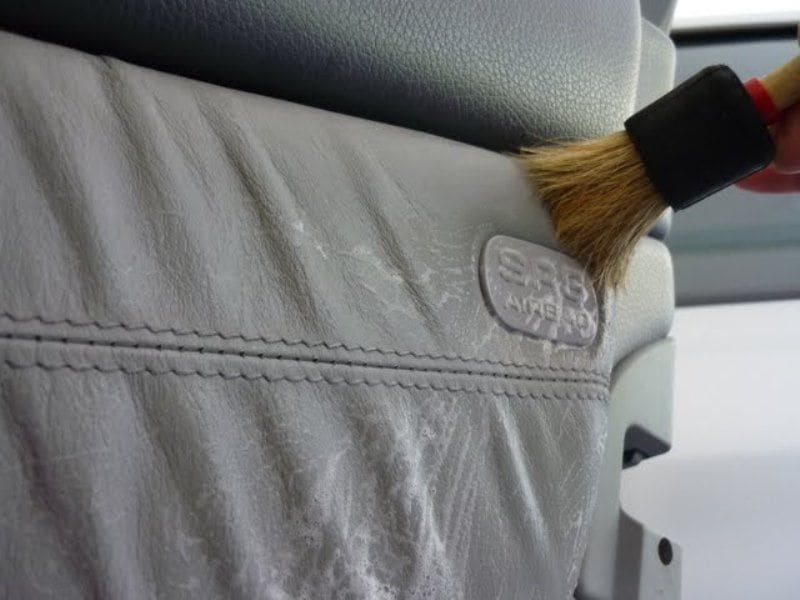 Ventilation
A healthy vehicle environment can be achieved by improving the air quality through; • moisture control. • ventilation. • a complete air exchange of harmful contaminants. Control and reduce moisture and expel the polluted, stagnant air that causes musty odors and mold growth. Ventilation can go a long way to solving the problems of dangerous mold spores and odors, by naturally transforming the area where the moisture concentration and air stagnation are the worst, into a healthy and dry environment. • Reduce moisture that nurtures molds, musty odors, and dust mites. • Expel harmful gases, toxins, and pollutants and replenish it with fresh air. • Reduce property damage caused by condensation, rust, and rot.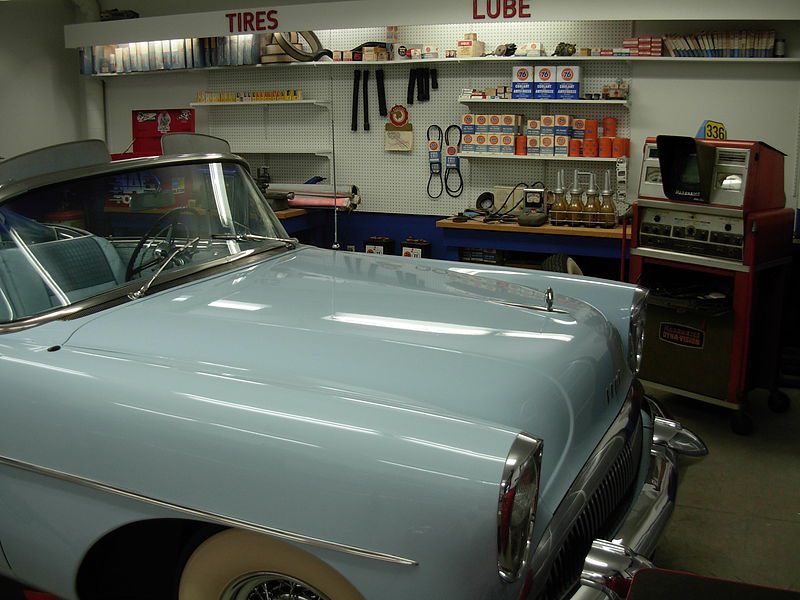 Photo by Wikimedia Commons